I added a bit to my short position in emerging markets on Thursday. I have written about an emerging markets short here, here, here, and here. I wanted to add more, but the market ran away from me. Plus, I feel that something major is going to happen soon, either to the upside driven by Fed or government action, or to the downside driven by Fed or government inaction.
The MSCI Emerging Markets index broke through support at 1180. (The Bloomberg does not show the wild dip over the previous few weeks so I believe this chart is off.)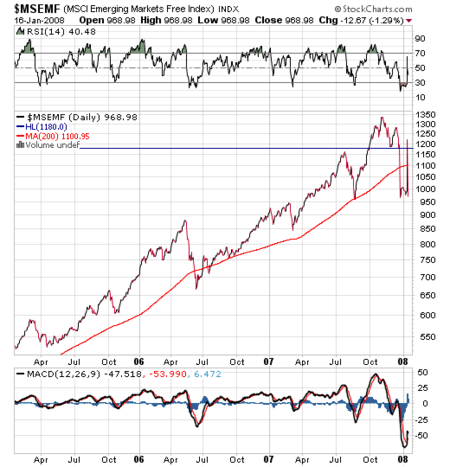 Support is at 1100 then at 1000.
The economy is going into a recession and emerging markets are a high beta proxy on investors' appetite for risk. Regardless of the growth rates and the current fundamentals, emerging markets will get whacked as developed markets crack.
I play this trade by purchasing ProShares UltraShort Emerging Markets ETF (NYSEARCA:EEV), which inversely tracks the MSCI Emerging Markets index by 200%.