By Henry Hoffman, CFA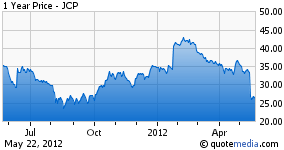 J.C. Penny (NYSE:JCP) recently announced the suspension of its dividend, revealed a comparable same store sales (SSS) decline of 18.9% for the first quarter, and removed guidance for GAAP earnings. In response shares dropped 20% to $26.75. However, little has changed, besides the share price, for at least one class of investor. These investors, whom we'll call fundamental value investors, analyze securities by approximating the amount of cash (measured in today's $) they can extract from a business over its life and compare that sum to the amount of cash they have to pay to get it today. Below is what the investment in JCP's equity looks like in their eyes:
JCP is trying to transform itself from a promotional retailer into a specialty retailer selling quality brands at retail prices, with specialty shops operating within its department stores. Three general scenarios come to mind when thinking about the future of JCP. 1) The transformation is unsuccessful and JCP reluctantly goes back to promotions to bring back lost customers, 2) management is successful at driving traffic in and converting them into customers bringing operating performance in line with peers, and 3) management successfully shifts away from promotional pricing and is able to build a 'mall in a mall' with specialty shops within the department store.
To evaluate an investment in JCP today is to value the enterprise in each scenario, probability weight the outcomes, and take the expected value per share. The value of JCP will be very sensitive to how the likelihoods of each scenario change over time. Practicing diligence, it is important to know what information is relevant to predict the businesses outcome and then to continuously reassess the equity's worth against its publicly traded price.
JCP has been a promotionally-driven department store retailer. At its foundation, a department store is just a box in which anything can be sold. Its enterprise value is essentially determined by its assets and people. There's nothing wrong with JCP's assets as it has an iconic brand name, rental costs below the market price, and a healthy balance sheet. However, JCP has been underperforming peers. The old management's use of those assets needed to change and activist investors Pershing Square and Vornado Realty Trust acquired major equity stakes in the company so as to revolutionize the department store.
Pershing Square owns 18% of the company and has economic exposure to another 7.6%. What Pershing has done is, thus far, commendable. While keeping the company public, they are morphing a promotional retailer with $17 billion in annual revenue into a lean specialty retailer/mall, by replacing management and reinvesting cash flows into the stores. Not taking the company private is noteworthy as it shows Pershing's confidence and commitment to long-term value creation (and saves them from paying a take-out premium). Instead of going off the radar, levering JCP up, extracting what cash they can and rolling the dice on its future, they have joined the board (shows long-term intent), used cash to repurchase shares (increasing its ownership), cut the dividend (the opposite of extracting cash), and are paying off debt (contrary to issuing).
Certain features of the JCP story make it reasonable that the undertaking of such a radical transformation will be successful. The company generates substantial cash, has structural advantages, has potential to improve both lagging sales and its bloated cost structure, obtained a highly regarded new management team, has long-term committed investors with deep pockets, and is adopting a more profitable established strategy being executed today by competitors such as Nordstrom (NYSE:JWN). Furthermore, the company has substantial cash flows from operating activities ($820M in 2011). This is critical as the capital expenditures required to make JCP "America's Favorite Store" can and are being funded through cash generated by the business. What Bill Ackman of Pershing Square and JCP's new CEO Ron Johnson are trying to do is create a better retailer - not save a dying one. It's worth taking a close look at these features.
The company's large amount of owned real estate and low cost long term leases provide structural advantages over competitors yielding potential for higher margins. This fact was not missed by highly regarded Vornado Realty Trust who owns 10.8% of the equity of

JCP.

JCP has plenty of room to improve its operating results as the company currently lags peers in both sales per square foot and its higher operating costs (again in spite of owning 39% of its real estate).

Ron Johnson, who built Apple's successful retail stores from scratch in spite of having to compete with the many other existing channels in which apple products are sold (Best Buy, Amazon, Apple.com, etc), and his assembled team have a rock star reputation which is enormously important for recruiting higher quality brands.
Management has been recruited from successful careers elsewhere, risking their reputations and money. The typical principal agent dilemma has been minimized with Ron Johnson buying $50 million of seven year warrants on 7.3 million shares that can't be hedged for six years
The strategy is novel for JCP but is not radical. It's being done effectively in many other retail stores. Management is purely looking at what drives sales and margins in retail today and implementing that strategy through

JCP's department stores.
However, there is considerable risk in executing such a dramatic transformation. It takes considerable executive and employee turnover, significant disruptions in the business, changes to the customer base, new inventory and requires substantial capital & patience.
The new pricing strategy was implemented across the company February 1st, and the quarter ended April 28th offers some insights into the transformation:
Negatives
Same store sales in the 1st quarter were bad, although not necessarily unexpected considering an undertaking to shift a business model that sold 99.8% of sales below regular price to a "Fair and Square" pricing model on a single day (February 1st), rather than phased out over time.
Gross margins were down y/y and operating costs were up.
Almost $600M of cash was used in operating activities.
Positives
The first quarter showed that the transformation is largely on track and ahead of schedule with respect to accelerated cost cutting, higher capital expenditures, launching many new brands and announced 110 vendor applications for store-in-stores.
The first quarter's decline in sales was more than expected, but a substantial decline of "at least double digits" was, in fact, anticipated. Of equal importance, sales declines were experienced in the first quarter -- not the all-important fourth quarter where retailers earn the bulk (if not all) of their profits.
Management did not revert back to promotions to drive incremental sales during the quarter, instead continuing with their pricing strategy and adapting it where needed.
Now that the new strategy has been fully implemented, it's what happens going forward that matters. While declining traffic may be of the utmost importance for retail investors in general, it is more important for investors in JCP to determine the success of the transformation and the direction management is steering the company. Keys thing to watch:
Incremental monthly traffic, conversion, and average ticket prices. Improvement in these components of SSS are key as the initial effect of pricing strategy shift is too hard to read when the change implemented is as substantial as

JCP's.

Quality mix, particularly the direction of sales of higher quality items.
Signs of management changing course such as a slowdown in store conversions to the new

JCP design or the departure of recently hired executives which would indicate fundamental problems with the transformation strategy.

Interest from higher quality brands.
Any uptick in promotional advertising (again indicating a departure from the transformation strategy).
Quality and number of brands

JCP is able to recruit.

The purchase of rights and trademarks to operate as shops in store.
What's it worth?
Using the scenario format described above, calculating expected value per share of JCP today is simply calculating the value of JCP in each scenario and the probabilities of each occurring. As an example, assume each scenario described is equally likely. Given the respective enterprise values in each case (also described below) the implied value of JCP is $92/share. Naturally, changing the likelihood and value of each scenario will change the implied enterprise value. However, it is important to note that as a fundamental investor, multiple-analysis of this year's earnings or SSS growth metrics for the first quarter are not relevant, because they do not portend what JCP will look like three years from today. Instead the fundamental investor will employ data relevant to the long-term fate of this historic reinvention.
Scenario 1:
JCP's customer base rejects the new concept and new customers fail to replace the old. This outcome would likely cause the company to abandon its everyday price strategy and return to promotions, coupons and associated discount brands. In this case, customers either return and the equity is worth the present value of the sum of future earnings which can be roughly be estimated by what JCP was consistently earning pre-transition. Or, the company struggles to regain lost customers is unable to generate previous profits in which the equity should trade around book value. Pre-transition JCP consistently earned adjusted operating income of $1B or $650M after tax. Valuing the equity as a perpetual security and then subtracting debt (giving no tax benefit for using debt in capital structure) puts the downside case around $20 using a 10% discount rate (note: long term government bonds yield 2.8% so this approximation accounts for uncertainty in predicting future profitability), and assuming no growth. In the case that JCP is unable to return to past revenues and profitability book value should be a reasonable approximation of value as only industries that are unprofitable in aggregate should trade at a substantial discount to net asset value. Despite the promotional department industry's slowly eroding market share, the promotional department store model remains profitable in aggregate. Furthermore, JCP's book value of $18/share* understates the value of the company's owned real estate**.
Scenario 2:
JCP brings operational performance in line with peers. This case assumes JCP is able to obtain revenues per square foot similar to the value oriented specialty department store Kohl's (NYSE:KSS) whose business JCP is most similar to and whose assets and scale are most similar. Kohls has 1,100 stores (comparably owns 35% of them) and earned 11.5% operating margin on sales of $192/gross sq ft in 2011. Applied to JCPenny's 111 million square feet today, this comparable yields revenue of $21B. Assuming JCP just gets the department store industry's operating margins of 7.5%, operating income would be $1.6B with net income of $1B (assuming 35% tax rate). Assuming GDP like sales growth of 3% and a 10% discount rate, this scenario values JCP's future cash flows to be worth $12B or $56/share. In our opinion, this is a conservative case with margins significantly below Kohls, which continues to have substantial promotional activity. Success in JCP's everyday pricing strategy to partner with higher quality retailers offers potential for JCP to outperform Kohls in both sales per square foot and margins.
Scenario 3:
Everyday pricing and the stores-in-store format is a big success. This is the potential that Pershing Square sees in JCP that makes its investment of money, time, and "brain-damage" (Ackman's words) worthwhile. In this optimistic scenario, JCP successfully becomes a mall in a mall with smaller shops set up in its stores. There are many synergies to this approach and sales per square foot for these specialty shops are very high. JCP has successfully executed this concept already with Sephora which has 308 locations and is doing $600/sqft. Management is aggressively pursuing this opportunity - opening most of its 423 'MNG by Mango' and 505 'Call it Spring' shops in 2011. A simple way to value this opportunity is to take the portion of square footage that will be shops within JCP and apply a higher sales/sqft estimate. Using a rough estimate of $400/sqft (substantially less than what Sephora has done) for the shop portion, Kohls sales/sqft for the remaining area, Kohls margins of 11.5% (thus ignoring the operating leverage associated with dramatic increases in sales/sqft) and assuming these stores amount to a third of square footage brings average sales/sqft to $267 generating income of $2.2B. Assuming 5% sales growth and a 10% discount suggests $42B net of debt for equity holders or about $200/share***.
The equally weighted composite of all three of these scenarios is $92/share. In our opinion, even the bullish scenario 3 is conservative is many aspects, such as using sales per square foot of a promotional retailer, making this a very attractive investment opportunity.
*As of 4/28/12: Assets of 11,039M - Liabilities of 7,103M / Shares Outstanding of 218.4M = $18/share
**Often the value of real estate is understated on a company's books as accounting rules do not allow for appreciation while adjusting for depreciation. Over the long-term, real estate appreciates around the rate of inflation. JC Penney has 1,102 department stores of which 426 are owned. The company paid $305M in net rent in 2011. Applying a current average cap rate of 7% for Retail (source RCA analytics) on $192M ($305Mx426/676 = $192M) calculates a value of $2,743M for the owned real estate. Also, many of JCP's leases are below market and therefore, in our opinion, JCP's book value may be understated. (Source: 10-K)
***[(267$/sqftx111Msqftx(11.5%)x(1-35%))/(10%-5%)]-$2B = $42BN
Disclosure: I am long [[JCP]]. JCP is a holding of SL Advisors Deep Value Equity Strategy