Shares of home builder Beazer Homes USA (NYSE:BZH) are down more than 23% over the past three months. However, there are now four reasons to consider speculating with BZH.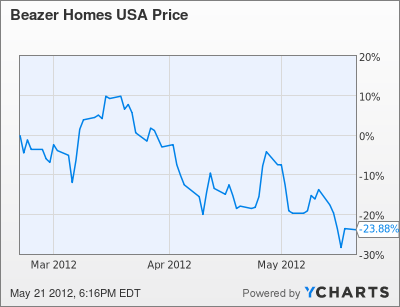 Options Activity
Option Monster reported on the high level of bullish options activity recently; 10,000 June 2.50 calls were purchased against open interest of just 109 contracts. At the same time, 10,000 June 2.50 puts were sold against open interest of just three contracts. This trade will make money if BZH trades above $2.50 and will lose money if BZH trades below $2.50. The large block trade likely represents institutional money. Institutional money is usually smarter, thus worth following. In summary, the recent options activity points to upside ahead for BZH over the short term.
Short Interest
Short interest in BZH currently stands at 11.92 million shares or 16% of the shares outstanding. This high short interest represents a possibility for a squeeze higher if any good news comes out on BZH.
U.S. Focused
BZH does all of its business in the United States. This is a major positive considering the major worries right now are Europe and China. In theory, what happens in Europe and China should have little impact on BZH. Considering that the U.S. economy is a relative bright spot in the global economy it is a good thing that BZH is a U.S. play.
Appaloosa Management Stake
David Tepper's Appaloosa Management owns a significant stake in BZH as well as other homebuilders including PulteGroup (NYSE:PHM), KB Home (NYSE:KB), and D.R. Horton Inc (NYSE:DHI). While this sector bet has turned out mixed for Tepper, his opinion is certainly worth considering given his past record in predicting the bottom in banking stocks in early 2009. Tepper's call on financials was rated a top 10 trade of all time by the International Business Times.
Risks
One significant risk facing BZH is its heavy debt load. Currently, BZH has more than $1.4 billion in debt. This number is even more important, considering the company only has an equity value of $253 million. If business remains weak, BZH may become financially stressed.
Conclusion
With shares down over 23% during the past three months, it might be time to consider speculating in BZH. The bullish options activity, high short interest, U.S. focus, and Appaloosa stake all point to possible upside in BZH. However, investors should view BZH as a speculative play only due to the high debt load.
Disclosure: I have no positions in any stocks mentioned, and no plans to initiate any positions within the next 72 hours.