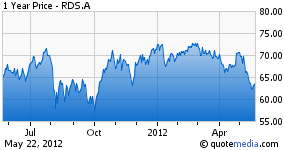 Shell (NYSE:RDS.A) has a long history in Iran and when it signed the $800 million deal to develop Soroosh and Nowrooz oil fields in 1999, it almost reached a tipping point. The confidence was very high in oil company circles despite U.S. led sanctions against Iran. America imposed sanctions on Iran because of their terrorist activities in the Middle East and elsewhere. Shell was motivated to sign the agreement with the National Iranian Oil Company and had asserted in 1999 that the threat of sanctions would not be an obstacle.
French firm Total (NYSE:TOT) was given the go-ahead by Washington despite tough sanctions dating back to 1997. That step motivated oil companies like Shell to forge ahead in the murky waters that surround Iranian politics, economics and intelligence. Iran on the other hand was always willing to invite major oil companies so that it could compete with its arch-rivals Saudi Arabia and Iraq. Compete it did, and quickly rose to the 2nd position among global oil producers.
However, Iran's tacit and direct statements implied that it was also working on nuclear technology and probably weapons as well. The fear psychosis forced the U.S. to clamp down on oil companies' activities in Iran and all foreign companies were forbidden from operating within Iran. Iran on its part has continued with its nuclear program defiantly and does not seem to care much about international obligations. A country that doesn't value its own citizens perhaps has very little to worry about foreign companies, institutions and governments.
Before the European Union clamped down sanctions on foreign companies working in Iran, Shell and France's Total S.A held the second position in Iran's oil drilling and exploration activities. They were behind Turkey's Tupras. Shell struggled to pay $1 billion bill to Iran because of the sanctions that made it impossible to do business with Iran. With all its well-meaning efforts in Iran, Shell was left confused and dazed in the end. However, I believe this is not going to affect Shell much in the future.
The company has very successful oil fields and gas exploration projects all over the world, and the recent deals will only help Shell to consolidate its position as a major oil company. What we need to concentrate on right now is the fact that Iran has discovered oil in the Caspian Sea and the amount of oil that was found there just a few days ago is mind numbing. The oil deposits are located at a depth of 2.5 kilometers and may contain 10 billion barrels of crude oil. This amounts to almost 7% of Iran's known oil reserves. It was also reported in December 2011 that the Sardar-e Janhgal oil fields in the Caspian Sea contain 50 trillion cubic feet of natural gas.
Iran neither has the technology to drill this oil and natural gas nor does it have a market to sell it to. In fact, the oil reserves that it currently drills into are all located in the Persian Gulf, south of Iran. The Caspian Sea discovery is the first of its kind in 104 years and a huge boost to Iran's morale. What we must remember is that thanks to the sanctions, Iran will never be able to sell any of its oil resources to the world outside. It will just have to sit on its oil resources until it finally decides to cooperate with the international community.
Shell has had a very good track record in Iran, and if the present regime is toppled somehow, Shell will surely find its way back to Iranian oil fields, including the one that was discovered just a few days ago. At the moment, we need to wait for the Iranian regime change to occur, so that oil companies like Shell can forge new relationships with the Iranian people and help in building the economy of that pariah of a country. It would also become much easier for Shell to compete with Total, Eni (ENI) and Exxon Mobil (NYSE:XOM), all of which are Shell's partners in northern Caspian's Kashagan oil field, belonging to Kazakhstan. While Eni, Exxon Mobil and Total are Shell's partners, its historic relationship with Iran will help it to secure contracts and licenses to begin work in Iran's Caspian Sea once the sanctions are lifted. The sanctions will only be lifted when Iran declares that it will abandon its nuclear program, and that is something that present regime will never do.
What we can do at the moment is to wait for the regime change to happen as soon as possible. Israel is working very closely with the international community to make sure that the pariah regime of Iran is toppled for a better and secure future of the Middle East. A democratic and secular government in Iran will eventually help Shell to regain its former privileged status in Iran and will enable it to compete better with its existing competitors worldwide. We can also hope that the new Iranian government when it is installed will be clearer in demarcating its Caspian Sea territory instead of claiming Azeri and Kazakhstan's territories too as its own. BP (NYSE:BP) has huge stakes in the Azeri oil fields.
Executives at Shell have very little to worry about at the moment. If the regime change is forced in the next few months, Shell will get its privileged status back and will win oil licenses and contracts to carry out exploration and drilling activities even in the Iranian Caspian Sea. Those who have invested in Shell can actually view the announcement of Iran discovering oil fields in the Caspian Sea as very good news. This will help Shell access newer oil fields which may not be available for its partners, and will likely send its stock higher. I expect a gain of $2 to $3 from this development by late 2012.
Disclosure: I have no positions in any stocks mentioned, and no plans to initiate any positions within the next 72 hours.