Last summer, we looked at financial search engines, such as Google (NASDAQ:GOOG) Finance and Market Watch, to see if we could find any correlations between stocks' search volumes and their share prices. With all 2007 data now available, we return to this theme and present last year's stock search volume Top 10. Of these, the top three searched securities were Apple (NASDAQ:AAPL), Google, and the DJIA.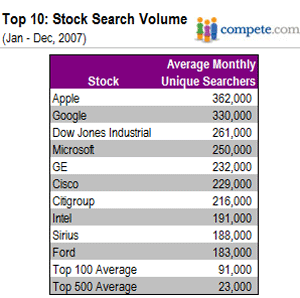 Apple had an average of 362,000 unique searchers per month. Google was not far behind with an average of 330,000 unique searchers per month, while the DJIA drew 261,000 per month. These numbers decrease exponentially as we looked down the list. The top 100 stocks averaged 91,000 unique searchers per month and the top 500 only 23,000. So, like everything else on the internet, stock search volumes have a very long tail.
We began our correlation analysis with Google. We found that for every increase in Google's monthly high of one dollar, an additional 1,100 to 1,600 unique searchers checked-up on the stock online.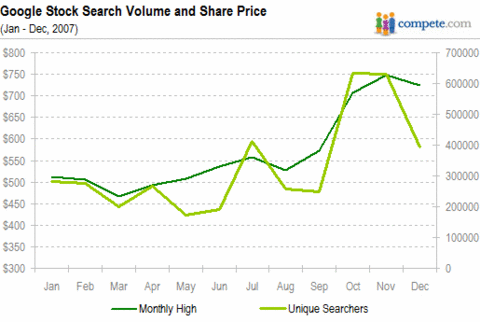 For Apple and Microsoft (NASDAQ:MSFT), this relationship was not as strong, but a trend still existed. For each dollar increase in their monthly highs, Apple attracted at least 900 additional unique searchers and Microsoft a minimum of 9,500. But for a particularly steady security, like General Electric (NYSE:GE), such a correlation was non-existent.
Corporate events, such as product releases, also drove stock searches in 2007. With the marketing, pricing and release of the iPhone making headlines last year, it may be unsurprising that Apple was the most heavily researched stock in 2007. Of course, interest in the iPhone itself is better measured in traffic to the Apple store and/or the Apple online forum. Traffic to these sites peaked before the holidays but remained flat from June to July. Meanwhile, Apple's stock search volume surged by 48% just after the product release and fell off rapidly thereafter.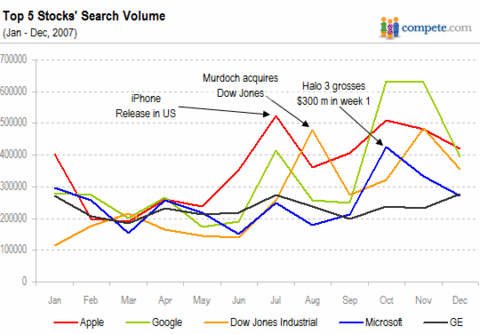 Our preliminary conclusion is that stock search volumes measure interest in the financial impact of meaningful corporate happenings. This was also evident with the increases in stock search volumes after Microsoft's revenue-generating release of Halo 3 and Rupert Murdoch's successful acquisition of Dow Jones & Co. Certainly, there are countless other stories and correlations hiding in our data. In the coming months we hope to uncover them and share them with you as we do.