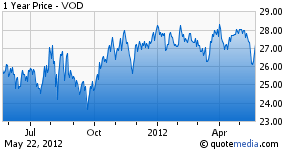 As widely expected, Vodafone (NASDAQ:VOD) declared a final dividend of 6.47 pence, in its results for the year to 31 March 2012 today, thereby increasing its total dividends for 2011-12 to 13.52 pence. The shares go ex-dividend at 6 June 2012 and the dividend is paid on 1 August 2012.
Vodafone has duly delivered on its promise of 7 per cent dividend growth, which excludes the "special dividend" of 4 pence per share paid when Verizon Wireless , the U.S. mobile outfit in which Vodafone has a 45 shareholding, restarted its own dividend programme … well sort of.
Importantly, Vodafone, in comparison to its European peers, has re-confirmed its target of 7 per annum dividend growth next year.
Drilling a bit deeper ...
Revenues were up 1.2% to £46.4bn ($73.32 billion), in line with forecasts. Earnings before interest, tax, depreciation and amortisation (EBITDA) were down 1.3% from a year earlier at £14.5bn while the EBITDA margin eased 0.8 percentage points to 31.2%. Operating profit was £11.5bn (up 2.5%) when stripping out acquisitions and currency movements. Pre-tax profits were up 0.5% to £9.55bn.
During the year, Vodafone made a net gain of £3.5bn from the £6.8bn sale of its 44% stake in the French mobile operator SFR, and the £800m sale of its 24.4% interest in Polkomtel in Poland. Free cash flow was a solid £6.1bn after £6.4bn of capital expenditures.
Earnings per share was down 11% driven by the loss of income from associates that were sold during the year and by higher finance charges as Vodafone switched into fixed-rate debt. The group clearly sees interest rates rising in future.
Divided results from Europe compensated elsewhere
Strong performances in emerging markets like Turkey, South Africa and India helped to offset European weakness.
Overall, revenue from the European region was down 1%. There was a "strong divide" between the results from northern European countries such as the UK (up 1%), Germany (up 3%) and The Netherlands, which all grew revenues to some degree, and some Southern European markets, in particular Spain (down 24%) and Italy (down 5%), where customers have dramatically cut back on calls.
Vodafone has written down the value of its assets in Ireland, Italy, Spain, Portugal and Greece by £4bn. It disclosed that cash flows from those countries will be lower and that it will have to increase discount rates to tempt in customers..
Vittorio Colao, chief executive, said Vodafone had a "steady" year in a "difficult macroeconomic environment", while "Europe continues to be challenging."
Colao confirmed that Vodafone was dealing with the slowdown in Europe by focusing on emerging markets, internet usage on mobile phones and business customers.
"… but even though the macro economic conditions remain tough, Vodafone is well positioned for the coming years.
"We have continued to gain revenue share in many of our markets ... and geographic exposure is a positive differentiator."
Although in Europe, Vodafone's problems mirror those of its main rivals, it has managed to stay ahead of them. Spain's Telefonica (NYSE:TEF) announced halving profit in its first quarter due to terrible conditions in Italy and Spain; France Telecom (FTE) has been fighting intense competition from a recent new entrant in its domestic market while Deutsche Telecom (OTCQX:DTEGF) has shown a stabilisation in its European business.
Verizon Wireless - Jewel in the Crown
With its 45% stake in US mobile operator Verizon Wireless (NYSE:VZ) Vodafone is partially a play on developments in the U.S. mobile telecoms sector, and is not as dependent on Europe as the region's 72% contribution to EBITDA suggests.
Verizon Wireless produced £5bn of Vodafone's £11.5bn operating profit. Verizon Wireless is performing strongly with revenues up 7% and EBITDA up 8%.
With Verizon Wireless' net debt reduced from $10bn to $6bn, there is potential for further dividends from the US company following Vodafone shareholders having received a special dividend in February after Verizon paid its first dividend to Vodafone.
Rest of the world
Revenues from Vodafone's Africa, Middle East and Asia Pacific region were up 8%, with rises of 25% in Turkey, 20% in India, and 7% in the South African-based Viacom (NASDAQ:VIAB). Only Australia bucked this trend with a 9% decline.
With revenues coming in better than expected in India, Vodafone is being pursued for $2.6bn in capital gains tax, following its purchase of a controlling stake in Hutchison Essar in 2007. Vodafone's long-running Indian tax dispute may turn sour following the Indian government having recently changed the 'game' through retrospective legislation.
Vodafone lowers medium term revenue target
With trading in its two big southern European markets showing little sign of improvement and "given larger regulatory reductions than previously envisaged, we now expect organic service revenue growth in the 2013 financial year to be slightly below our previous medium term guidance range" of 1-4 per cent the group said.
For the coming year Vodafone is anticipating modest growth with adjusted operating profit to be in the range of £11.1bn to £11.9bn, with free cash flow holding stable. That prediction comes with the strong provisio that no "fundamental structural change to the eurozone" takes place this year.
Vodafone clearly expects weaker growth in euroland to be offset by continued growth at Verizon Wireless and in emerging markets.
The European telecoms sector has also been hit by the steady cuts to so-called mobile termination rates, which are the fees operators pay each other to connect and disconnect calls, as reported previously.
Mid-term strategy confirmed
Vodafone has continued to execute the strategy of streamlining and focusing on three key areas of growth announced 18 months ago: data services, the enterprise segment and emerging markets.
All of the major non-controlling interests (other than Verizon Wireless) have now been disposed of, with proceeds returned to shareholders.
Investment in data services is increasing paying off. Data revenues grew 22% last year as more and more users upgrade to smartphones.
The enterprise segment now represents already a quarter of Vodafone's revenues. The company jointly markets its enterprise solution with Verizon Wireless.
Emerging markets are expected to represent an increasing proportion of revenues, profits and cash flow in the future. With the lack of fixed-line infrastructure in these markets, mobile telecoms offers immense opportunities for data growth.
CW&W take-over statement
Vodafone still plans to go ahead with its £1bn purchase of Cable & Wireless Worldwide (OTC:CBWWF), as reported earlier, here, in order to increase its number of blue chip corporate clients, despite the company reporting very weak results yesterday.
Mr Colao said: "Our goal over the next three years is to continue to strengthen our technology and commercial platforms through reliable and secure high speed data networks, significantly enhanced customer service across all channels, and improved data pricing models, to enrich customers' experience and maximise our share of value in the markets in which we operate.
"Our commercial performance and our ability to leverage scale continue to be strong, enabling us to gain or hold market share in most of our key markets, and reduce the rate of margin decline."
Completion of the transaction is expected to be earnings enhancing in the first year (excluding integration costs), with Vodafone saving third-party costs by using C&WW's fixed-line infrastructure, while cutting the £1bn cost by selling off CW's undersea cable network, and utilising CW's tax losses which have not been priced into the deal.
Verdict
For the less 'share price concerned' investors, Vodafone shares, trading at around 170 pence and with a prospective yield of almost 6% for 2012-13 may be an interesting investment opportunity. However, on the basis of our investment methodology Vodafone is not historically undervalued or historically overvalued.
Disclosure: I am long OTCPK:VODPF. I am long VOD. We run the Dividend Income Portfolio, which owns a shareholding in Vodafone Plc, purchased when the share was historically undervalued as per our valuation methodology.