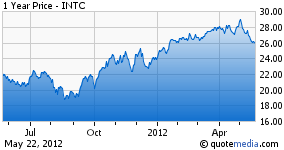 Increasingly, we are depending on the computer. Several years ago, I could only use a microprocessor in the PC machine that was carefully guarded in technologically advanced households and organizations. Today, computing technology is abundant from the cars we drive to digital cameras, phones, and e-readers. I believe Intel (NASDAQ:INTC) stock will benefit in the next twelve months and beyond as demand for computing power increases and the economy improves.
Intel's computer chips are increasingly being used in everyday devices and I expect this demand to only increase. Intel is the leading producer of computer semiconductors and other components. While there are many companies benefiting from this computer boom, such as Apple (NASDAQ:AAPL) and Facebook (NASDAQ:FB), I believe that Intel's stock offers a solid investment that is still at a reasonable price. According to the Moore's Law, which is still holding true and named after Gordon Moore, co-founder of Intel, the number of transistors in a semiconductor doubles roughly every two years. I believe that this law will continue to hold true in the future as newer technology demands even more computing power.
I believe that Intel's stock is a good investment at the current price. Intel has five billion shares outstanding, a market capitalization of slightly over $130 billion, and an enterprise value of $125 billion as the company has more cash than debt. Most importantly, Intel pays a quarterly dividend of $0.21 per quarter for an annualized yield of 3.2%. This is more generous than the yield of the thirty year U.S. treasury bond which is yielding 2.81%.
From a valuation standpoint, Intel trades at a price to earnings ratio of 11, based on the company's past twelve months earnings. Its forward looking price to earnings ratio stands at 10. For comparison, the S&P 500 forward looking price to earnings ratio is 12. However, I believe Intel should trade above the S&P 500 because I estimate Intel to have an earnings growth rate of over 11% compared to about 10% for the index. In addition, the S&P 500 includes many companies that I doubt will be part of the index in the longer-term. However, this is a topic for another article.
In the past thirty years the game was simple. Microsoft (NASDAQ:MSFT) would introduce a new more powerful Windows that will make computers slow. Then Intel would make faster microprocessors and the cycle will repeat. However, recently, more and more businesses and even consumers are moving to the cloud which may curtail the need for faster processors. Many leading companies such as Amazon (NASDAQ:AMZN) and Oracle (NYSE:ORCL) are investing in cloud computing. Amazon's most recent tablet, Fire, is able to browse the internet with less computing power due in part to Amazon's cloud computing technology.
I believe that the next wave of growth for Intel will come from new technologies that require more computing power. One such area is auto manufacturers. Intel is working with a number of major car companies to bring new technologies to the car including General Motors (NYSE:GM) and Toyota (NYSE:TM). The auto industry is recovering and estimates are that there will be 77.7 million cars sold in 2012, which is a growth of 6.7% from 2011 levels. Forecasts point to even larger gains for 2013. Assuming Intel can grab a 80% share of the auto computer market by end of 2013, the auto industry represents one of the major growth areas for Intel. It will not be a stretch if I say that Intel may replace what we know today as the car mechanic. Consumers might be bringing their cars for a micro-computer chip replacement instead of an oil change.
There are many other pockets of growth for Intel. One of them is the 22nm finfet. This tiny microprocessor competes directly with ARM technology primarily being made by Qualcomm (NASDAQ:QCOM) and Advanced Micro Devices (NASDAQ:AMD). It is speculated that Apple may chose Intel for its smart devices similar to when Apple decided that Intel microprocessors are better for its Macbook back in 2006. Only in one quarter Apple sells 4 million Macs (computers and notebooks), 7 million iPods, 11 million iPads, and 35 million iPhones. The potential for Intel from smart devices such as Apple's iPhone is enormous. I believe it is logical to have one major supplier of microprocessor in the case of Apple. Intel is one of the few companies that can take this role.
There are many other areas which can be catalysts for Intel's growth. For example. Intel recently introduced the Studybook, a tablet for schools that costs about $200 per unit. Further areas that Intel is working on are discussed by Brian Johnson, Intel's Chief Futurist, in an interview for Scientific American (subscription required). These areas include synthetic biology, a synchronization between the computer, smart phone and TV, robotics, and artificial intelligence. I do not think the future world presented in the popular movie, The Matrix, will become a reality. Even the chief futurist at Intel does not know what the future will be like in twenty years. However, chances are computing power and technology made by Intel will take even larger part of out daily lives.
To sum it up, at current valuation levels, Intel's stock offers a generous dividend yield and a stock that is cheaper than the average member of the S&P 500 index based on price to earnings. In addition, Intel is still highly relevant in the PC industry and is also venturing in a variety of other areas that will contribute to its future growth. Recently, I read about Intel's Fireball, designed by Intel and intended to be thrown in a burning building and gather intelligence about the conditions inside. Firefighting has been around since fire was invented and Intel's fireball is among the handful of inventions that have made this profession safer. When a company such as Intel is at the core of making firefighters' jobs safer, it is easy to feel optimistic about the company and its future prospects. Based on the way things are going for the company, I think Intel stock could double by 2014.
Disclosure: I have no positions in any stocks mentioned, and no plans to initiate any positions within the next 72 hours.