A protected covered call or collar search performed using PowerOptions tools, seeking to find the highest returning position for profitable companies with a maximum potential loss of 8% and a stock price in an uptrend, produced online employment company Monster Worldwide (NYSE:MWW) as shown below:
In a virtual dead heat were rental company United Rental (NYSE:URI), discussed in this article, retail boutique company Francesca's Holdings (NASDAQ:FRAN), pharmaceutical company Warner Chilcott (NASDAQ:WCRX) and bedding products company Tempur Pedic (NYSE:TPX). And, following very close behind the pack was network storage company NetApp (NASDAQ:NTAP) discussed in this article.
A protected covered call may be entered by selling a call option against a purchased or existing stock and using some of the proceeds from selling the call option to purchase a protective put option. The Monster Worldwide protected covered call has a potential return of 3.5% (49% annualized) and a maximum potential loss of 7.8%, so even if the price of the Monster's stock drops to zero, the maximum loss is 7.8%.
The highest returning positions as shown above were found by selecting to search and sort by the highest returning positions. Profitable companies were found by selecting to include companies with a Price-to-Earnings ratio (P/E) greater than zero. Stock price for companies in an uptrend were found by selecting to search for companies with a 100-day moving average greater than the 200-day moving average. The 8% maximum loss parameter was selected, as a loss of 8% or less can often be recovered fairly quickly using income generating investment methods.
Monster Worldwide is the parent company of Monster.com, the online employment solution for job searchers and employers seeking to find employees. In Monster's Q1 2012 earnings call held on April 26, 2012, the company indicated it "..embarked on a complete review of our strategic alternatives. It is still early in this process, and together with our board of advisors, we are aggressively pursuing all alternatives." Additionally, Monster Worldwide retained Stone Key Partners and Bank of America Merrill Lynch for pursuing potential strategic alternatives. Apparently, there's been some interest in Monster Worldwide by private investor Silver Lake partners and online professional network company LinkedIn (LNKD).
Competitors to Monster Worldwide include Adecco (private), CareerBuilder (private) and SnagAJob.com (private).
Monster Worldwide's stock price has been down over the last year and has been in a trading range between $6.50 and $10.50 over the last ten months as shown below: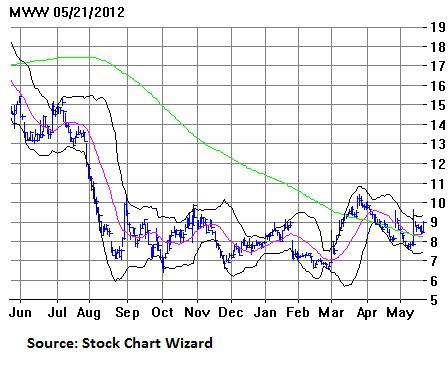 In its Q1 2012 earnings call, Monster reported revenue of $246 million which was a 3% decrease over the prior year's quarter and a 2% decrease sequentially. The company indicated that indicators in Europe were weaker than generally forecasted and that every country in Europe had slowed, even the German economy, which has been performing very well compared to the rest of Europe. The company believes the situation in Europe will improve in the coming quarters. On a positive note, the company indicated the initiatives to expand into other geographic areas are performing well.
When a company pops to the top of the protected covered call search, it typically indicates the company has a forthcoming earnings release, however, in this case, Monster Worldwide's earnings release is in the rear view mirror, so the increase in implied volatility for the company is probably more a result of issues related the company "reviewing strategic alternatives." For an upcoming earnings release, the protected covered call is often recommended, however, in this case a married put strategy might be more in order, since a purchase of Monster by another entity will most likely be consummated for a premium over the current stock price. The married put strategy can be entered by purchasing a put option against a stock for limited downside and unlimited upside. For the married put strategy, selection of a position six months or more is typically considered, as it reduces the amount of time value decay per unit of time.
Using PowerOptions tools to search for married put positions for December of 2012, a variety of married put positions were found with corresponding % maximum risks as shown below: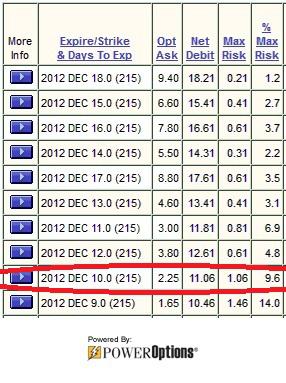 Purchasing the 2012 Dec 10 put option for $2.25 looks attractive, as it has a maximum risk of 9.6% and is not too far in-the-money. A profit/loss graph for one contract of the married put position is shown below: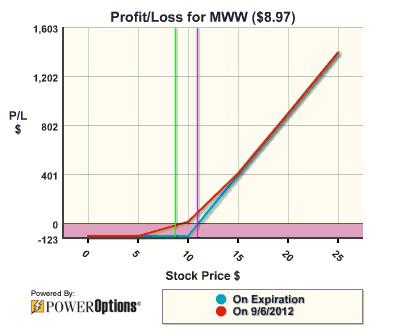 For a stock price below the $10 strike price of the put option, the value of the married put remains unchanged (at expiration). And, an increase in the price of the stock results in an increase in the value of the married put. Additionally, if the price of the stock increases above the $10 strike price of the put option, income generating methods can be applied as taught by RadioActiveTrading.com.
Disclosure: I have no positions in any stocks mentioned, and no plans to initiate any positions within the next 72 hours.