EDAC Tech (NASDAQ:EDAC) is a tiny supplier of precision components (jet engine parts, special tooling, etc.) to the aerospace sector. United Technologies (NYSE:UTX) is its largest customer at about 34% of revenue, and EDAC has secured a position on the firm's geared turbofan engine (high-pressure compressor hubs, turbine disks, etc.), which is turning into a favorite power plant among commercial OEMs in the narrow-body arena. The firm is also a supplier on Boeing's (NYSE:BA) 787 Dreamliner (fan cowl, fan blisk). EDAC Tech is very profitable and has negligible exposure to raw material cost fluctuations (it has a dollar-for-dollar pass-through to customers).
The Firm Is Still Relatively Unknown
In fact, less than five years ago EDAC was producing parts for only one client and a single engine, but now the firm has over 10 major engine programs across a wider range of customers. Growth in its backlog has been stunning during that time. At the end of its first quarter, backlog stood at $310.4 million, up from less than $50 million in 2007. The current level is over 8 times its market capitalization.
EDAC Tech's Shares Are Worth $23 Each
We recently raised our fair value estimate on EDAC Tech to $23 per share (it was previously $15) as a result of a slightly lower discount rate in our cash-flow model, higher growth and profitability assumptions, as well as continued confidence in the recognition of the company's burgeoning backlog, which is now more than 3 times its annual run rate of sales.
The shares are trading at less than $10, which, based on our 2013 bottom-line estimates, is about 7.5 times next year's earnings. We disclose our pro-forma income statement of the firm below, which shows the buildup to our bottom-line forecasts. Please note that EDAC Tech earned $0.23 per share in its first quarter of 2012, so our estimate may even be conservative, if sequential expansion is greater than expected. (Note: The firm beat our forecast in its first quarter.)
Click to enlarge all images.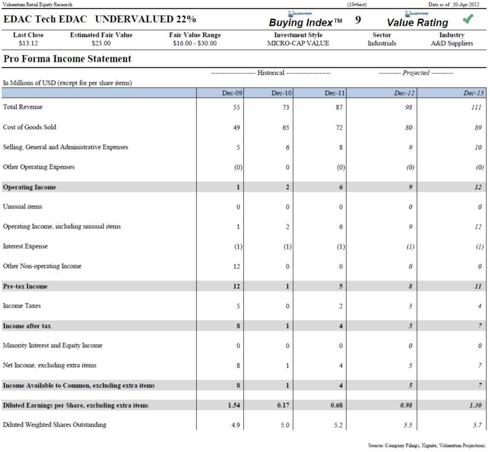 First-Quarter Performance Was Fantastic
In its first-quarter results issued late April, EDAC Tech's revenue advanced 19% to a record $24 million, blowing by management's conservative high-single-digit guidance offered in its previous report (and our low-teens estimate). Net income more than tripled to $1.3 million, or $0.23 per diluted share (beating our forecasts). Revenue in all three of the firm's core segments (EDAC AERO, APEX Machine Tool and EDAC Machinery) advanced in the quarter, while gross profit increased a whopping 55% from the same period a year ago.
EDAC Tech's gross margin surpassed 18% in the period, revealing 4.2 percentage points of expansion from the same quarter a year ago -- a remarkable achievement. Management noted that the improved margins reflected a better mix as well as the substantial operating leverage (higher cost absorption) inherent to the firm's business model, a characteristic we're particular fond of during cyclical upswings in commercial aerospace demand.
Gross Margins Are Set to Expand Considerably
As throughput (volume) increases at EDAC, we would not be surprised to see the company's gross margins migrate significantly upward to the low-30% area over time, levels currently achieved by peer Precision Castparts (NYSE:PCP). In this scenario, our existing forecasts would be extremely conservative and a high-$20s fair value estimate may become more appropriate. Peak earnings per share, for example, could hit $2 by the middle/end of this decade. That said, we capture such an optimistic scenario within our margin-of-safety assessment of the firm and consider a high-$20s fair value within the range of potential outcomes.
Backlog Growth Is Phenomenal
Importantly, EDAC Tech's backlog jumped to over $310 million at the end of the first quarter (compared to $252.1 million at year-end 2011). The growth in backlog (future revenue) has been excellent.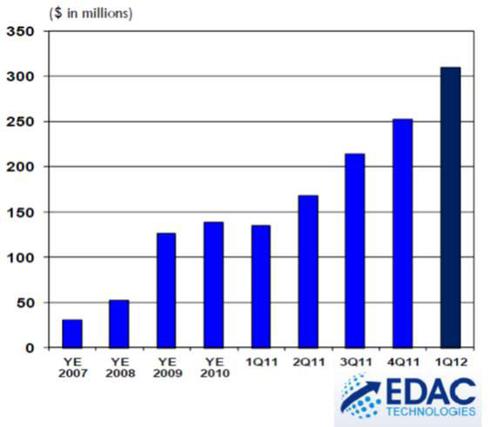 Source: EDAC Tech's Annual Meeting Presentation.
The firm continues to land orders at a consistent and tremendous pace (its book-to-bill was 3.4 times in the first quarter), and we expect the firm's significant exposure to United Technologies to only benefit the company through the course of the coming surge in aircraft deliveries by the commercial airframe makers, Boeing and Airbus (OTCPK:EADSY). In fact, we're just starting to witness the significant ramp up in deliveries. Boeing just recently said it delivered 137 commercial aircraft in its first quarter, more than 30% higher than last year's level.
Revenue Visibility Is Further Supported by OEM Production
Plus, we view the massive backlogs (about 7 times to 8 times current annual production) at the commercial airframe makers as largely immune to European malaise. We saw very little impact in terms of deferrals and cancellations during the recent Financial Crisis of 2008, and any impact from a European recession will be muted at best. Simply put, there is a tremendous amount of wiggle room with respect to delivery slots when Boeing and Airbus have eight years of demand already on the books.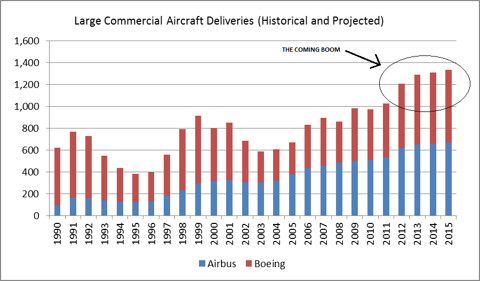 Management Guidance Too Low
Looking ahead, we reiterate our view that revenue expansion for EDAC in 2012 will likely be in the low- to mid-teens (vs. management's high-single-digit forecast), a position supported by our view that shipments will ramp up considerably during the end of the current second quarter. Please also note that management guided to high-single-digit expansion in the most recently-reported quarter, and top-line growth was 19%. In addition, we fully expect EDAC Tech to achieve our net earnings per share estimate of $0.98 in 2012 (was $0.95), and we also raised our 2013 net earnings per share forecast to $1.30 per share (was $1.20).
Multiple Analysis Further Supports EDAC's Substantial Upside Potential
In the past, we previously assigned a conservative market multiple of 12-13 times next year's earnings (the average of the S&P 500 companies) to arrive at a base-case fair value estimate for EDAC. However, we feel a comparison with Precision Castparts is now more appropriate and a 17-18x multiple should be considered reasonable given EDAC's bright future prospects. By extension, our fair value estimate for EDAC Tech is $23 per share (17-18 times $1.30 per share), and we have further substantiated this valuation analysis via our discounted cash flow model on the company. Our new fair value estimate represents more than a double from current levels.
Disclosure: I have no positions in any stocks mentioned, and no plans to initiate any positions within the next 72 hours. EDAC is included in the portfolio of our Best Ideas Newsletter.