Stamford, Conn.-based leading multistrategy hedge fund SAC Capital, founded and led by legendary manager Steven Cohen, filed its latest 13-F for Q1 2012 indicating that it ended the quarter with $22.24 billion in 13-F assets, up from the $15.8 billion in 13-F assets in its prior Q4 filing. Cohen is among the most high-profile hedge fund managers, and has been dubbed as "The Hedge Fund King" in a 2006 Wall Street Journal article and was ranked 94th on Time Magazine's annual list of the most influential people. His net worth is estimated by Forbes at $8.3 billion, ranking him as the 35th richest person in the U.S. He is also among the highest compensated hedge fund managers, with a $1 billion paycheck in 2005 and again in 2010.
His Hedge Fund, SAC Capital, is among the giants on Wall Street both in terms of assets under management as well as consistent long-term performance at about 30% annual returns over the last two decades. The hedge fund is incorporated offshore in Anguilla, British West Indies, and maintains trading offices in Stamford, Conn., and New York City, with satellite offices in San Francisco, Hong Kong, Boston, and London. While the 2/20 compensation structure is fairly standard in the hedge fund industry, meaning 2% of AUM and 20%-30% of annual returns, SAC Capital is able to charge a premium of 3/50 to investors in its fund, the highest in the industry. The fund is well-diversified with over 2,000 positions, and about 40% of its holdings are in large-caps, another 40% is in mid-caps and the remaining 15% is in small-cap equities.
On any given day, SAC Capital is estimated to account for between 1%-3% of the trading volume on the major exchanges, and thus has significant clout in terms of money flow and at least short- to intermediate-term equity pricing. Also, their capital is well-diversified across industries. Thus, in analyzing its 13-F, we determined its highest conviction bets by sector, selecting the largest buys and sells in size, where the buy/sell is also a significant proportion of its prior quarter position in that company.
Based on that analysis, the following are its top high conviction buys in the consumer and retail sectors in Q1 2012 (check out prior articles on SAC's high conviction bets in the basic materials and energy, technology and healthcare sectors):
Sirius XM Radio (NASDAQ:SIRI): SIRI provides satellite radio services in the U.S. and Canada via approximately 135 channels of commercial-free music, sports, news, talk, traffic and weather on a subscription basis, to more than 22 million subscribers. SAC Capital added $189 million in Q1 to its $8 million prior quarter position. Other leading institutions with large bullish bets on SIRI in Q1 include UBS AG adding 232.0 million shares to its 1.4 million share prior quarter position, top ranked tech-focused hedge fund Coatue Management adding a new 57.8 million share position, and several others. In fact, funds bought over 600 million shares in Q1, while selling slightly less than 300 million shares, resulting in a net increase in fund ownership in SIRI by over 300 million shares.
SIRI shares have sold off recently, down by about 12%-15% since the company reported its Q1 (March) on May 1. The company, in a nutshell, outperformed on all levels, beating analyst revenue and earnings estimates (2 cents vs. 1 cent), a drop in churn rate to 1.9%, subscriber base at all-time highs, and becoming cash flow positive for the first time ever. However, as we have said in a prior articles, it will be difficult for SIRI to climb out of the trading range high in the $2.40s unless earnings break out of the 1 cent to 2 cent range. Also, recently the company has been hit by heavy insider selling, including by CEO Mel Karmazin and two other insiders, that together have sold almost 16 million shares this month. Furthermore, John Malone's Liberty Media (LMCA) bought 60.4 million shares earlier in May, and is engaged in a battle to take control of SIRI.
Netflix (NASDAQ:NFLX): NFLX is a provider of subscription-based Internet services for watching online movies and TV shows in the U.S. and internationally via Netflix.com, and for subscribers in the U.S. it also has a service to deliver DVDs and Blu-ray discs to their homes. SAC Capital added $37 million in Q1 to its $1 million prior quarter position. Other leading institutions with large bullish bets on NFLX in Q1 include Coatue Management adding a new 1.3 million share position, and Sands Capital Management adding 1.7 million shares to its 2.1 million share prior quarter position.
NFLX reported its Q1 (March) a month ago, with revenues coming in-line and earnings beating analyst estimates (8-cent loss vs. 27-cent loss). But it was the Q2 guidance that spooked investors, as the company projected lower domestic streaming subscribers than was estimated by the Street (200,000 to 400,000 vs. $1.2 million), raising doubts about the size of the market and the company's long-term growth trajectory. Also, international subscriber projections were underwhelming.
Furthermore, the company faces a myriad of challenges including heated competition from retailers such as Wal-Mart (NYSE:WMT), from cable operators, from other online sites such as Hulu.com, and from industry stalwarts such as Amazon (NASDAQ:AMZN), Google (NASDAQ:GOOG), and Apple (NASDAQ:AAPL). Moreover, the company's DVD-by-mail business is declining, and the content acquisition costs for its streaming business are expected to ride up going forward. The stock as a result has dropped, now down about 33% since the report, trading at 22-23 forward P/E, while earnings are projected to fall going forward from $4.16 in 2011 to 8 cents in 2012 and then rebounding to $2.16 in 2013.
The following are additional consumer and retail sector companies that SAC is bullish about, accumulating shares in them in Q1 2012 (see table below):
The TJX Companies (NYSE:TJX), that is a leading off-price apparel and home fashions retailer in the U.S. and internationally, operating its stores under the T.J. Maxx, Marshalls, Winners, HomeSense, HomeGoods and T.K. Maxx trademarks, in which it added $137 million in Q1 to its $12 million prior quarter position;
Urban Outfitters (NASDAQ:URBN), an operator of specialty retail stores, and also engaged in the wholesale apparel business, in which it added $95 million in Q1 to its $5 million prior quarter position; and
Gap (NYSE:GPS), that operates 3,246 Gap, Old Navy and Banana Republic apparel stores worldwide, in which it added $76 million in Q1 to its $9 million prior quarter position.
The following are consumer and retail sector stocks that SAC is bearish about, selling shares in them in Q1 2012 (see table below):
Click to enlarge image.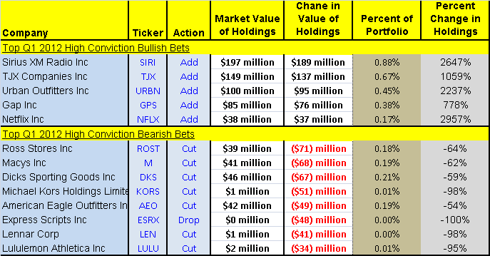 Source: Fundamental data in this article and company descriptions are based on SEC filings, Zacks Investment Research, Yahoo, Thomson Reuters and Briefing.com. The information and data is believed to be accurate, but no guarantees or representations are made.
Disclosure: I have no positions in any stocks mentioned, and no plans to initiate any positions within the next 72 hours.
Disclaimer: Material presented here is for informational purposes only. Nothing in this article should be taken as a solicitation to purchase or sell securities. Before buying or selling any stock you should do your own research and reach your own conclusion. Further, these are our 'opinions' and we may be wrong. We may have positions in securities mentioned in this article. You should take this into consideration before acting on any advice given in this article. If this makes you uncomfortable, then do not listen to our thoughts and opinions. The contents of this article do not take into consideration your individual investment objectives so consult with your own financial adviser before making an investment decision. Investing includes certain risks including loss of principal.