If there was one public company that defines the word soap opera, Yahoo! (YHOO) would be that company. From its revolving door management to the constant leaks from the company, Yahoo! has had more than its fair share of drama. But are things finally getting better at Yahoo!?

The Deal
On May 20, Yahoo! finally announced what many of its investors have been waiting for: the monetization of its stake in Alibaba (OTC:ALBCF). The two companies announced that Alibaba will be buying back half of Yahoo!'s stake in the company, at a minimum valuation of $7.1 billion. The exact valuation will be determined based on the valuation Alibaba receives when it completes the equity financing needed to buy back Yahoo!'s stake (subject to a minimum valuation of $35 billion).
The announced deal also has several incentives designed to drive Alibaba towards an IPO, such as the termination of royalty payments when the company goes public.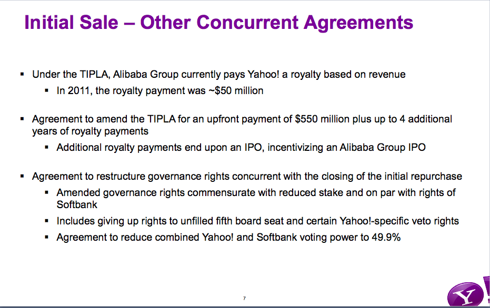 Under the terms of this deal, Yahoo! will likely divest the remaining 20% stake it holds in Alibaba if and when the company decides to go public. Under the terms of the agreement, Yahoo! will have "input and influence" on the selection of underwriters, and will sell 25% of the remaining stake in the IPO, with marketing support from the company to sell its remaining shares after the usual lockup period expires. In addition to cash, Yahoo! is receiving $800 million in preferred stock in Alibaba, which carries a dividend rate of 10%.
In total, Yahoo! is set to receive $4.2 billion in cash after the deal closes, and the company has stated that it intends to return that sum to shareholders, via either buybacks or dividends. However, Yahoo!'s board has decided to boost the company's buyback to $5.5 billion just in case it decides to return this capital via a buyback.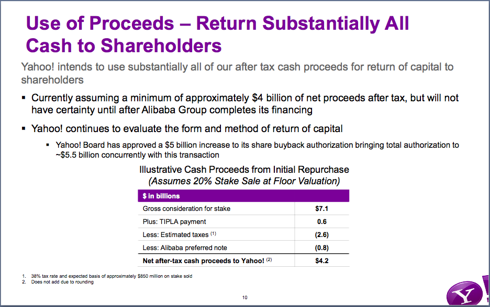 Were Yahoo! to pay out this $4.2 billion as dividends, the dividend would equal $3.42 per share, based on the company's 1,226,486,000 outstanding shares as of the end of the first quarter.
It seems as if Yahoo! emerged a winner from this deal, adding billions in cash to the balance sheet while still allowing Yahoo! to retain a stake in Alibaba. But is this deal as wonderful as Yahoo! makes it sound? Our analysis shows that under the surface, this deal is not as wonderful as meets the eye.
The Way Forward
Yahoo! is not in need of more cash on the balance sheet. At the end of the first quarter, the company had over $2.6 billion in cash & investments, and no debt (it is both amazing and ironic that a company perceived as being on the road to financial ruin has so much cash on the balance sheet). What Yahoo! needs is a change in strategic vision, not monetizing its Asian assets. Furthermore, Yahoo!'s Asian assets are the company's fastest growing source of profitability. In the first quarter of 2012, Yahoo!'s operating income dropped by 10.73% to $169.376 million. Its earnings from equity investments (Alibaba and Yahoo! Japan), however, grew an astounding 109.59% to $172.243 million. Yahoo! now earns more in GAAP income from its Asian assets than it does from its core search and advertising business. We do not think that the company should be buying back shares or paying dividends with this cash infusion. Yahoo! should instead pursue aggressive investments in its business, including large acquisitions to actually effect a turnaround in the company's core business. Selling off the company's fastest growing earnings source to buy back shares is NOT a solid long-term strategy. We model the effect of a buyback on Yahoo!'s earnings below, using the following methodologies.
Buyback: Yahoo! closed at $15.29 on May 22, 2012. At a price of $16 per share, Yahoo would be able to buy back 262,500,000 million shares, representing over 21% of the company's outstanding shares.
Annualized earnings: We estimate Yahoo!'s 2012 earnings based on historical growth rates derived from the company's 2011 10-K filing. Over the past 5 years, Yahoo! grew operating income at a CAGR of 2.85%. The company's share count has dropped by an average of 1.26% per year, and earnings from the company's equity investments have grown at a CAGR of 23.96%.
Adjusting for Yahoo!'s equity investment stake reduction: In order to quantify the effect's of Yahoo!'s likely buyback, we must remove half of the company's Alibaba stake from its future income estimates. Given that Yahoo! does not break down the income mix between Alibaba and Yahoo! Japan, we must work backwards to arrive at the appropriate cut. Yahoo! owns 35% of Yahoo! Japan, meaning that it has 20.37 million shares of Yahoo! Japan, which is publicly traded. For fiscal 2013 (Yahoo! Japan's fiscal year ends every March), Yahoo! Japan is estimated to earn 1,795 yen per share. At current exchange rates, that works out to $22.56 per share. That means that Yahoo! is set to earn $458.9361 million in 2012 alone from Yahoo! Japan. Assuming Yahoo! were to grow its equity investment earnings at its historical 23.96% growth rate, overall earnings from its Asian investments would rise to $591.190032 million. This implies that Yahoo! would have earned $132.253932 million from its 40% stake in Alibaba, which we must now reduce by half as a result of the Alibaba deal. While this is not an exact estimate, we feel that it is an educated assumption of Yahoo!'s Asian asset income under this deal.
| | | |
| --- | --- | --- |
| Item | 2011 Actual | 2012 Estimates, With Buyback |
| Operating Income | $800.341 Million | $823.1507185 Million |
| Earnings in Equity Interests | $476.920 Million | $525.063066 Million |
| Less Taxes and Non-Controlling Interests | -$255.609 Million | -$266.8803228 Million |
| Net Income Attributable to Yahoo! | $1.048827 Billion | $1.081333462 Billion* |
| Shares Outstanding | 1,282,282 | 963,986,000 |
| EPS | $0.82 | $1.12 |
| Annualized P/E Ratio | 18.64x | 13.65x |
*Estimated net income excludes minor other income, which in prior years has been derived from divestitures, which are unlikely in 2012 aside from Alibaba and possibly Yahoo! Japan.
Based on our analysis, a buyback would provide a boost of about 36.58% to Yahoo!'s EPS. While that is a large boost in EPS from 2011 levels, it does little to solve the company's long-term structural issues and further planned sales of the company's Alibaba stake (and possibly the Yahoo! Japan) will simply provide short-term boosts to EPS at the cost of the company's fastest growing source of income.
A New Board, A New Strategic Vision?
We would prefer to see Yahoo! reinvest this cash into the business, to try to create meaningful long-term change at the company's core operations. It is crucial to note that even though Yahoo! is still growing its core operations, the growth is anemic and unless Yahoo! does something to rectify the rot at the company, that anemic growth will likely turn into declines.
So what is Yahoo! to do? With Scott Thompson ousted as CEO due to his resume scandal, Yahoo! has appointed Ross Levinsohn as interim CEO, making him Yahoo!'s fourth CEO in 3 years (Carol Bartz, Tim Morse, Scott Thompson, and Ross Levinsohn) Levinsohn is seen internally as a solid advertising executive (he was head of global media before being appointed as interim CEO), and we would like to see him named as the company's permanent CEO.
Perhaps more importantly, Yahoo! also announced that it reached a settlement with Third Point and Dan Loeb, in which Dan Loeb and 2 of his nominees will be granted seats on Yahoo!'s board. We view this as a great step in the right direction, as Loeb has shown that he is committed to helping fix Yahoo!, and as the company's largest shareholder, with more than 70.5 million shares, Loeb has shown a commitment to the company, increasing his stake in the first quarter. We think that with Loeb on the board, Yahoo! has an increased chance of turning itself around.
Conclusions
This deal with Alibaba is the first step in monetizing Yahoo!'s Asian assets. In 2012 and 2013, Yahoo! Japan and the rest of Alibaba are likely to be monetized as well. We would like to see Yahoo! do more with this cash than simply buy back shares or pay a dividend. Yahoo! must invest aggressively in its core search and advertising business if it wishes to remain viable and relevant in a search and advertising world increasingly dominated by Google (NASDAQ:GOOG) and Facebook (NASDAQ:FB). Buying back stock does not help the company become more relevant to users and advertisers. Only investing in the business and reinvigorating it will result in the renaissance of Yahoo!. But with Dan Loeb on the board, we feel that the company now has a decent chance of doing just that.
Disclosure: I am long GOOG, FB.
Additional disclosure: We are long shares of GOOG via a mutual fund that assigns the company a weighting of 2.23%.