Facebook's (NASDAQ:FB) fresh, young smiling face looks a bit tired and weather worn this week.
You can't blame America for reveling in Facebook's failure, even if some seem to be enjoying the social media darling's trip and fall a bit too much. After all, Facebook - much like a silver spooned child - has gotten everything it has ever wanted. Until now.
Hundreds of millions of users? Check.
Eye-popping engagement? Check.
Billions to bank roll growth? Check.
Media hype pushed the IPO buzz to unattainable levels. Instead of under promising and over delivering, Facebook's IPO accomplished the absolute opposite. Of course, it was destined to fail. As most IPO's have shown, few trade in a straight line higher. Instead, they spend considerable time digesting their new public life.
Consider the following Linkedin (LNKD) chart. In the first 10 days of trading, the networking social media site retreated 16.5%. And, it fell 32.4% by day 23.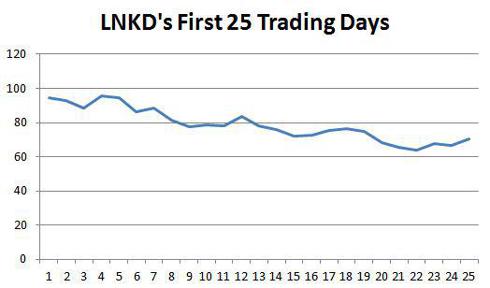 Or, how about the IPO's of Groupon (NASDAQ:GRPN), Pandora (NYSE:P) and Zynga (NASDAQ:ZNGA)? Groupon dropped -41.6% by day 16. Pandora fell -23.4% by day 6 and Zynga dropped -15.7% by day 15. Far from Cinderella launches, these IPO's remind us its investors who ultimately dictate the value - perceived and real - of companies, not underwriters.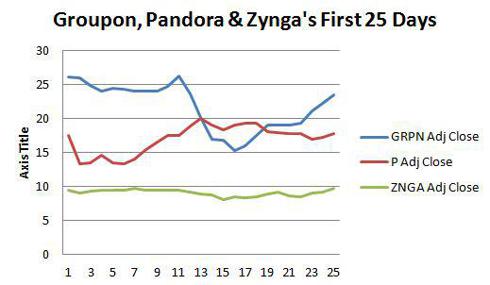 And, while each fell sizably during the days following their IPO, these companies may offer Facebook supporters hope.
Linkedin was back to its day 1 price on day 31 and reached $109.97 on day 40, good enough for a 16.7% return.
The far more troubled Groupon reached its day 1 closing level again on day 11.
By day 13 Pandora was up 15% for day 1 investors.
And, Zynga returned 51% from day 1 to day 40.
Looking at these moves, it's no wonder IPO's are considered risky. The volatility is enough to keep you up at night. Throw in non-existent trading history, unproven accounting controls and nascent profits and you've got a volatile cocktail.
But, for those inclined to think Mr. Zuckerberg has something special, and enough money to keep it that way, there may be an emerging opportunity to buy shares.
The million dollar question remains when? If these other IPO's are a good proxy, it would seem sometime between day 6 and day 23, and somewhere between down 15% and down 40%, offer the best entry.
Since we're currently down 18%, risk takers might want to average into a position during the next few weeks. Odds suggest doing so may pay off once the market settles down.
Disclosure: I am long FB, LNKD.