There are two companies making headlines these days on their trials and drugs targeting and related to Leukemia patients. They are Pharmacyclics (NASDAQ:PCYC) and Threshold Pharmaceuticals (THLD). Lets briefly review our findings:
Pharmacyclics
According to recent data released from a clinical trial, the experimental drug ibrutinib (PCI-32765) is showing favorable results for the treatment of elderly patients with chronic lymphocytic leukimia or CCL. The phase I/II trial, co-led by researchers at the Ohio State University Comprehensive Cancer Center - Arthur G. James Cancer Hospital and Richard J. Solove Research Institute (OSUCCC - James) and MD Anderson Cancer Center, indicates that the oral agent has few side effects and a high one-year survival rate in older patients.
This is impressive news, because ibrutinib is the first drug designed to target Bruton's tyrosine kinase, a protein that is essential for CLL-cell survival and proliferation. CLL is the most common form of leukemia, with about 16,000 new cases occurring annually in the United States. So far there is no cure and about 4,600 Americans die each year of the disease.
Interim report: This report indicates that "older patients respond well to this oral, targeted therapy, which lacks many of the side effects of chemotherapy and produces a quite dramatic one-year progression-free survival," says Byrd. "The high overall response rate and lack of side effects suggests that ibrutinib deserves further study as a first-line treatment in elderly CLL patients," he says.
Standard treatment for CLL involves use of the chemotherapeutic drug fludarabine, Byrd says. These regimens can effectively control the disease until drug resistance arises, but fludarabine has serious side effects, and sometimes causes death, in older patients, so new treatment approaches like that of ibrutinib are needed for older CLL patients to survive.
Study shows: This particular study involves 31 patients aged 65 or older with active CLL who require stem-cell transplantation for treatment. In this group, 26 patients were randomized to receive a drug dose of 420 milligrams (NYSE:MG) and five received a drug dose of 840 mg. Results of patients receiving 420 mg, 65 percent showed improvement in their disease, and 8 percent had no sign of disease. An estimated 93 percent would show no change in their condition. Also, all patients remained alive.
Ibrutinib is also being tested against other forms of non-Hodgkin's lymphomas (NHL) as well as multiple myeloma (NYSE:MM).
Next catalyst: Dr. John C. Byrd, a study co-leader, and director of the division of hematology and a CLL specialist at OSUCCC - James, will present their data at the upcoming 2012 annual meeting of the American Society of Clinical Oncology (OTC:ASCO) in Chicago in June 2012.
The stock is a current institutional biotech favorite pick and has performed very well and should be accumulated on any major dips at or near the 50 day moving average line.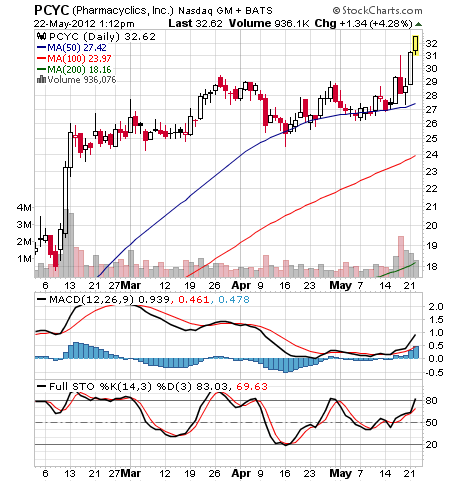 Threshold Pharmaceuticals
Threshold has a "new class of drug" called TH-302 and is an anti-cancer prodrug agent in clinical development. Pre-clinically, it is activated under hypoxic conditions and has demonstrated potent anticancer activity in many preclinical cancer models. TH-302 is converted selectively to the drug's active form, dibromo isophoramide mustard, a potent DNA alkylator, within hypoxic tumor cells. TH-302 targets levels of hypoxia that are common in tumors but are rare in normal tissues - this is how selective targeting of the tumor occurs.
Abstract data #6585: TH-302 preclinical data in mice have demonstrated marked expansion of hypoxia in areas of marrow leukemia infiltrates (Benito et al., PlosOne, in press). TH-302 also exhibited specific hypoxia-dependent cytotoxicity when tested against primary ALL and AML samples in vitro. Based on these findings, a phase 1 study of TH-302 was designed to specifically tackle advanced leukemias, an area where others drugs are literally non-existent or available in the marketplace.
Eligibility: ECOG ≤ 3, relapsed/refractory leukemias for which no standard therapy options were available, and acceptable hepatorenal function. A standard 3+3 dose escalation design was used with 40% dose increments. TH-302 was administered IV over 30 - 60 minutes daily on days 1-5 of a 21-day cycle. The objectives were to determine the MTD and PK profile of TH-302 with this schedule and to assess preliminary clinical activity of TH-302.
Results to date: 34 subjects with previously treated AML (n=26), ALL (n=6) or CML in blast phase (n=1) received TH-302 at doses of 120 (n=4), 170 (n=4), 240 (n=3), 330 (n=3), 460 (n=16) or 550 (n=4) mg/m². No skin or mucosal toxicity was noted in participants treated with TH-302 doses ≤240 mg/m2. At 330 mg/m2, grade 2 dermatological toxicities included skin ulcer (n=1) and hand/foot syndrome (n=1). Grade 2 mucositis (n=3) and grade 2 skin toxicity (e.g. skin rash, skin ulcers; n=3) were reported at 460 mg/m2; none were dose-limiting. Two of 3 evaluable subjects treated at the 550 mg/m2 cohort experienced DLTs of grade 3 esophagitis. Eight subjects had stable disease or better after 1 cycle. One ALL subject (at 120 mg/m2) cleared marrow blasts with persistent neutropenia. One AML subject (at 550 mg/m2) achieved CRp after 1 cycle with resolution of leukemia cutis.
Conclusions: Their goal is extending life to effected patients. TH-302 administered daily for 5 consecutive days every 3 weeks is well-tolerated with increased incidence of skin and mucosal toxicity at higher dose levels. Clinical activity has been noted with a few objective responses, but majority of cytoreductions in the AML subset were transient. Clinical trials combining TH-302 with various chemotherapeutics with established efficacy in AML and ALL are currently being planned. This team exhibits a highly efficient work regimen and followers should be impressed with the results so far.
More data is expected: Soon, more data will be demonstrated at the American Society of Clinical Oncology - ASCO in Chicago on June 4, 2012. Also - Top line results are expected by year end 2012. The upcoming catalyst we feel will be: Advanced Leukemias Phase 1 #6585 General Poster Session scheduled for Monday, June 4, 2012 from 1:15 PM - 5:15 PM.
We are very bullish and stand behind this company's very experienced management team, and with continued success we expect to see tremendous upside into 2012-2013.
For technicians: The current chart pattern suggests that we may see what is known as a Triple Bottom Chart Pattern in THLD stock which is very bullish, but the volume and price needs to participate here for that to happen. Strong continued data should make this work in time.
This stock is currently being accumulated by large institutions like Fidelity (FMR), Federated, and a few other notable strong investment firms. Currently, we feel that the stock is a Buy at this time. Please refer to the chart below.
Click to enlarge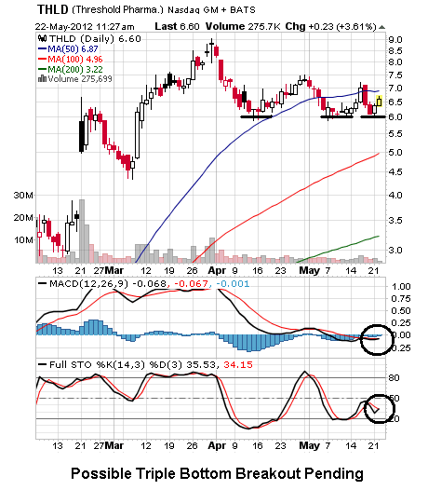 Disclosure: I am long THLD.
Additional disclosure: Editor of this article may initiate PCYC stock within the next 72 hours if it corrects.