iShares Silver Trust (NYSEARCA:SLV) investors have the opportunity to take advantage of the historically low implied volatility at which long-term options are currently being priced.
Historical and Implied Volatility: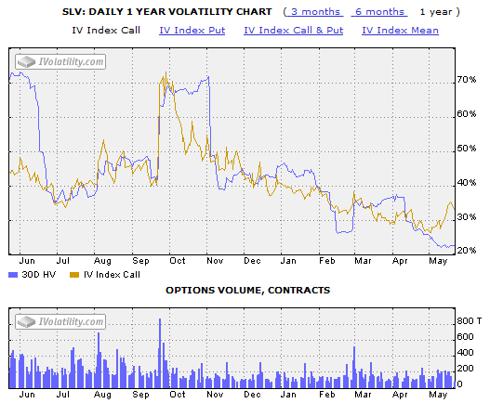 Source: ivolatility.com
Implied volatility is the markets' expectation of future volatility, which is used to determine options premiums. When purchasing options, implied volatility is generally the most important factor to consider to ensure investors are receiving a fair price on options purchased. With implied volatility at approximately 33%, which is near the lowest it has been in the last 12 months, investors can purchase SLV options at a significant discount compared to historic premiums.
Historic volatility is mean reverting, and with SLV 30-day historic volatility at 52 week lows of approximately 22%, it is likely we will see a significant spike. In the past 12 months 30-day historic volatility was as high as 73.3%. A significant spike in volatility should lead to a spike in the implied volatility used to price call options and reward investors with significantly larger premiums.
Technical Analysis:
After silver's euphoric rise to nearly $50 per ounce, it has spent an extended period of time consolidating. Longer consolidation periods imply larger breakouts, and with strong support around $27 per share, SLV is likely near a bottom.

How to Play It:
Investors should look to capitalize on the low implied volatility at which SLV options are currently being priced at by buying leaps, which would otherwise be too expensive.
A Look at the January 2014 $28 Calls: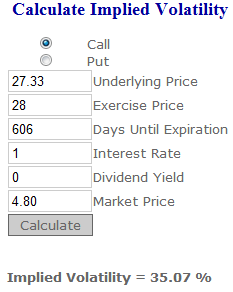 Source: option-price.com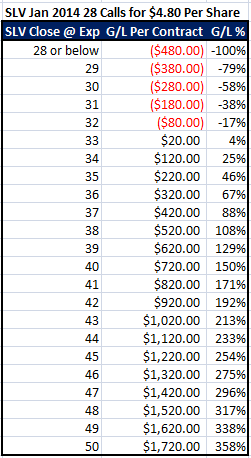 Advantages of the Strategy:
Timing is the most difficult part of options trading. By buying leaps investors can wait for their investment thesis to play out without suffering significant near-term time decay.
At a current price of $4.80 per share, downside is limited to a fraction of what it would be if an investor purchased the underline stock.
Call options offer investors the opportunity to make multiple times their investment through the use of leverage.
When volatility increases, investors can sell part of their holdings for larger premiums, or sell near-term calls as a hedge.
Note: SPDR Gold Shares (NYSEARCA:GLD) calls present investors with a similar opportunity.
Disclosure: I am long SLV, GLD.
Additional disclosure: I am long SLV call options and GLD.