As the previous article showed, it is very promising to apply momentum strategies to a set of solid stocks owned by Guru investors or great funds. In this article, I will show the result for a portfolio that uses momentum strategy to 7 'forever' buy and hold stocks proposed by Jim Royal in Motley Fool.
To come up with only 7 stocks that qualify for buy and hold forever is not a small feat. Jim Royal attempted this in a 2011's article titled as The 7 Best Stocks For a Lifetime and came up the following 7 stocks:
To buy and hold
Company
Dividend yield
Compelling consideration
McDonald's (NYSE:MCD)
3.3%
World's largest restaurant chain, just getting started in China and India.
Colgate-Palmolive (NYSE:CL)
3.0%
Exposure to emerging markets, with ''sticky" products.
Weight Watchers International (NYSE:WTW)
1.1%
Operating margins of 27%.
Brookfield Asset Management (NYSE:BAM)
1.7%
Management has acquired strategic assets.
Markel (NYSE:MKL)
N/A
Book value grew by 22% over recent 20-year period.
Exxon Mobil (NYSE:XOM)
2.1%
Access to resources the world can't live without.
National Grid (NYSE:NGG)
5.8%
Locked-in returns as a regulated utility.
We agree that these stocks all represent solid businesses that can produce outsized returns. Other than Weight Watchers (WTW), the author has very intimate knowledge in the rest 6 stocks. However, as a risk averse investor, one would very much own these stocks when they are in up trend with rising momentum. What is more, there is absolutely no guarantee that one or more companies in the above might experience fundamental incurable problems. So the theoretical buy and hold 'forever' is certainly only theoretical, and some filters, like a momentum strategy, act like first line of defense for your portfolio.
So this is what we are going to do: A momentum strategy is used to score the above stocks every month, and whenever a stock's momentum score is ranked below cash, its portion is replaced with cash for the next month.
The following shows the performance (as of 5/22/2012):
Annualized Return
---
* AR: Annualized Return
** YTD: Year to Date (not annualized)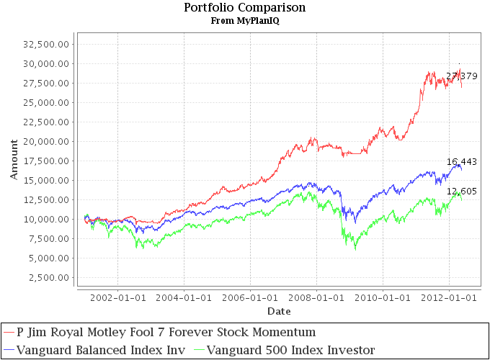 Visit the portfolio page P Jim Royal Motley Fool 7 Forever Stock Momentum for more detailed year by year performance.
Based on the back testing result, from 12/31/2000 to 5/22/2012, this portfolio had annualized return 9.3% with only 13% maximum drawdown, which is much better than S&P 500 (NYSEARCA:SPY) or most stock funds. Moreover, it only lost about 7.8% in 2008.
At the moment, this portfolio holds all of the 7 stocks. In fact, it has been holding all 7 stocks since the beginning of the year.