Buying a stock at well off its 52 week high that has developed support and shown a momentum shift is a simple but effective strategy. It uses the smartest and most beneficial aspects of technical analysis to strengthen a fundamentals-driven investment thesis. I started my investing career with a lot of success with this method - and I'm starting to find that although my education has run further ahead, in many respects I (and the rest of the financial community) are prone to overthink investments. Da Vinci said that "simplicity is the ultimate sophistication" and I have been actively trying to incorporate this into my investment process.
I screened for companies that are significantly off their 52 week high and whose 50day MA have recently crossed the 200day MA (golden cross). This is one of the most simple yet powerful technical patterns in terms of results, as well as the following it has among traders.
In addition, the companies have to be liquid, shown top and bottom line growth over the past 5 years, and trade at reasonable valuations. They preferably operate in non-commodity businesses and it is even better if they are non-cyclical.
Often the companies that pass these tests are plagued by one or more of the following problems:
Negative EPS or Revenue growth yoy
Worsening industry outlook
High debt levels
Pending severe negative catalysts
The first two are the most common, while the latter two are truly red flags. If I can sift through the list and find the ones that are either being kept down by the first two items, then I may have found a mispricing in the market. The younger me didn't worry too much about short-term earnings misses, revisions, outlook etc. I was just looking for good companies on the cheap.
I also play around with the moving averages, time periods, and how far off their peak they are. I always use the 50day MA but look at both the 100day and the 200day. Also, looking at both EMA and SMA is important.
Two companies that currently fit the bill are American International Group (NYSE:AIG) and Perry Ellis (NASDAQ:PERY).
AIG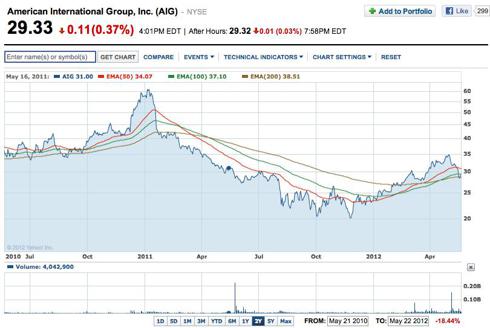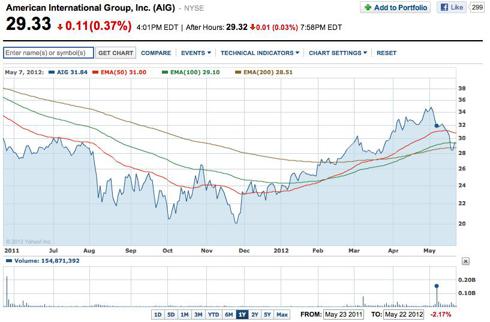 PERY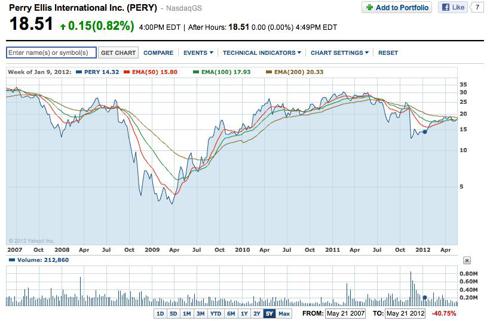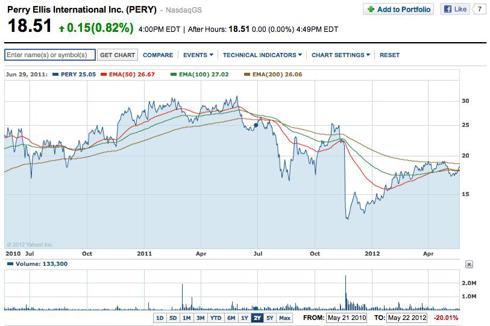 Ultimately there is a much stronger fundamental value thesis for AIG. I mean, the fact that the best performing fund manager of the decade has it as his by far largest holding is a decent indication. It takes balls to give your capital to likely the most poorly run company of the decade - but therein lies the value. It will eventually trade at a premium to book value (target of 1.1-1.3x) but until then I'm happy for it to carry an earnings yield of over 30%, a discount to book of about 50% and to continue to buyback it's own shares (at this discount) from the treasury. Every share they buyback increases my ownership and thus claim to assets ($).
Concerns about the Treasury's stake restraining capital appreciation has been proven wrong thus far, and I think it will continue to be proven wrong as AIG's management continues to deliver on liquidating assets and focusing on their core competencies. They carry significant intangible brand value as well. If this wasn't such a reputational disaster and controversial financial holding, I am confident Mr. Buffett would have bought a monstrous stake years ago.
The first suit I bought was a cheap Perry Ellis and I loved it. Sentimental value aside, I have not done enough due diligence on sales growth, margin consistency, management, and branding to know if they have a durable competitive advantage in the ultra competitive retail market. More work needed.
Disclosure: I am long AIG.