I'm relatively new to managing my own portfolio, and am enjoying new ways of learning how to boost my returns and generate extra income from it. A few months back a colleague of mine and I were chatting about investing while waiting for a meeting to begin when he asked if I'd looked into trading options yet. I'd heard the term before, but really didn't know anything about it. That led to a series of follow-up conversations and emails, and started me down the path of researching and learning about what options are and what I, as a mere retail investor, can do with them to make a bit of extra money as I work to grow my portfolio.
Spring Training
As part of my research I stumbled across Seeking Alpha Contributor Rocco Pendola's eBook "Basic Options Trading: Options Strategies for Beginners". For a mere $8.99 and a simple online transaction from my iPad, it promised to de-mystify the basics of understanding options trading. My colleagues at work had mentioned far more expensive tools that they had signed up for, and subsequently benefitted from, so one evening this past February I decided, "Why not?", and purchased Rocco's eBook from Amazon.com (NASDAQ:AMZN).
It took a couple of read-throughs to get the concepts to finally sink into my little grey cells, but I can say without hesitation that Rocco's eBook cleared the mist from my mind in terms of understanding the basics of options trading, and was well worth the time and money I invested in it. (As a side note, I do not receive any compensation for promoting Mr. Pendola's eBook; that was just a testimonial, not a solicitation to purchase.)
Having said that, one thing that kept tripping me up for weeks as I pondered the basics of options was the apparent "double-negative" of selling puts and buying calls. To help me keep things straight and to get it to sink into my skull, I came up with the following "truth table" that shows the outcome of the intersection between the buying and selling of calls and puts: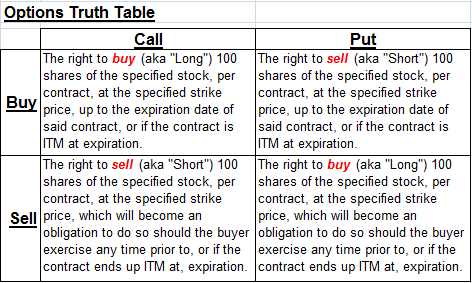 Once I had it straight in my head that by selling a put I may end up buying 100 shares of a given stock, it was clear to me that, along with some risk, I could generate some extra income in the process of acquiring stocks that I knew I wanted to own.
First At-Bat
After some paper trading and watching stocks that I was considering acquiring for a few months, I decided in a rash moment to go ahead and sell my first cash-secured put contracts. I had been watching the story of Nokia Corporation (NYSE:NOK) and Microsoft (NASDAQ:MSFT) unfold as they try to shoehorn their way into the duopoly of the smartphone market currently dominated by Apple's (NASDAQ:AAPL) iPhones and phones running Google's (NASDAQ:GOOG) Android operating system. I'm already long MSFT, and I'd been contemplating "doubling down" and making a modest investment in Nokia as well. NOK had been absolutely pummeled of late, having dropped 65.7% in the last 12 months due, primarily, to being late to the smartphone party. I believed that at its current price it is a fantastic, high-risk/high-reward opportunity, and for a modest amount of capital and a bit of patience I could realize a significant percentage gain in equity over the next few years if Nokia's smartphones start gaining even a bit of traction.
So this past May 2nd I decided that for a relatively small risk I was ready to take the plunge and write (sell) my first pair of NOK puts. At that time NOK was $3.58, and I felt that I would be comfortable owning 200 shares of the stock at $3.50 per share, so I wrote two May 2012 at-the-money, or ATM, put contracts at the $3.50 strike price.
5/3/2012
Sell to Open
NOK 19MAY12 3.5 Put
2 @ $0.11 [MKT] Less ($1.45) Commission = $20.55 Premium Received.
However, and this was only my first mistake at this at-bat, I neglected to set a limit price for the contracts when I submitted my order via my new broker's online tool. I had checked Yahoo! Finance and saw (or thought I had seen) the bid and ask premiums for this contract around $0.30 or $0.40, so I naively assumed that I would get that premium when my order was filled in the morning. However, to my horror I discovered the next day that my order had been filled for a premium of only $0.11 per contract. Well, at least I'd gotten my feet wet, received a small premium for my efforts, and was, effectively, "on first base".
But early May did not prove to be kind to NOK, and its price dropped considerably further until, on the evening of May 16th, with the expiration date for these two contracts only two days away, I effectively panicked when the price of NOK hit $2.80 per share and I decided to try to "cut my losses" by closing the two NOK put contracts by buying them back. I checked the going premium at the close of that day but, in my haste, forgot my first mistake, and once again neglected to set a limit price when I closed these contracts. As a result, when my order was filled on May 17th I bought back the two contracts at a premium of $0.80. NOK ended up closing this past Friday at $2.85. If I had left well enough alone and let myself be put the 200 shares, my cost basis would have been $3.29 per share, but I would have the shares now, which means I would have had a paper loss of only ($0.44) per share, or ($88.00) in total. As it turned out, I ended up with a real loss of ($0.71) per share, for a total loss of ($141.68), and no shares to show for my efforts.
In effect, while safely at first base, I took too much of a lead and got picked off by the pitcher while I was distracted. So, the lessons learned were:
Always set a Limit Price for your Premium!
Don't Panic!
Second At-Bat
Just prior to getting picked off at first base on the NOK contracts, I decided to write another put contract, this time for Arch Coal (ACI). I've been watching the coal sector for a while, and am pretty bullish on coal in the near term. While the use of coal is somewhat out of favor in the USA, China and India have been building coal-burning electric generation plants for years and are, by most accounts, desperate for the stuff. Seeking Alpha Contributors Mark Anthony and Paulo Santos have been going at each other pretty hard over this topic over the past few months. Mark has commented that China's recent imports of coal have recently increased by an astonishing 88% year-over-year, so on a macro level I believe the demand exists globally, if not locally. I'd done some due diligence, and I liked what I saw in ACI, including their beaten-down price and 6% yield. ACI closed at $8.19 on May 14th, so that night I decided to write a single put for the June $8.00 strike, effectively ATM, but this time I used a limit order for a premium of a nickel above what I saw at the premium had been at the close of that day.
5/15/2012
Sell to Open
ACI 16JUN12 8 Put
1 @ $0.65 [LMT] Less ($1.03) Commission = $63.97 Premium Received.
Checking my account on the morning of the 15th, I saw to my relief that the order had executed and my put contract had been sold, the premium realized and in my cash balance. So far, so good. This time, I've decided, I'm going to stay the course and hold onto this contract and see what happens at expiration in June. Getting the $65.00 credit for the premium for selling this put reduced my cost basis for these 100 shares to $7.35, should I be assigned them at or before expiration.
Third At-Bat
Then this past weekend I came across not one but two bullish articles on coal on Seeking Alpha, which specifically mentioned ACI; one by Paulo Santos and one by Peter Epstein. Feeling more confident in the batter's box now, and with ACI's price at $7.20 at Friday's close, I decided to write another June put on ACI, this time at the $7.00 strike for a $0.50 premium. That order was filled Tuesday, May 22nd, which (after commissions) brings my cost basis for 200 shares of ACI down to $6.94 per share, should both contracts either be executed prior to, or expire ITM on June 15th. That's a price I can live with, and I'll be sure to keep my cursor away from the "Buy to Close" button on my account window and let these two contracts play out.
As for NOK, fellow Seeking Alpha Contributor Stock Croc just came out with a bullish article on NOK this past weekend, and I'm still bullish on the stock in the long term, so I decided to just suck up my previous loss and wrote another two $3.50 puts, this time for June, with a limit order on the premium of $0.60. That one ended up getting filled and netting me a premium of $0.61 somehow, but I'm not going to complain about the extra penny. I also wrote another two June NOK puts at the $2.50 strike price and a limit of $0.35, but that has yet to be filled. If it does, that will bring my cost basis for 400 shares of NOK down to $2.53, should all four contracts be executed or expire ITM.
Disclosure: I am long AAPL, ACI, MSFT, NOK.
Additional disclosure: I am not a professional investment advisor or financial analyst; I'm just a guy who likes to crunch numbers and can make an Excel spreadsheet do pretty much whatever I want it to do, and I'm doing my best to manage my own portfolio. This article is in no way an endorsement of any of the stocks discussed in it, and as always, you need to do your own research and due diligence before you decide to trade any securities or other products.