In "My Rookie Season Writing Options: Top of the First - Cash-Secured Puts", the companion article to this one, I explained that as part of managing my own portfolio and trying to squeeze the most out of my positions and the market, I've begun the journey of writing cash-secured puts in order to go long on stocks that I want to own anyway. In that article I told you about my adventures, or misadventures, writing cash-secured puts for Nokia (NYSE:NOK) and Arch Coal (ACI). In this article, continuing the baseball metaphor I began with the first article, I'll discuss the other half of my current options trading strategy: Writing covered calls against my existing positions.
As I mentioned in the previous article, and which I think is worth repeating here, one thing that kept tripping me up for weeks as I pondered the basics of options was the apparent "double-negative" of selling puts and buying calls. To help me keep things straight and to get it all to sink into my head, I came up with the following "truth table" that shows the outcome of the intersection between the buying and selling of calls and puts: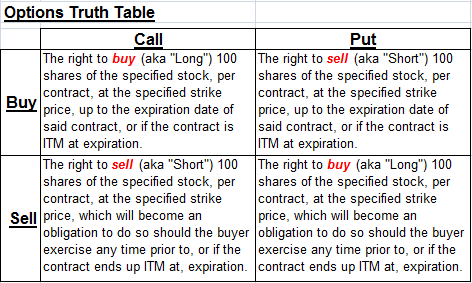 Once I had it straight in my head that by selling a call (which is the right to buy) I may end up selling 100 shares of the underlying stock, it was clear to me that, along with some risk, I could generate a bit of extra income from stocks that I already owned but the prices of which were generally moving sideways.
Warm Ups
If you own at least 100 shares of a stock and are interested in either selling it, or just want to generate a little extra income while its price is moving relatively sideways, you can sell covered calls against those stocks, assuming your broker has granted you permission to do so. The calls are "covered" because should the contract expire in-the-money, or ITM, by at least $0.01, your shares will be sold by your broker to the holder of that call contract to cover your obligation; in other words, they will be "called away". Likewise, the buyer of your call contract may choose to exercise that contract prior to the expiration date, in which case your stocks will also be called away. In either case you will receive a credit for the strike price for the 100 shares of each contract you sold.
The first and most important rule about selling covered calls, at least in my book, is that you have to be OK if your shares are called away! What I look for when selling covered calls is a strike price that is far enough out-of-the-money (or OTM; that is, higher than the current market price) that my shares aren't likely to be called away before the next month's expiration date, but I still make a decent amount on the premium for each call contract I write. However, should my shares be called away, I'm OK with that happening; if I still want to maintain a position in that stock, I will get back long, by either buying the shares I want outright or, more likely, selling the appropriate number of cash-secured puts.
The second and equally important rule is, of course, always set a Limit Price for your Premium! This is the primary lesson from the Top of the First, which I had to learn twice for it to really sink in.
First At-Bat
Looking through my portfolio, I found that not all of the positions where I hold at least 100 shares of a stock are worth the time, effort and commissions to write one or more covered calls. There are currently 14 of the 28 stocks in my rollover IRA account in which I have a position of at least 100 shares, but checking the June call contracts' latest premiums last Friday, it turns out that only four of them qualify for my consideration for writing covered calls: Cirrus Logic (NASDAQ:CRUS), Medtronic (NYSE:MDT), Microsoft (NASDAQ:MSFT) and SeaDrill, Ltd. (NYSE:SDRL). Of those four, SeaDrill has an ex-dividend date coming up just prior to the next month's expiration date of June 15th. Since SDRL is one of my best dividend generators, I didn't want to risk losing this quarter's dividend by having my shares called away prior to the ex-div date, so I took it off the list. That left CRUS, MDT and MSFT with which I could write covered calls for June, which I subsequently did last Wednesday night, May 16th. The closing prices on May 16th for these four stocks were $25.63, $38.22 and $29.90, respectively.
For selling covered calls, my current broker's online trading tool has a default setting of selecting strike prices for the next available month that are at least 10 percent higher than the current market price. Since the premiums at these strikes seemed reasonable for my first time selling real calls, I selected strikes that were at least 10 percent OTM. Once again, I chose limits on my premiums that were at least $0.05 above the close of the previous day.
Sell to Open - May 17th, 2012
CRUS 16JUN12 28 Call
2 @ $0.70 [LMT] Less ($1.03) Commission = $68.97 Premium Received.
------------------------------
Sell to Open - May 17th, 2012
MDT 16JUN12 40 Call
1 @$0.41 [LMT] Less ($1.03) Commission = $39.97 Premium Received.
------------------------------
Sell to Open - May 17th, 2012
MSFT 16JUN12 32 Call
1 @ $0.20 [LMT] Less ($1.02) Commission = $18.98 Premium Received.
------------------------------
Score!
All of these contracts sold, and the net result of writing these contracts was a credit of $197.64 to my cash balance. When you factor in the net $118.52 I realized (so far) from my experience selling the NOK and ACI puts, I ended up generating $316.17 in additional income in my IRA this week. That may not sound like that big of a deal to some readers, but as a newbie to trading options, it's pretty exciting for me! If I can keep this up and re-invest this extra income like I am with dividends, I might just be able to retire without having to worry about where I'm going to find the funds to live on.
I'm no Tony Stark, but if I did my calculations correctly, and assuming I could write these covered calls every two months, then if none of these contracts are executed and my shares called away, I have realized decent returns for having these shares just sitting in my IRA, as shown in the following table:

On Deck
Thus ends the first inning of my rookie season of writing options. I have already decided that I'm not going to panic this time, I'm going to stay the course and wait for either my covered calls to be executed by their buyers or for the June 15th expiration date to come, and see whether any or all of my contracts are ITM or if they expire worthless. If any of my shares get called away from my covered calls, that means that their market price has come up to at least my strike price for that contract, and I will have received the corresponding credit for each 100 shares sold out of my account. I may have left some money on the table if the price went up higher than the strike price plus the premium I received, but with those proceeds my next step will then be to get back into those positions, probably through the use of writing cash-secured puts for each stock that got called away in June. At that time, I'll see where my cash balance is, see what I've got on hand that I can write covered calls for, and check my watchlist and see if there is anything due up at bat next for which I will attempt to write cash-secured puts. Look for me to report what happens next after that!
Disclosure: I am long ACI, CRUS, MDT, MSFT, NOK, SDRL.
Additional disclosure: I am not a professional investment advisor or financial analyst; I'm just a guy who likes to crunch numbers and can make an Excel spreadsheet do pretty much whatever I want it to do, and I'm doing my best to manage my own portfolio. This article is in no way an endorsement of any of the stocks discussed in it, and as always, you need to do your own research and due diligence before you decide to trade any securities or other products.