We maintain our Avoid rating on Student Transportation (NASDAQ:STB), but we are increasing our fair value from $3.73 to $4.11 (compared with the $6.32 price as of May 18) and we are raising our outlook on the company. Below is an updated report on the company.

To pay down a portion of the company's outstanding line of credit, Student Transportation sold 12.25M shares of its common stock near the end of the quarter (10.95M shares originally offered plus a 1.3M share over-allotment). We believe that investors are receptive to growth stories and are willing to pay for companies that have revenue growth, regardless of the source of the growth. STB's largest shareholder participated to a full extent in the offering by maintaining its 15% pro rata share, thus demonstrating its continued confidence and support of STB.
We also noted that STB was able to post an estimated 6% annualized organic growth assuming no acquisitions during Q3 and we believe that institutional investors were attracted to that. That metric was one of the things that we liked about STB and why we decided not to take a short position in the company.
STB received $79.6M in net proceeds from the stock issuance and used the proceeds to pay dividends, to pay down the line of credit and for a $6.4M asset purchase of contracts that Petermann had to divest upon its merger with National Express that will close in Q4 2012. We actually liked the contracts that STB acquired since the districts were located in counties with above-average population growth, relative to the U.S. at large.
STB generated 24.6% total revenue growth during the quarter, which was comparable to the growth rate experienced in Q2. We were impressed that in this quarter, EBITDA increased 31.5% in Q3 2012 versus Q3 2011, versus the 19.5% EBITDA growth in Q2 2012 versus Q2 2011. This helped net income nearly double versus the prior year's quarterly results. EPS increased by 67% from $.03 in Q3 2011 to $.05 in Q3 2012.
YTD 2012 revenue does not include $1.2M in deferred revenue due to increased school cancellations so far in the current year, and STB expects to recover this revenue in Q4. Some $37.3 million of the revenue increase for the first nine months is attributable to the net new business noted with same terminal operations primarily making up the remaining $12.8 million in revenue increases related to service requirements of existing contracts and contract rate increases. We also found that net CapEx was more disproportionately incurred in Q1, due to the seasonality of the business. We would also like to see a more granular breakdown of revenue growth, showing what percentage came from acquisitions, what percentage from new bids and conversions and what percentage from existing operations. We believe that a more detailed breakdown of revenue growth would help provide additional clarity to potential investors.
Click to enlarge: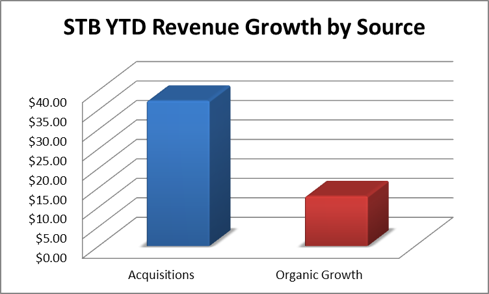 Source: STB Q3 Transcript, Amounts in $Ms
We've noticed that since STB went public, Q3 has been a period in which the company has seen low outflows for capital expenditures. The company spent $1.855M in net CapEx during the quarter, and $18.2M YTD. The breakdown of YTD 2012 Net CapEx is as follows: $11M million relates to the new bid contracts and additional routes secured as part of the net new business for fiscal '12. Six million dollars relates to replacement capital spending and $1.2M relates to oil and gas investments. Since the company is looking at $30M in replacement CapEx for FY 2013 (up from $21.7M in 2011), regardless of whether it uses operating leases or purchases the buses outright, we hope that STB eases back on acquisitions and other capital expenditures in order to avoid having to borrow new debt or issue shares. We'd also like to see greater detail with regards to lease commitments and payments incurred in prior years as well.
Click to enlarge: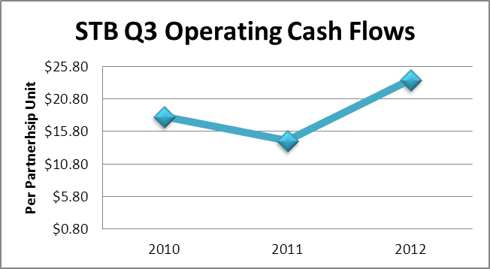 Source: STB Q3 Earnings Releases, 2010-12
To review from our most recent update, STB was awarded six new contracts for the 2012 school year, four in the U.S. and two in Canada. All of these bid wins are in areas which STB already has significant operations to add to its regional density and many with satisfied customers who actually recommended STB for the awards. We had written glowingly about the new Canadian contracts and were particularly interested in finding out which districts STB will be serving in New Hampshire and Connecticut.
STB also secured 100% renewal of its existing contracts so far this year, which shows that the company is as interested in retaining business as it is in expanding it. STB is also aggressively pursuing conversion efforts in the Southeastern United States because 90% of the school districts own and operate the school bus fleets. Along with the legislative gains by the conservative Tea Party Republicans in the Sun Belt in 2010 and 2011, as well as continued gains expected in 2012, we believe that there is potential for STB to pick up contracts in these states. In South Carolina, there is a bill on the floor of that state's House of Representatives to decentralize the state's fleet of school buses down to the local district level.
STB has underperformed year-to-date since it was registered on the NASDAQ, versus the S&P 500 and NASDAQ. We currently maintain our avoid rating on STB because our thesis is that the company's dividend payments have put a floor on the value of the stock and the rising stock market has served as a floor for STB's total return. STB has still underperformed the market during this time period. However, we believe that the future underperformance will be less dramatic. STB was registered on the NASDAQ at $7 on September 6, 2011, and closed at $6.32 Friday May 18th, even with the benefit of an upgrade by Raymond James in the last quarter. However, it is getting closer to our fair value target and we noticed that STB's loss on a month-to-date and quarter-to-date basis has been less than that of the S&P 500 and the NASDAQ. We attribute this to the good earnings results reported on May 9th, coupled with the reduction of the company's credit line balances.
Click to enlarge:
Source: Bloomberg LP
In conclusion, though we still believe that STB is overvalued relative to our fair value target, the company still offers an 8.86% dividend yield. For investors who care mainly about high current dividend yields and are not concerned about price or fair intrinsic value of a company, STB's common stock or its convertible bonds are worth a look. We were satisfied with STB's performance to the point where we have raised our estimated fair intrinsic value of STB's common stock for the second time in as many months. We raised our fair intrinsic value of STB's common shares to 10% over its adjusted book value, which results in a $4.11 estimated fair intrinsic value. We are glad to see that the market price and our fair intrinsic value are starting to converge. In our last valuation report, we believed that it was 88% overvalued and now that gap has shrunk to 53% after STB's satisfactory Q3 performance.
Disclosure: I have no positions in any stocks mentioned, and no plans to initiate any positions within the next 72 hours.
Disclaimer: Saibus Research has not received compensation directly or indirectly for expressing the recommendation in this report. Under no circumstances must this report be considered an offer to buy, sell, subscribe for or trade securities or other instruments.