Real estate put another notch in its belt today with the earnings release by Toll Brothers (NYSE:TOL).
From the release:
FY 2012 second-quarter net income of $16.9 million, or $0.10 per share, compared to a FY 2011 second-quarter net loss of $20.8 million, or $0.12 per share.
FY 2012's second-quarter results included $2.0 million of pre-tax inventory write-downs and a $1.6 million recovery of prior joint venture impairments, compared to FY 2011's second quarter pre-tax write-downs and joint venture impairments totaling $32.5 million.
As the market recovers, previous impairments will be written back up, supporting earnings (not recurring in nature, but helpful). This, in itself, is showing a gradual recovery in real estate as values are being written up.
FY 2012's second-quarter net signed contracts of $754.7 million and 1,290 units rose 51% in dollars and 47% in units, compared to FY 2011's second-quarter net signed contracts of $500.9 million and 879 units. The average price of FY 2012's second-quarter net signed contracts was $585,000. On a per-community basis, FY 2012's second-quarter net signed contracts of 5.61 units per community were the highest for any second quarter since FY 2006.
Again, an increase of 51% in the value of net signed contracts and 47% in units is impressive, net signed contracts of 5.61 units per community supports this.
Toll Brothers ended FY 2012's second quarter with 230 selling communities, compared to 203 at FY 2011's second-quarter end. The Company now expects to end FY 2012 with between 230 and 245 selling communities, a slight decrease from its previous range of guidance: This is attributable to the faster sell-out of certain communities than previously projected due to stronger demand.
Keep in mind, these are higher priced homes. If these are selling, we can extrapolate that mid-priced homes are selling as well.
And perhaps the most telling sign of recovery comes from the CEO's comments (emphasis mine):
Douglas C. Yearley, Jr., Toll Brothers' chief executive officer, stated: "It appears that the housing market has moved into a new and stronger phase of recovery as we have experienced broad-based improvement across most of our regions over the past six months. The spring selling season has been the most robust and sustained since the downturn began. Even now, for the first three weeks of May, our non-binding reservation deposits, a leading indicator of future contracts, are running 39% ahead on a gross basis, and 23% ahead on a per-community basis, compared to last year's same May period.

"We believe we are benefiting from the release of five years of pent-up demand and reduced competition in our luxury niche. We believe our brand name, our well-located communities, and our demonstrated reliability during the downturn are enabling us to attract more buyers and grow at a faster pace than the housing market in general.

"Based on the experience of the past several years, we still believe buyer confidence, although improved, is fragile. Certainly, a better employment picture, encouraging housing data, more stories of multiple bidders competing for homes and a generally positive economic tone are helping. While domestic and global "headline risk" remains a concern in potentially undermining buyer confidence, with mortgage rates at historic lows and inventory supplies dropping in many markets, we are feeling better than we have at any time in the past five years."
Interestingly, Toll Brothers investments in non-performing loan portfolios and foreclosed real estate was up nearly $30MM from FYE 10/2011.
The insight from Toll Brothers, combined with recent data we have seen on housing, bodes well for real estate and the economy generally. On that note, a quote from the National Association of Realtors which released existing home sales yesterday helps give credence to the recovery.
Lawrence Yun, NAR chief economist, said the housing recovery is underway. "It is no longer just the investors who are taking advantage of high affordability conditions. A return of normal home buying for occupancy is helping home sales across all price points, and now the recovery appears to be extending to home prices," he said. "The general downtrend in both listed and shadow inventory has shifted from a buyers' market to one that is much more balanced, but in some areas it has become a seller's market."
Home builders including Lennar (LEN), Pulte Homes (PHM) and D.R. Horton (DHI) should continue to benefit from signs of stabilization and growth within the real estate market.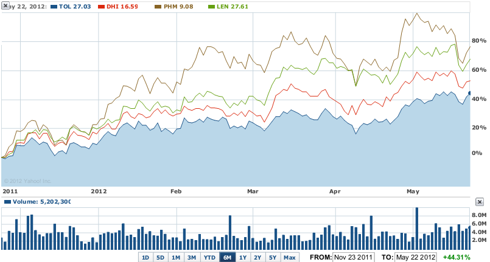 While the recovery is still in its early stages, the opportunities within real-estate for both buyers and investors alike are compelling.
Disclosure: I have no positions in any stocks mentioned, and no plans to initiate any positions within the next 72 hours.