Now that Quebecor World Inc. (NASDAQ:IQW) has filed for creditor protection, parent Quebecor Inc. [QBR.B/TSX] is ready to move on and should be all the better for it, according to UBS analyst Jeffrey Fan.
Quebecor Inc. took a big step in severing ties with Quebecor World on Monday following the latter's creditor protection announcement, by formally advising Quebecor World that it must remove "Quebecor" from its corporate name.
In a note to clients, Mr. Fan said:
We believe these actions reflect Quebecor Inc.'s decision to surrender control of Quebecor World.

We believe the likelihood (or risk) of Quebecor providing further funding to Quebecor World has been significantly reduced and we think the decision to walk away from the proposed rescue financing plan was the right one.
Mr. Fan said he believes that Quebecor's 25% drop in share value since Quebecor World announced its re-financing plan in November, is due in large part to concerns that Quebecor Inc. would use Quebecor Media cash flow to inject additional capital to fund the once largest commercial printer in the world.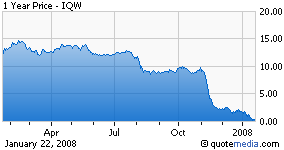 Now that Quebecor World's financing proposal has been quashed by lenders and sponsor banks, and the company has been turned over to the courts, this risk has been mitigated, the analyst wrote.
While part of Quebecor Inc.'s sell-off can also be attributed to overall market weakness and shrinking cable valuation, Mr. Fan said the company share price should nonetheless benefit post Quebecor World. He upgraded his rating on the stock from "hold" to "buy" and left his price target of C$37 unchanged.
"We believe there is attractive potential upside for Quebecor Inc. shares and in a volatile market, we expect the shares to outperform."