I, for one, won't do much hand-wringing over the JPMorgan Chase (NYSE:JPM) debacle. After all, the real losers will be its customers and stockholders, and I am neither.
JPMorgan's full 2011 revenue was about $90 billion. The $3 billion loss, which is being lamented ad nauseam, amounts to less than 2 weeks revenue for this banking colossus. If you want to wring your hands, consider this; there is potential for the losses to continue to grow. Banks, as they always do, will find a way to recover these losses by way of higher fees, new fees or interest rate increases imposed on customers. Of course, shareholders are paying a price too. JPMorgan's stock has plummeted in value since the disclosure of the loss, and its trading volume soared to as much as 5 times the 3 month average. The stock now trades at around $34 per share, though still well above its 52 week low of $27.85. Market cap took a correspondingly large hit. This is not the "big deal" so many make it out to be. After all, market capitalization is nothing more than share price multiplied by the number of shares outstanding. Any increase or decrease in share price moves that needle. Oh, one more thing...Fitch and Standard & Poor's adjusted ratings on JPMorgan in a downward direction. Does anyone really believe that JPMorgan is less viable as a business than it was 30 days ago?
Perhaps the real tragedy here is the loss of investor confidence in the banking sector. Shareholders will suffer, to some degree, regardless of which bank stock they own. The impact is difficult to measure, but let's try.
JPMorgan, the catalyst impacting money center banks, has seen a percentage change in share price of -17.06%, while Bank of America (NYSE:BAC), trading at about $7 per share, has seen a percentage change of 8.83% since JPMorgan's loss was announced. Citigroup (NYSE:C), trading at about $26 a pop, has suffered a percentage change in its share price of -15.14%. Wells Fargo (NYSE:WFC) is trading at around $31 per share and has experienced a percentage change in share price of -6.78%, and finally, PNC Financial Services Group (NYSE:PNC), trading at around $61 per share has suffered the least, with a percentage change of 6.41%.
Let me be the first to acknowledge that attributing contracting share values to JPMorgan's hedge fund misstep is a bit of a stretch, all but impossible to prove, especially in view of the concurrent decline in the market.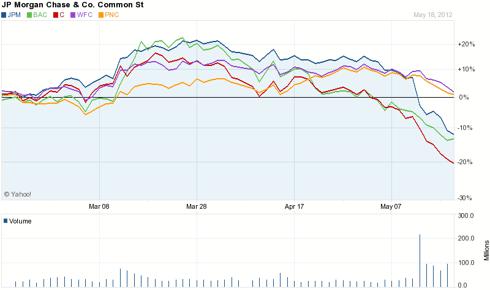 For those inclined to follow the value investor maxim to buy on bad news, this is your shot. JPMorgan has been handed a plateful. There are certainly valid reasons to entertain a long position on JPMorgan. Here are 2 reasons to consider adding JPMorgan to your portfolio. First, it has a very attractive price to earnings ratio of 7.44. Second, the stock is trading at a fraction of its book value, 0.70 to be exact. A great price to book isn't 'all that and a bag of chips'. Ask anyone who was holding Washington Mutual when the FDIC sold it to JPMorgan. When you look at the price to earnings growth ratio of 1.03, the low price to earnings ratio and a book value of almost $48 per share, it does give you something to think about, doesn't it? Just make sure you consider that additional losses may be in the pipeline. The complex structure of the hedge seems to have left even Dimon uncertain of the potential for additional losses.
The wiser course may be to take advantage of JPMorgan's effect on the share prices of its rivals. Wells Fargo, PNC, Bank of America or even Citi may be better investment options and probably in that order of preference.
Wells Fargo is a favorite of Buffett's and while this, in and of itself, is not a reason to invest, it does give you some confidence in the direction this stock is moving. Wells Fargo can stand very well on its own merits. It has an attractive price to earnings and price to earnings growth ratio, 10.83 and 0.83 respectively. Earnings have been consistent, and it has made no headline grabbing missteps. The icing on the cake is a 1.9% dividend yield supported by a modest payout ratio of 20%.
PNC is no slouch either, with an 11.31 price to earnings ratio and a price to earnings growth ratio of 1.57. Earnings are less impressive than those of Wells Fargo, but PNC also offers a healthy dividend, yielding 2.4% at a payout ratio of 25%. PNC's price to book is almost one to one.
Bank of America is the 'cheapest' stock we'll speak of here today in the context of share price. It is also a bargain in terms of price to book, suggesting that Bank of America, like many of us, is worth more dead than alive. A liquidation of the bank's assets would provide each shareholder $2.90 for each dollar invested.
Citigroup is my least favorite option because it frequently shoots itself in the foot. The latest negative catalyst was its failure to pass the Fed stress test. Citi is rightly or wrongly perceived by many to be poorly managed. That said, Citi can be bought for around 7 times earnings, has a favorable price to earnings growth ratio of 0.65 and pays a quarterly dividend of $0.01. It also has a fractional price to book ratio of 0.42.
In summary, I recommend avoiding JPMorgan Chase until the full scope of its hedging losses develop. Wells Fargo and PNC seem to possess more of the attributes for long-term success than Bank of America or Citigroup so, with this pullback, they are on my radar.
Disclosure: I have no positions in any stocks mentioned, and no plans to initiate any positions within the next 72 hours.