The other day I discussed the new concept announcement from American Eagle (NYSE:AEO), and then more generally described my outlook for retail stocks. Over the last five months, I've identifed several retail stocks that are being priced as zero-growth stories - essentially, the discounted cash flows imply not only that comparable store sales won't ever increase, but also that the companies will never open new stores that have a positive economic value - i.e. bring in revenues in excess of what is lost through cannibalization.
While I have a feeling I could pick out more retail stocks than the four below, I have particular confidence in the underlying economics of these:
1. Bed Bath & Beyond (NASDAQ:BBBY)
2. Home Depot (NYSE:HD)
3. Lowe's (NYSE:LOW)
4. American Eagle (AEO).
I've covered AEO fairly extensively, and the Home Depot/Lowe's duopoly has been taken out to the woodshed because it combines the worst of all worlds on Wall Street nowadays - consumer spending and housing. Still, I think there is relatively safe value to be realized there - but the stock I really want to focus on right now is Bed Bath & Beyond (BBBY), which I've never mentioned before.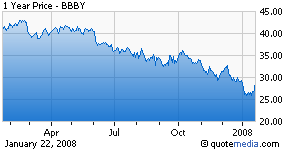 BBBY is my latest stock report feature (on Wall St. Newsletters), and in the report I go to great lengths to show that BBBY might be the most consistent profit-generator of any company in the world - even more so than the blue chips that all the institutions love in uncertain times. The company sells home goods, however, and the market has ruthlessly punished any company that sells things - much less things that you keep in your house. When you get a company that turns 20%+ returns on invested capital and equity year after year after year mixed with a good deal of fear and misunderstanding, you get opportunity. By my estimate, these circumstances have combined to give you a stock that is conservatively worth $40-something for $27 right now.
So why do I keep beating the retail drum? Because the time to get into the sector is here. Last week I put is thusly: "[Policy actions won't have an immediate effect], but it will be visible and oversold sectors dependent on the consumer (i.e. retail) will rally ahead of the actual economic recovery."
I bring this up because of an interesting article from the AP, quoting UBS analyst Brian Nagel:
"We studied past economic cycles and discovered that retail stocks typically bottomed and rallied amid (not after) downgrades to earnings per share forecasts" by analysts, Nagel wrote.

"Consider that in the early 1990s recession retail stocks started their recovery more than one year before negative earnings per share adjustments ended. On average, during the past five interest-rate easing cycles, our UBS Specialty Retail Index has risen nearly 50 percent and outperformed the S&P 500 by an average of about 30 percentage points."
He upgraded shares of Staples (NASDAQ:SPLS) and Bed, Bath & Beyond (BBBY) to "Buy" from "Neutral" as two of his top picks in the hardline sector, despite lowering earnings estimates across the board in retail.