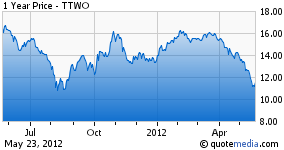 Video game maker Take Two Interactive (NASDAQ:TTWO) reported fourth quarter earnings last night. Shares of Take Two were up 6% in after hours trading last night and are now up over 7% in this morning's opening session. The increase is largely due to guidance reported by the company.
Take Two Interactive reported revenue of $148.1 million for the fourth quarter. The revenue beat analysts' targeted $139.9 million forecast. The company failed to beat analysts' forecast earnings per share of a loss of $0.55 per share. Take Two reported a loss of $0.60 per share for the fourth quarter.
Take Two updated guidance for its first quarter during its conference call. The company sees revenue in a range of $225-$275 million. The company's net loss representing negative earnings per share was $0.60-$0.75. For the full year, Take Two sees full year revenue of $1.75-$1.85 billion. Earnings per share are expected to be $2.00-$2.25 for the fiscal year, according to the company.
The large earnings per share, which represent a big increase from a loss in 2012, has led many analysts to speculate the release date of Grand Theft Auto V. The highly anticipated game has no release date and was listed as TBA by Take Two during the earnings release. My recent article discussed two blockbuster titles for Take Two in fiscal 2013. Bioshock: Infinite has been delayed by Take Two for a February 2013 release. With the high anticipated earnings per share from Take Two in fiscal 2013, I see a release of Grand Theft Auto V in October, to replace the hole left by Bioshock, or in March to be included in fiscal 2013's earnings.
Full year revenue for fiscal 2012 was $825.8 million, a large decline from the $1.1 billion in fiscal 2011. The company was up against the Red Dead Redemption video game, which sold over 9.5 million copies in the previous year.
One of the biggest negatives about Take Two has been its lack of a transition into digital gaming. Digital sales have increased though as the company executes its plan to increase digital market share. Digital sales represented 13% of Take Two's 2012 fiscal sales, an increase from the 9% figure in fiscal 2011. The fourth quarter saw digital sales make up 19% of all of Take Two's sales.
Last week, Take Two released the highly anticipated Max Payne 3 video game. According to Video Games Chartz, the game sold 270,862 copies for the XBOX 360 and 177,313 copies on the Playstation 3. That placed the game in second and third place behind Blizzard's (NASDAQ:ATVI) Diablo 3 for sales in the United States. The game will release as a PC version on June 1st.
Several of Take Two's future releases appear on VGChartz top pre-orders list:
Borderlands 2 (XBOX360) - 144,784
Bioshock Infinite (XBOX360) - 114,926
Borderlands 2 (PS3) - 75,995
Bioshock Infinite (PS3) - 65,737
Spec Ops: The Line (XBOX360) - 49,074
As I noted in my last article, Take Two shares represent a great bargain going into fiscal 2013. Huge blockbusters in Bioshock Infinite and Grand Theft Auto V will take earnings and likely shares higher. Key releases also come from the new Spec Ops line of games, a sequel to Borderlands, a new series XCOM, and an expansion to Civilization V. Max Payne 3 will also test the company's push into mobile and digital downloadable content. A mobile version of the game was released on April 12th and we will see the early results during the next conference call. The company has outlined a downloadable content schedule for Max Payne 3 as the company attempts to gain additional revenue through maps, game updates and new weapons to further game play. I stand behind my price target of $33.72 and expect an earnings beat in the second quarter.
Disclosure: I am long ATVI.