John Deere (NYSE:DE), the world's largest agricultural equipment manufacturer, reported strong second quarter sales and profit margin on the heals of an increased demand for equipment on the international front. DE has consistently outpaced estimates due the company's ability to keep margins high and invest capital in areas like construction equipment where sales increased by 26% in the last quarter. Deere second quarter results are as follows: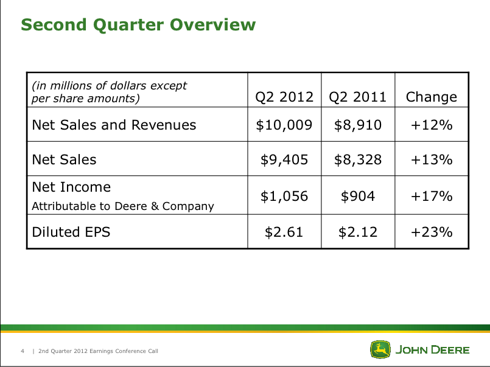 (DE Second-Quarterly Report)
The consistent increase of above 10% in revenue, sales, net income, and earnings per share illustrate that DE fundamental business model is working to drive profitability through strategic investments in emerging markets like China. The exponential increase in demand for corn in China will further progress DE targets and make the company a barometer for the international economy. This fundamental strength coupled with the company's low valuation, makes it a buy now and into the future.
Fundemental Strength:
The success of Deere is greatly dependent on the demand for equipment surrounding building and farming. The industry is dominated by Deere and Caterpillar (NYSE:CAT), who are constantly working to create the most innovative products for consumers. Deere has done an exceptional job at creating an integrated company that is able to provide equipment solutions for many types of customers. Our extensive investments in new products and additional global capacity are moving ahead at an accelerated rate… They put Deere in a sound position to respond to a rising global need for food, shelter, and infrastructure in the years ahead," says the company's CEO and Chairman Samuel R. Allen. Neha Chamaria of The Motley Fool states:
What should propel Deere forward is its lineup of advanced agriculture equipment launched last year. Pegged as the most innovative products in the company's history, the line's contribution should be reflected in numbers throughout the year. Deere continues to aim higher, though. It has planned seven new factories across the globe this year, including three that will cater to rising construction equipment demand -- an area the company is keeping a close eye on.
This fundamental strength and ability to stay current and ahead of the competition allows DE to provide shareholders with continued vitality and a commitment to both short-term goals and long-term strength.
Commitment to Shareholders:
Deere has set forth a strategic plan to continue to raise its dividend and complete share repurchases to put the successes of the company into the hands of the shareholders. Currently, Deere is paying a 2.40% cash dividend and has repurchased $8.3 billion since 2004. What will continue to drive this momentum is the discipline the company has put forth in this arena. The following graphic illustrates Deere history of dividend increases.
Financials/Valuation: The valuation of the company as put into perspective by its PEG ratio, illustrates that Deere is priced for investor success. This valuation is inline with Caterpillar, but due to Deere apparent ability to exceed expectations, use its capital wisely, and reward shareholders, Deere is priced very reasonably.
Forward Price/Earnings: 8.61
PEG Ratio:.78

Conclusion: As evidenced by the chart below, Deere apparent fundamental strength, and the company's commitment to shareholder's seeing the successes of the company, Deere is in an incredible position to prosper into the coming years. The company also stands as an indicator for the international market in terms of food commodities. With the population growth occurring around the world, coupled with the aforementioned factors, Deere is priced and positioned for success.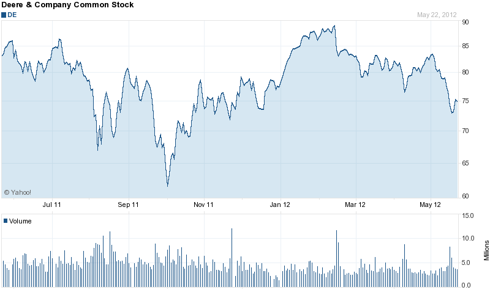 (Yahoo! Finance)
(All financial metrics referenced above are obtained from Yahoo Finance, CNBC Analytics, S&P Capital IQ and Thomas Reuters.)
Disclosure: I have no positions in any stocks mentioned, and no plans to initiate any positions within the next 72 hours.