Motorola Reports Q4 In Line, but Forecasts Loss for Q1
Motorola (MOT) Wednesday morning is adding to the gloom. The company reported fourth quarter results that were in line with the Street: revenue of $9.65 billion and GAAP earnings before charges of 14 cents a share; the Street had expected $9.6 billion and 13 cents.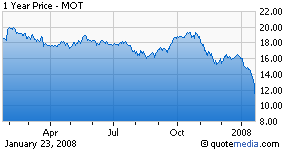 But the company also said that the recovery of its mobile phone business "will take longer than expected," and forecast a loss from continuing operations in the first quarter of 5-7 cents a share; the Street had been looking for a profit of 10 cents.
Motorola said it shipped 40.9 million handsets in the quarter. In a conference call with analysts this morning, the company said units and sales from mobile devices will be down "significantly" in the first quarter from the fourth quarter. The company says results in the quarter will be worse than seasonal. CEO Greg Brown says the first quarter is typically down 10%-15%, but that this time the decline will be greater than that. Brown says the company expects to lose market share in the quarter.
The company also noted that it bought back 33.7 million shares int he quarter for an aggregate $557 million.
In pre-market trading, Motorola shares are down $1.92, or 15.6%, at $10.40.
This article was written by
Tech Trader Daily is a blog on technology investing written from Palo Alto, California by long-time Barron's West Coast Editor Eric J. Savitz. The blog provides news, analysis and original reporting on events important to investors in software, hardware, the Internet, telecommunications and related fields. Eric joined Barron's as a feature writer in New York in 1988, after four years at the Dow Jones news wires. In 1995, he moved to California as the magazine's first reporter in Silicon Valley, creating the Plugged In column. Eric left Barron's in 1998 to become executive editor of The Industry Standard. He rejoined Barron's in Palo Alto in late 2001. Eric also writes the monthly Tech File column for Smart Money magazine. Visit Tech Trader Daily (http://blogs.barrons.com/techtraderdaily/) and Barron's Online (http://online.barrons.com/).