Warren Buffett suggests that we buy when others are fearful. On the other hand, buying when others are afraid is rarely as profitable as purchasing when others are catatonic.
So just how petrified are institutional investors, insiders and the investing public? The S&P 500 has shed 125-plus points in 3 1/2 weeks. That is a a painful drawdown of -8.75%, but it doesn't meet the standard of a full-fledged correction (-10%).
We also have the infamous fear gauge in the CBOE S&P 500 Volatility Index (VIX). The VIX is getting very close to climbing above a long-term 200-day moving average. Yet even then, panic is more typically associated with VIX spikes above 30, not 25.
Click to enlarge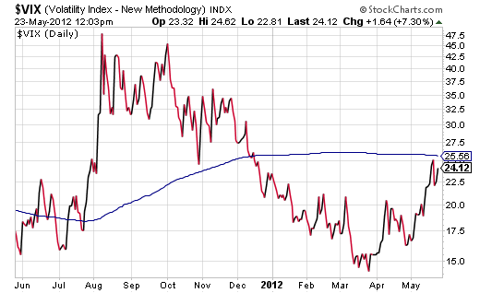 Perhaps opportunists will need to wait a bit longer for the last optimist to raise the proverbial white towel. For that matter, even the adventurous may need to get a gander at the market's reaction to still more efforts at shoring up European confidence. (Does anyone really believe there won't be a globally coordinated central bank action at some point?)
Until the risk-off selling activity subsides, the smartest thing an ETF investor can do is prepare "wish list assets." However, rather than look for the ultimate "risk-back-on" investment, you may want to add an asset that comes with a bit more peace of mind.
Here are three "dynamic" ETFs that lose less in sell-offs while holding their own in uptrends:
1. Powerhares Dynamic Retail (NYSEARCA:PMR). A number of InvescoPowerShares ETFs track proprietary indices, and PMR is no exception. This exchange-traded vehicle tracks the "Dynamic Retail Intellidex" that includes corporations meeting criteria such as earnings momentum, earnings quality and value. The retailers themselves include discounters, warehouse clubs, general merchandisers and specialty stores.
Why PMR? For one thing, its price ratio with the S&P 500 SDPR Trust (NYSEARCA:SPY) demonstrates consistency in down periods and up periods. Second, it hasn't been selling off at quite the same clip as the broader benchmark.
Click to enlarge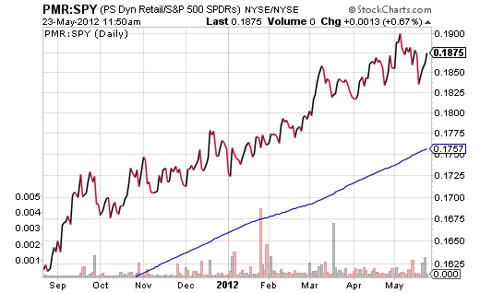 2. PowerShares Dynamic Pharmaceuticals (NYSEARCA:PJP). Even with the markets seemingly crumbling all around us, buyers are still pledging allegiance to drug stocks. As part of the non-cyclical triumverate of utilities, staples and healthcare, PJP is currently dealing with roughly half the downside pressure as the market at large. And the upside? PJP is still up roughly 8.9% year-to-date, dramatically outpacing the broader S&P 500's 3.2%.
Click to enlarge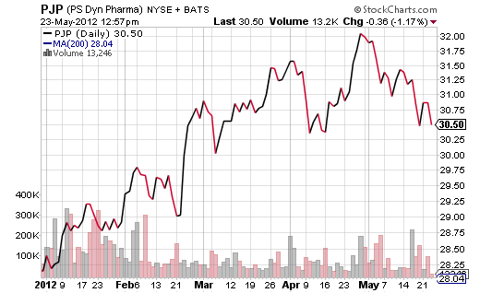 3. PowerShares Dynamic Leisure and Entertainment (NYSEARCA:PEJ). This fund reads like a menu of fast-food giants – McDonald's (NYSE:MCD), Starbucks (SBUK), Yum Brands (NYSE:YUM), Chipotle (NYSE:CMG). And while PEJ may track an Intellidex that represents companies engaged in leisure and entertainment, 50% of the current exposure is restaurant-related.
Is that a bad thing? Only if investors begin to shun the drive-through kings. However, PEJ has been the beneficiary of surprising inflows as well as some enviable performance numbers. PEJ is still up a stunning 11% in 2012.
Keep in mind, if you choose to pick up any of these ETFs today, you'll want a protection plan. You may prefer trend identification, stop-limit loss orders or hedging techniques, but you can't afford to buy-n-hold-hope.
Disclosure: Gary Gordon, MS, CFP is the president of Pacific Park Financial, Inc., a Registered Investment Adviser with the SEC. Gary Gordon, Pacific Park Financial, Inc, and/or its clients may hold positions in the ETFs, mutual funds, and/or any investment asset mentioned above. The commentary does not constitute individualized investment advice. The opinions offered herein are not personalized recommendations to buy, sell or hold securities. At times, issuers of exchange-traded products compensate Pacific Park Financial, Inc. or its subsidiaries for advertising at the ETF Expert web site. ETF Expert content is created independently of any advertising relationships.