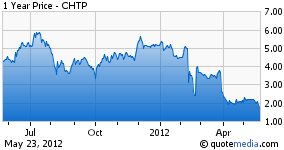 On May 22, 2012, management at Chelsea Therapeutics (NASDAQ:CHTP) held a conference call to inform investors about the results of the End-of-Review meeting the company had with the U.S. Food and Drug Administration (FDA). In March the FDA issued CHTP a complete response letter (CRL) explaining the agency did not feel the company's drug, Northera, was ready for approval to treat neurogenic orthostatic hypotension (NOH). For background information on NOH, Northera, and the CRL, see this earlier article.
Too Good To Be True?
In the CRL the FDA informed Chelsea that no single site shall provide an unusually large fraction of the patients and no single investigator or site should be disproportionately responsible for the favorable effects seen. It turns out that in Chelsea's highly successful 301 study one site did have a disproportionately positive effect and due to this the FDA was unwilling to accept 301 as the sole confirmatory trial for efficacy. The site in question enrolled the largest number of patients, 18 of 160, and was outside the U.S. When this site's data is excluded then study 301, while still showing a clear benefit, fails to achieve statistical significance.
Chelsea says they realized this site was enrolling more patients than the others and performed two independent audits of the site even before the trial had concluded. The FDA also conducted its own audit of the site during the NDA review. In each case no significant errors or any reason to doubt the data were detected.
CHTP explains the FDA was clear during the meetings and again in the meeting minutes that, with the exception of this lone site, the review team has no issues with the results of 301 or any efficacy data for any U.S. site. There are also no additional approval items beyond what is in the CRL required for approval. The company now feels demonstrating durability of effect over a two to three month period, like the FDA suggested in the CRL, is secondary to confirming efficacy in a second study to ease the concerns created by the "too good to be true" data from the large site. The FDA still wants data from beyond one week of treatment but agreed it could be less than the eight weeks originally requested.
The Plan Moving Forward
Instead of starting a brand new trial Chelsea plans to make changes to the ongoing 306b study. The primary endpoint will change to be a measure of dizziness at two weeks post titration (depending on when titration ends some patients will have been on drug for five weeks at this point). The current primary endpoint, a reduction in falls, will become a secondary endpoint. To increase the powering of the study target enrollment will increase to 200 patients. 161 have already enrolled in 306b and with the addition of another 15 sites management figures they can reach 200 early in Q4 2012.
Chelsea emphasizes they do not yet have clearance with the FDA for these changes. Discussions are not complete and nothing is finalized. However, should this plan be allowed to proceed data would likely be ready for the FDA in Q1 2013. The agency indicated this would likely be a Class 2 resubmission that carries a six-month action date.
Opportunity Knocking?
The stock has been hit hard since the company's conference call, losing more than 17% at the time of this writing. I am mildly surprised because the options facing the company were limited. Either they attempt to change the primary endpoint and enroll more patients in 306b or start a brand new trial from scratch and that would have taken even more time and more money. But this was apparent from the moment the CRL was issued many weeks ago. Perhaps a number of investors were not as well informed and got spooked when they heard the earliest approval date for Northera under the new plan would be Q3 2013. Whatever the reason, the recent drop has created an opportunity for a short-term play.
On the call, management mentioned that top line phase 2a results of Chelsea's drug, CH-4051, to treat rheumatoid arthritis (RA) are due within a week or two. For anyone sick of carrying around a map and a compass in the efforts of navigating the company's failed trials and changing endpoints this should be a refreshing change.
Chelsea's 4051
The trial compares 250 patients randomized into five arms where they receive either a standard dose of methotrexate (MTX) or varying doses of CH-4051. The primary endpoint is a measure of ACR20 after 12 weeks (there is a co-primary endpoint but it is not important for these discussions). Secondary endpoints include DAS28, safety, tolerability, and morning stiffness. For more information on some of these endpoints look here under "The Surprise: Efficacy." This is a standard design for phase 2 trials in RA.
MTX, a classic antifolate, is the most commonly prescribed disease modifying anti-rheumatic drug (DMARD) and is typically the first DMARD prescribed therapy for RA. However, the administration of mtx is known to cause serious side effects such as pulmonary fibrosis and elevations of liver enzymes, which can be indicative of early liver and kidney damage. About 30% of patients, even before the product can show any efficacy, drop out due to vomiting, nausea and diarrhea. These get worse with continued usage. The side effects are so bad mtx is usually only dosed once a week.
Chelsea believes mtx's side effects are due to the rate and manner in which it is metabolized. Higher doses of the drug are required for it to be effective but also result in higher toxicity. CH-4051 is an antifolate like mtx but is not metabolized like mtx. When CHTP escalates their doses high enough (40mg) they can generate side effects seen in other antifolates, like GI upset and higher levels of liver enzymes. However, with the dosing levels being used in the phase 2a study they have seen no difference in a healthy volunteer's tolerability to that of placebo.
Data from phase 1 showed the drug was well tolerated at doses up to and including 7.5mg. The 5mg dose was as well tolerated as placebo. The maximum dose in the study about to read out is 3mg.
We have already seen interim results of two lower doses (0.3mg and 1.0mg) compared to mtx from the phase 2a study. Comparing the 1mg dose to mtx showed a superior tolerability and safety profile with comparable efficacy. Infection rates for CH-4051 were half that of mtx. GI problems were less than half as common and overall adverse events favored drug over mtx 45% to 62%.
If CH-4051 can maintain this safety profile at the 3mg dose they have a real drug here. If they can also improve upon the ACR20 score of 53% vs. 47%, drug vs. mtx, it will be a nice bonus. With all the caveats of comparing across trials, Rigel (NASDAQ:RIGL)'s and partner Astra Zeneca (NYSE:AZN)'s drug R788 had ACR20 scores of 67% vs. 35%, drug vs. mtx. Pfizer (NYSE:PFE) and Vertex (NASDAQ:VRTX) also got ACR20 scores into the 60s with their respective RA drugs.
Let's Be Clear
I want to make it perfectly clear I view this as a short-term play. Chelsea still needs to raise money and I suspect they will do so shortly after the RA data is released, especially if it is good. There is the possibility of management making a deal with a pharma partner (in the RA field these occur during or just after phase 2) but I believe they will raise funds first to help them in any negotiations. The stock has been beaten down lately creating a favorable risk/reward play on a very near-term catalyst. Good luck if you dare.
Disclosure: I am long CHTP.
Additional disclosure: I followed my own advice and bought some more shares at 1.94. I may buy some more but am waiting to see what becomes of CLDX.