Now that PetSmart (NASDAQ:PETM) has announced an impressive first quarter and returned 37% over the past year is it too late to jump in?
The company announced earnings of $0.85 in the first quarter, up 39% year over year. Management is largely optimistic about 2012 despite remaining uncertainty about the economy and illustrated by increased EPS guidance for 2012 to $3.19 to $3.31 per share. This represents a 5% increase from previous guidance. The company does not believe weather impacted results, as gains in flee & tic offset weak apparel sales.
In the recent quarter the company reset the premium food section of stores, and increased its shelf space, this is currently the fastest growing segment in the stores. In Q2 the company will be resetting the toys section of the store. This will include the launch of the Bret Michaels line of pet toys and the Toys"R"Us dog toy line. The company will also be resetting the aquatics and small animal's area of the stores this summer and should bring an improved shopping experience. The company is seeing strong growth in services and pet hotels, with that segment up 8.3% year over year.
The company believes they have a highly differentiated experience in their stores, and provided an engaging experience to customers. They believe execution of their differentiation strategy, and innovation is a competitive advantage that is not easy duplicated.
On the conference call the company said they have seen an increase in adoptions over the past two quarters, and is targeting these customers by selling puppy adoption kits. It is also encouraging that live animal sales saw strong increases in the quarter. Increases in pet ownership should help drive future performance of PetSmart. There is also a strong positive correlation between home ownership/housing starts and pet ownership, and if recent improvements in the housing market in some parts of the country continue, PetSmart would likely benefit. However the company said it is too know if these housing and adoption increases will become a trend.
The America Pet Products Association is projecting US pet industry expenditures to increase 3.75% in 2012 after increasing 5.4% in 2011. With PetSmart seeing sales growth in the mid to high single digits they are likely continuing to gain market share in this industry.
Entry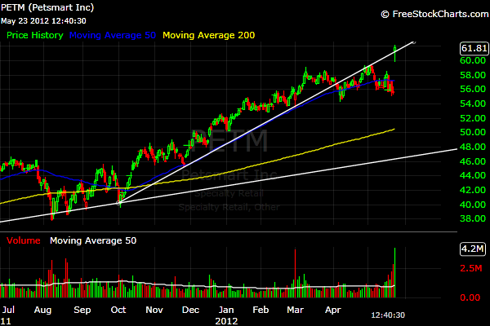 The stock has had a long term up trend, as shown by the lower white line, and in fall of 2011 this uptrend accelerated This accelerated uptrend appeared to be breaking down over the past two months. However Q1 earnings results and the 10% move higher on May 23rd, has resumed this faster uptrend. The 50DMA has also provided support on this recent uptrend, and I would not consider entry until then stock comes back down to the 50DMA. I would be a strong buyer of this stock on a test of the longer term uptrend, around $50 per share.
Overall PetSmart is a dominant player in this space, and has been delivering results, beating earnings estimates in each of the past 6 quarters. The company is also in a position were they could announce another buyback or increase the dividend when the board meets this summer. I don't believe it is too late to get on board with this stock, however after the recent move higher I would wait for a pullback.
Data sourced from: Yahoo!Finance, and company filings. Chart from: Freestockcharts.com
Disclosure: I have no positions in any stocks mentioned, and no plans to initiate any positions within the next 72 hours.