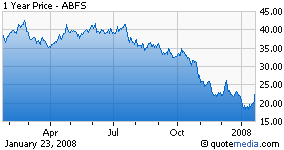 I, and my clients, have been short Arkansas Best (ABFS) since last spring and I am reviewing it as I think about covering it. There's been lots of interest in deep-cyclicals (see transportation, retail, housing-related) since the Fed's newfound urgency to slash short-term rates. While we're certainly closer to the light at the end of the tunnel for ABFS, recent market action smacks more of bottom-fishing than of fundamental improvement. See Pros & Cons below:
The good news is:
- trucking volumes were up in November and December 2007.
- company is much closer to trough than peak valuations ('08 PE of 10.1x vs 5yr average of 11.6x and 10-yr avg. of 9.8x)
- interest rate cuts ought to boost the domestic economy, eventually
The bad news is:
- buying out of pension fund with various unions ought to add about $800 million to debt on the company balance sheet
- domestic personal income growth has been anemic for years, with asset gains (read HELOCs) providing much of the fuel for consumption gains. There is no sign of income growth and sure signs of asset losses.
- If ABFS returns to $160 million of operating cashflow, cap ex stays flat at $80 million, and new debt service on $800 million is $48 million (@ 6%) or $29 million tax-adjusted, free cash flow will be about $51 million -- which is just a 5.21% Free Cash Flow yield. That doesn't seem cheap to me.
In summary, while the next few years for ABFS may be better than the last year, extrapolating a rebound appears somewhat premature to me. That said, $15-18 is probably the lowest ABFS will go as bad news is released and I'm pretty close to covering this successful short.