American Capital Mortgage Investment Corp. (NASDAQ:MTGE) announced a secondary after the close tonight. I have continued to hold my shares despite the knowledge a secondary would likely occur. The annual dividend yield is 15.20%. I will explain my rationale for holding American Capital Mortgage despite the stock trading at a 9.27% premium to book value per share.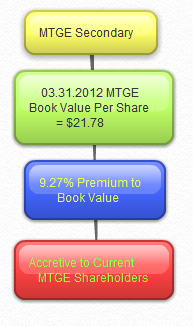 American Capital Mortgage
American Capital Mortgage is a hybrid mortgage real estate investment trust (mREIT). This allows the company to purchase non agency and agency mortgage backed securities (MBS). Gary Kain is the CEO at American Capital Mortgage Investment and American Capital Agency Corp. (NASDAQ:AGNC). The below chart presents the historical investment returns.

American Capital Mortgage will issue 10 million shares at a discount to the closing May 23rd stock price. Mr. Kain will invest these proceeds into MBS. The company will borrow via short term repo agreements and purchase longer dated agency and non agency MBS. The 1st quarter data shows American Capital Mortgage had 7.6x leverage. Mr. Kain's goal, and proven track record, is to increase the book value per share. An increase in book value per share results in a higher stock price and a sustained high dividend yield.
I am not a quick enough trader to sell and buy back in. I allow the accretive transactions to provide sector beating returns.

American Capital Agency Corp.
American Capital Agency invests in only agency MBS. Per the above table, the company is trading at the highest premium to book value per share. As Government Sponsored Entity (NYSE:GSE) MBS yields have decreased since March 31st, the book values have likely increased through present date.
American Capital Agency investors will have to decide if they wait for a secondary announcement or hold on to their shares. I will be holding onto American Capital Agency shares. Gary Kain has proven to increase book value per share, deliver high dividend yields, and provide open communication to shareholders. I can't ask for anything more.
Apollo Residential Mortgage, Inc. (NYSE:AMTG)
Apollo Residential trades at a discount to its book value per share. The company did have a secondary after the March 31st, 1st quarter, record date. I am confident the book value per share is higher than the current share price of $18.72. As second quarter data is provided in the approaching 2 months, I believe Apollo Residential will prove to be a top performer in the mREIT space. The company needed the secondary to increase its asset base to pay for the mREIT operating expenses. Nothing is free in this world, and the mREIT needs the services and subscriptions to compete with its peers. Currently the mREIT offers a 16% dividend yield.
Dynex Capital Inc. (NYSE:DX)
I believe Dynex Capital is undervalued and a top bargain at current prices. The company has a long track record of success. Dynex quietly has not disappointed shareholders and currently provides a 12.1% dividend yield.
The mREIT is a hybrid mREIT. The company is trading at a 3.53% discount to its net asset value of $9.62. I have added more shares as the company's price is below book value per share.
AG Mortgage Investment Trust (NYSE:MITT)
AG Mortgage Investment Trust is a hybrid mREIT. AG is advised and managed by AG REIT Management, LLC which is a subsidiary of Angelo, Gordon & Co., a privately held SEC registered investment manager with $23 billion in assets. AG substantially benefits from Angelo Gordon's investment breadth, experience and expertise.
AG Mortgage Investment Trust (NYSE:AG) holds a portfolio of $2.5 billion in agency and non agency residential mortgage backed securities (NASDAQ:RMBS), both fixed and floating rate, investment grade (BBB and above) and non investment grade. AG uses debt and equity financing to fund its purchases and uses debt related leverage to improve investment spreads and profits. It typically borrows money at short term rates and invests in higher rate RMBS to earn its profits from this net interest margin. AG hedges its portfolio with derivatives - interest rate swaps, specifically.
AG rewards shareholders with dividends that it is obligated to pay as a mREIT and with appreciation in share price through portfolio expansion and assets under management.
Financials:
In Q1 2012, AG raised $104 million through an equity offering of shares and raised credit investments by 11.5%. The company also added a lending facility that allows it to increase investment in non agency securities.
For the quarter, AG had an average of $2.5 billion invested, up from $2 billion in the year ago quarter (Q1 2011). Of this, $2.2 billion (88.5%) was in agency RMBS, $72.9 million in non agency RMBS, $27.8 million in ABS and $4 million in CMBS. Much of this portfolio was financed by $2.2 billion of debt in the form of repurchase agreements, with the rest financed with equity capital. At quarter end, AG had $20.8 million in cash and $310.2 million in stockholders' equity
For the quarter, its leverage ratio was 7.1x, up from 6x in Q1 2011. The average yield of its investment portfolio was 3.41%, up from 3.22% in Q1 2011. Its average cost of funds was 0.85% giving it a net interest margin of 2.56% from which it paid 1.35% in management fees and 1.05% in other operating expenses.
As a result, AG had net interest income of $12.2 million and net income (after expenses) of $10.9 million. Earnings per share were $0.77 of which $0.70 was paid as dividends.
Dividends:
For Q1 2012, AG paid a dividend of 70 cents per share, equivalent to $2.80 annualized and a dividend yield of 14% with shares trading at $19.68 on May 23rd. AG has a rather brief dividend paying history - it started paying dividends in Q3 2011 (40 cents) and raised dividends to 70 cents per share in Q4 2011.
AG has a market capitalization of $315 million. At the $19.68 share price level, AG trades at a small premium to its per-share book value of $19.63 as of March 31, 2012.
I have bought additional shares in AG shares as they trade close to book value per share.
Summary
I believe in owning shares in the successful managers of mREITs. They have provided mid teen dividend yields and rewarded patient dividend investors. Accretive secondaries only increase the book value per share. I'll stick with above 5 names and enjoy the quarterly dividends and share appreciation.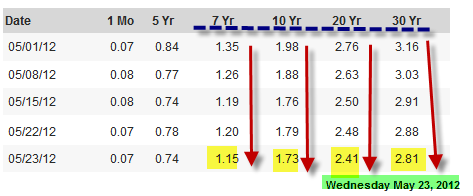 The above table highlights the compressed Treasury Bond yields since May 1st. The mREITs don't own Treasury Bonds, but own non agency MBS and GSE MBS. The GSE MBS yields track closely to the Treasury Bond yields as agency MBS do have an implicit U.S. Federal Government guarantee. The decreased yields have likely increased the mREITs book values per share. On a negative note, the compressed yields have compressed net yield margins. This could impact forward looking dividend payouts.