Since Weyerhaeuser Co. (NYSE:WY) became an REIT in 2010 its stock price has fluctuated up and down within a fairly narrow range. Given that it has regrouped since the conversion from a money loser to a profitable REIT, the sideways consolidation may be a good thing. This should mean that WY's stock price is more likely to go upward in the future than to go downward. This is born out by the estimates for slightly increased earnings for FY2012 over FY2011. The average analysts' estimates for FY2013 then call for WY's earnings to more than double to $0.82 per share. On top of that average analysts' EPS estimates for FY2013 have been raised significantly in the last three months from $0.73 to $0.82. This is extremely bullish in a tough economic environment. WY's Price/Sales of 1.66 reasonably reflects this bullishness. The 5 year historical Price/Sales range is 0.54 to 2.01. WY's PE of 38.84 and FPE or 24.06 are comparable to one of WY's chief REIT competitors, Plum Creek Lumber (NYSE:PCL), which has comparable multiples of 32.71 and 26.06. WY also has a good dividend of 3.04%. This will help you wait out any upcoming trying economic times. The dividend is far higher than the current 10 year US Treasury bond yield of 1.74%. Much of the above data is from Yahoo Finance.
On top of the long term consolidation of WY, there are a couple of other reasons to believe WY and lumber prices in general may remain strong or even rise in the future. First the New Homes Sales for April 2012 were 343,000. This was above the forecast for 339,000, and it was above the previous month's 332,000 in sales. The March FHFA Housing Price Index also rose by +1.8%. These two are positive indications of future strength in the New Homes market in the US. If such increased demand for new homes gets delayed by weak world economic conditions, the pent up demand for new homes will be just that much stronger after a worldwide economic slowdown. Further China announced May 22, 2012 that they will fast track infrastructure proposal approvals in order to curb the quick slowing of its economy. It even suggested it would bring forward projects scheduled for a year or more out. Chinese lumber imports from the US and Canada roughly doubled in FY2011 over FY2010. In fact China has increased its importation of logs and lumber virtually every year for over 10 years. FY2011 Chinese imports were 15 times higher than those in 2001. With the latest Chinese policy announcement, it seems almost sure that the Chinese imports of logs and lumber will increase again in FY2012. In fact imports of logs and lumber from the US and Canada were up in Q1 2012. Even with a possible slowdown in the EU, it seems reasonable to think the logs and lumber demand will remain strong overall due to the extra Chinese infrastructure activity. This makes WY, which has forecast strong growth for both FY2012 and FY2013, very credible. It makes WY a sensible and probably a strong investment. WY might continue to consolidate sideways through the EU recession and other attached problems. However, that will only make it more likely to break out after that time. It may break out before then. In either case it will pay a good dividend.
The two year chart of WY gives some technical direction to the trade.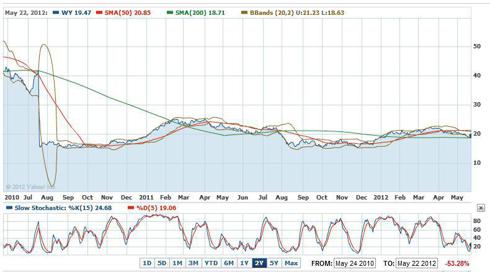 The slow stochastic sub chart shows that WY is currently oversold. This means it is probably not a bad time to buy WY. The sideways consolidation in the main chart indicates good overall strength as the company regained its profitability. The big drop in 2010 just reflects the huge amount of taxes WY had to pay in order to qualify to become an REIT (when it converted to an REIT). That should not be taken as a sign of weakness in the current company. Given the current EPS estimates and estimate trends, the long term consolidation of WY over the last 2 years makes an up move soon a technical likelihood. If this doesn't occur in the near term, it will just make a delayed up move that much stronger. This set up makes WY a very safe play with the EU likely going into recession. Averaging in is still a smart strategy, especially in these troubling economic times.
Good Luck Trading.
Disclosure: I have no positions in any stocks mentioned, but may initiate a long position in WY over the next 72 hours.