Earlier this week, the Daily Mail reported and shared the first image of a new Furby set to debut for the holiday season of 2012. The image seen below is being kept quiet for the most part by parent company Tiger Electronics. Tiger Electronics is owned by Hasbro (NASDAQ:HAS), one of the two largest toy makers in the United States. While investors are worried about the disappointment of Battleship at the box office, it's time to consider the possibility of an all out Furby frenzy once again.
Click to enlarge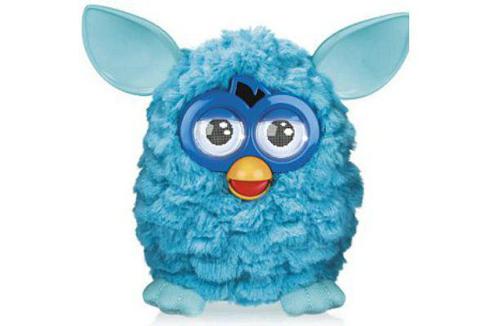 For anyone who wasn't around in 1998 or needs a refresher, Furby was the most popular toy in 1998 and 1999. Over a three-year production, over 40 million units of the popular toy were sold. In 1998, 1.8 million Furbies were sold, while the following year saw tremendous sales of 14 million units. Hasbro attempted to re-launch the product in 2005 with a new Emo-tronic Furby. Back in 1998, the Furbies retailed for $35. If you were lucky enough to get your hands on a Furby for that price, you could sell it for three to five times its original value, depending on how "rare" that particular version of the creature was.
The picture of the new Furby, code named Taboo, show a LCD screen, which has prompted rumors of Wi-Fi connectivity. The connection would allow children to stream video content and perhaps interact with their friend's Furbies through an online world.
With the rumors swirling of the new digitalized toy being interactive for children, I can't help but compare this to the new Skylanders game put out by Activision (NASDAQ:ATVI). I wrote about the powerful branding and extensive sales of Skylanders toys along with physical copies of the video game recently. Similar to the scarcity once seen by Furby toys, Skylanders toys were a hot item last Christmas season and were constantly being resold to collectors and parents who needed to get them for their children.
An interactive Furby that can connect a child to a video game universe would be a huge benefit for Hasbro. Hasbro has often been criticized for its lack of involvement with social gaming. The company after all is the owner of the Scrabble brand that is the basis for the hit social game Words With Friends. The company does not have a strong social presence, but could hit a home run with an interactive Furby game.
Another winner from an all new bestselling Furby toy might be eBay (NASDAQ:EBAY). A search on eBay for the word "Furby" returned 1,428 results. eBay, of course, was one of the easiest places to find a Furby toy back in 1998 and 1999. Of course, people shopping on the leading online auction site had to pay well over the original price of the electronic toy.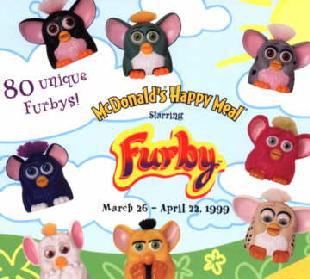 Another company that benefited from the original Furby launch was McDonald's (NYSE:MCD). In 1998, the world's largest fast food restaurant at the time created 80 different miniature Furby toys to be placed in Happy Meals. The toys become a hot collector's item as people tried to complete the entire collection. McDonald's began selling out of the toys and couldn't keep up with demand. If McDonald's is smart, perhaps it will partner with Tiger Electronics again to have Furbies in Happy Meals in 2012 or 2013.
Despite a recent first quarter earnings miss, the company remains on track for a strong 2012. New movie releases from Spider-Man and G.I. Joe are set to power toy sales throughout the current quarter. Strong box office performance by The Avengers is helping Hasbro's case, as it owns the rights to the toys associated with many of the characters in the movie. Hasbro also produced toys associated with The Walt Disney Company's (NYSE:DIS) The Avengers. One walk into a Toys 'R' Us store will show you how big The Avengers brand is as aisles and end caps are lined with toys featuring Iron Man, Hulk, Thor, Captain America, and others. Sales from the movie-based toys will be translated into the company's second quarter earnings.
Other highlights for Hasbro in 2012 include:
Recently nominated for eight daytime Emmy Awards for various television shows on the Hub, a joint venture television channel with Discovery Communications (NASDAQ:DISCA).
Signed a licensing agreement with Zynga (NASDAQ:ZNGA) to produce toys based on characters inside social games from the largest gaming company on Facebook.
Signed a deal with Netflix (NASDAQ:NFLX) to provide ten television shows for Netflix streaming subscribers.
Investors are scared off by the disappointing domestic box office of Battleship. Hasbro is a toy company first, and now a movie company as well. The major difference is Hasbro doesn't put up that much cash to make a movie based on one of its toys or board games. Battleship was licensed by Universal Pictures, a subsidiary of General Electric (NYSE:GE). Hasbro's Stretch Armstrong toy was licensed to Relativity Media, the company behind the recent Mirror Mirror movie. The movie is scheduled to be released April 11, 2014. The rights to popular board game Candy Land have been licensed to Happy Gilmore, to star Adam Sandler.
Hasbro has grown its earnings per share each of the last 11 years. The company continues to raise its dividend as it grows its earnings. Sales of Furbies are likely not enough to lead to increased earnings, but when paired with the company's growing licensing power, television programming, and international expansion, it's time to get bullish. Hasbro is trading at $34.08 and sports a current yield of 4.4%. The current price is close to a 52-week low ($31.36) and should be trading closer to 15 times this year's earnings, representing a target price of $43.50.
Disclosure: I am long ATVI.