There is no doubt some stocks have been beat down these last couple of weeks. But with the last two days showing signs of hope, we will take a look at the charts of four great companies affected by the recent sell-off that are showing signs of life again. Should you buy the chart?
Foot Locker (NYSE:FL):
Click to enlarge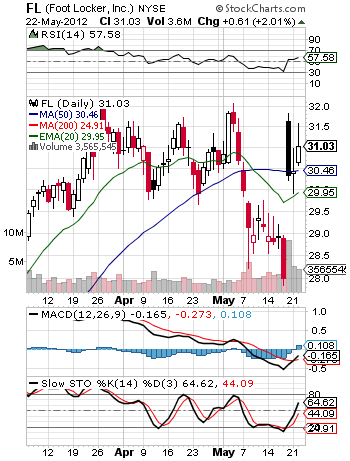 Foot Locker has been on a great path ever since its good earnings reported late last week. The MACD recently crossed over the signal line indicating the start of a new upward trend. The Stochastic proves there's still more upside and the RSI confirms that FL is not oversold. I would look to go long FL.
Pulte Group Inc (NYSE:PHM):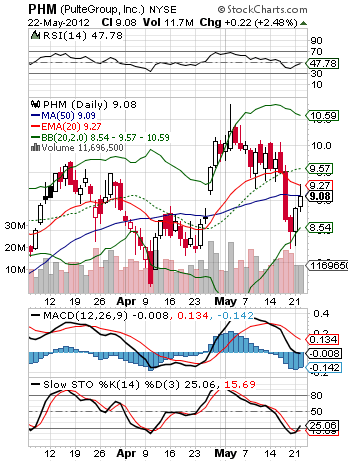 PHM was holding up pretty well in this turbulent market up until late last week, but it was great to see it retake its 50 MVA yesterday. PHM successfully tested its bottom Bollinger band, signaling it might have bottomed and bounced. Stochastics just recently crossed, giving us another bullish indicator. I would also look to go long PHM.
TripAdvisor (NASDAQ:TRIP)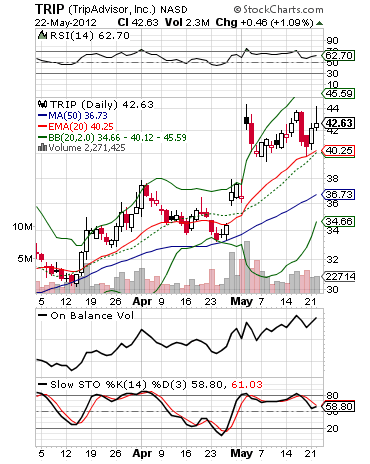 TRIP has been one of the pleasant surprises in this ruff market; it had good earnings earlier this month and has been doing great since. The On Balance Volume indicator shows that momentum is flowing into the stock and is still increasing. We also see very strong support for TRIP around the $40.80 area. Stochastics have just crossed, confirming our bullishness in the stock. I would look to get involved in a June 39/38 bull put spread.
YUM! Brands, Inc. (NYSE:YUM)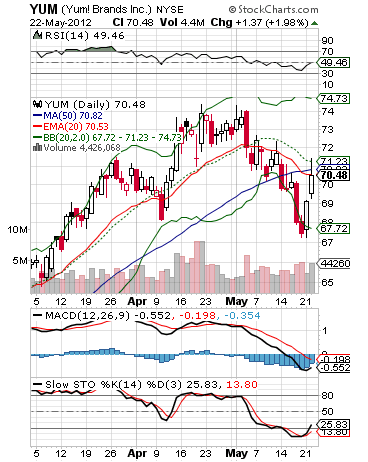 YUM! Brands, Inc. is a very fundamentally strong company that has been beaten down. YUM! was very oversold and is now turning that around. It retook its 50 day MVA yesterday and it's a couple of days away from forming an MACD crossover. The RSI is showing that the buyers have come back in, but there's still room for more buying. I would wait until tomorrow and see if the pivot point proves to be resistance; if it breaks it, then I would look to go long.
Disclosure: I have no positions in any stocks mentioned, but may initiate a long position in FL, PHM, TRIP, YUM over the next 72 hours.