Famous Dave's (NASDAQ:DAVE) reported disappointing results for Q1 2012 on April 24th. Earnings fell from $0.14 to $0.11 per share, however there was $0.02 per share of one-time charges related to the sale and relocation of some company owned stores. Sales from company-owned restaurants opened at least 24 months fell 1.6% year over year and franchised restaurants sales were flat year over year sale. As of the earnings release, the company had 53 company owned locations, and franchises 133 more locations in a total of 35 states.
The company cited the high gas prices as a reason for the weak earnings report, with gas prices now coming back down this will put pressure on the company to deliver in Q2 and beyond. The company saw weak traffic in stores in Northeast, as well as at franchised locations in Nevada and Washington with strength coming from locations in Phoenix and Michigan.
Two analysts following the company expect it to earn $0.71 per share this year and $0.88 next year, compared with $0.68 in 2011. These estimates were lowered more than 10% after the earnings miss in Q1.
The company is starting to roll out a fast-casual concept that cost less to build and could see sales for $1.5 to $2.5 million. This is compared with about $3 million to build a full serve location and about $2.5 million in sales per year from those restaurants. I believe this fast-casual concept could become the growth driver for this company.
Famous Dave's has also been cited as a possible takeover target for Buffalo Wild Wings (BWLD). Famous Dave's could easily be acquired by the much larger Buffalo Wild Wings, and would give Buffalo Wild Wings some diversification without being too different from the BWW concept. I also believe success of the fast-casual concept could make Famous Dave's appealing to a company like Buffalo Wild Wings.
Entry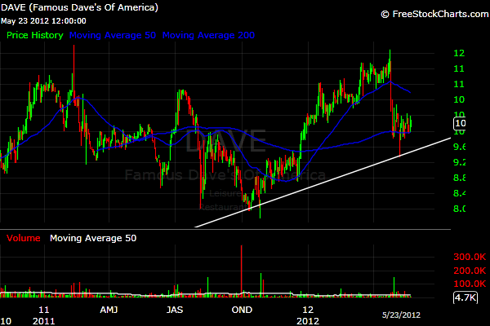 Lower white line represents a long term uptrend for this stock. After the earnings miss the end of April, the stock appears to be consolidating on the 200DMA near $10 per share. The company could be considered a value play, trading at 11.6 time's forward earnings, and a PEG of just .96. The concerns facing this company are low profit margins, just 3.4% over the past year, compared to Buffalo Wild Wings at 6.3%. The company also has limited cash on hand, and a current ratio of only 1.02 at the end of last quarter.
I would hold off on an investment in Famous Dave's at this point. The company needs to get sales growing again, and needs to prove the fast-casual concept before it would worth taking a gamble on this stock. Also food prices, mainly pork and chicken, need to stabilize and start moving lower so Famous Dave's can get favorable pricing as food contracts come up this summer and at the end of this year.
The company did announce that the board approved a 1 million share buyback program on May 2nd, 2012. The company however only has $1.7 million in cash, and has been cash flow negative in each of the past two years as a result of share buybacks. If the company believes in the brand and the concept I would personally like to see them investing in new locations not buying back shares.
Data sourced from: Yahoo!Financial, and company filings. Chart from: Freestockcharts.com
Disclosure: I have no positions in any stocks mentioned, and no plans to initiate any positions within the next 72 hours.