Most natural resources have specific niche of the resources universe that they focus on. For example, the Market Vectors Agribusiness ETF (NYSEARCA:MOO) obviously tracks fertilizer and farm equipment makers. The Energy Select Sector SPDR (NYSEARCA:XLE) obviously tracks oil and gas exploration and production outfits. We could go on, but you get the picture. Few if any materials ETFs cover the entire resources universe, but one comes close.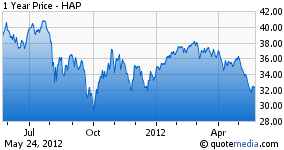 That fund is the Market Vectors RVE Hard Assets Producers ETF (NYSEARCA:HAP). HAP, which debuted almost four years ago, is home to jaw-dropping amount of stocks. Precisely, 350 stocks, a number that well exceeds the average materials/resources fund. And it is by virtue of this large number of holdings that HAP does what no other materials ETF does: Touch all corners of the resources spectrum.
HAP's top-10 holdings represent just under a third of the fund's overall weight. Even that small sampling of HAP's holdings say to investors just how diverse this fund is. HAP's top-10 constituents include Exxon Mobil (NYSE:XOM), Potash (POT), Deere (NYSE:DE) and BHP Billiton (NYSE:BHP). With that quarter, investors have the largest U.S. oil company, the world's largest fertilizer producer, one of the largest farm equipment firms and the world's largest mining company.
HAP even includes small exposure to water and renewable energy firms, indicating the fund is achieving its goal of being one of the broadest equity-based commodities plays on the market.
Indeed, HAP's broad exposure to a variety of commodities and energy producers is appealing, but the fund has not escaped the recent repudiation of the materials trade. In the past month, HAP has tumbled more than 8%, helping erase all of the ETF's previously accumulated year-to-date gains.
Adventurous short-term traders can dance with HAP from the long side assuming support at $32 holds. If it does, HAP could bounce to $34-$35, but asking for the high $30 or low $40s before the end of this year is probably asking for too much.
On a valuation basis, HAP is cheaper than some of its rivals. The fund trades at 11.6 times earnings and just 1.7 times book value. On the other hand, the iShares S&P Global Materials Index Fund (NYSEARCA:MXI), which is home to many of the same stocks as HAP, has a P/E of almost 17 and trades at 2.25 times the weighted book value of its components.
Overall, HAP is a fine ETF because it's one-stop shopping for those looking for natural resources exposure. Problem is materials stocks just aren't the place to be stopping or shopping in the current market environment.
Disclosure: I have no positions in any stocks mentioned, and no plans to initiate any positions within the next 72 hours.