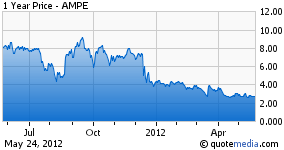 The shares of Ampio Pharmaceuticals (NASDAQ:AMPE) have been on a fairly steady decline since last December when they broke down in the mid 7's but they have not been able to penetrate below $2.50 where there is solid support and where they have put in a triple bottom over the past 2 months and with unusually heavy trading volume occurring about 60 days ago when the stock spiked upward from it's major support at $2.60. This is the third time it has visited its major support level and each time the trading volume dries up substantially followed by short waves of technical buying.
The absence of selling pressure implies another spike to the upside that is eminent and AMPE should be watched closely for a breakout above $3 on any significant volume because this will be a strong long-term buy signal that could see the stock quickly attacking its high's in the mid $9's as it powers its way to new highs.
A breakout at this time would not be surprising due to the extensive number of expected events to be revealed soon. The FDA has recently provided very favorable guidance for Ampion, a blockbuster drug that could easily send AMPE shares flying high into the stratosphere. Watch this video to see the tip of the iceberg:
A little research will show that there are a number of possible events that could soon send AMPE flying high. It also would not be surprising if a major announcement is soon made about some kind of major deal with a large pharma partner. Ampio's pipeline is certain to be under close scrutiny by the big boys.
The technical stage for a strong rally is now set because of the major support at these levels, the decreasing selling pressure as the price approaches its low, the steady, unnoticed buying that is quietly sucking stock out of the marketplace, the dangerously high short interest and the fact that it is too risky for the shorts to increase their position at these low prices because there is too much interest cost, risk and too little to gain.
Calculating risk is extremely important in any investment decision, but since Ampio's management has mitigated so much of the risk already by positioning its products for relatively fast FDA approvals and global licensing deals and since the shares are priced at the lows for the year with a proven major support barrier at $2.50 and with selling drying up, and with an explosive short covering potential, I strongly recommend buying AMPE shares at these levels and holding for the long term and if you are trading for the short term, be ready to pounce on this one quickly as soon as it trades over $3 in volume because it is very likely to be a screamer that everyone will be talking about later this year.
The first level of significant resistance will be between $7 to $8 and after that, it's anybody's guess because it will be in new record high territory with not very much stock to go around having scarcely more than 31 million shares outstanding.
I personally will really enjoy seeing the small investor/trader make a ton of money on this obscure play before the big money gets in and before the shorts get out. This will be a welcome change!
Disclosure: I have no positions in any stocks mentioned, and no plans to initiate any positions within the next 72 hours.