Pan American Silver Corp. (NASDAQ:PAAS) announced much higher costs than anticipated when it reported fourth quarter results Wednesday, prompting Blackmont analyst Richard Gray to reduce his price target on the stock.
Mr. Gray called Pan American's average cash costs of C$4.54 per ounce for the quarter "disappointing" when compared with his estimate of C$2.37 per ounce.
The company blamed the higher costs on lower zinc production and prices as well as unplanned maintenance costs at Alamo Dorado and the strengthening of the Peruvian currency.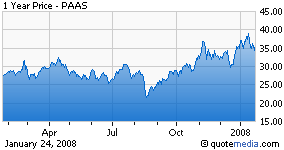 Pan American's fourth quarter production of 5.1 million ounces exceeded Mr. Gray's 4.9 million ounce forecast, however guidance going forward double his disappointment. Pan American predicts production of 19.5 million ounces at C$4.31 per ounce in 2008 versus the analyst's estimate of 22.4 million ounces at C$3 per ounce.
As a result, Mr. Gray reduced his 2008 cash flow and net asset value estimates for the miner.
"While the overall production growth profile remains intact (25 million ounces by 2010), the higher costs, net of still strong by-product credits are a concern," the analyst told clients in a note.
He lowered his price target from C$49 to C$45, and maintained his "buy" recommendation on the shares.