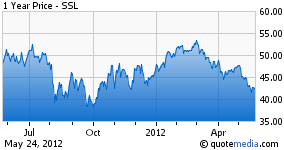 South African energy company Sasol Limited (NYSE:SSL) has developed a profitable natural gas to liquid conversion venture which may be a model for turning the huge amounts of natural gas available in North America into a different type of energy source - vehicle fuel. The spread between the market prices of crude oil and natural gas makes the idea of turning natural gas into fuel a very attractive proposition. This discussion on Sasol will consist of two parts. The company's gas-to-liquid - GTL - venture and the company as an investment prospect.
Sasol as a Synthetic Fuel Pioneer
Sasol is a pioneer in coal-to-liquid and gas-to-liquid technology. The company has 60 years of experience, starting with coal-to-liquid and then using that technology to develop financially viable natural gas to liquid fuel production technology and methods. The company's first commercial GTL project is the ORYX GTL plant in Qatar. The plant is a joint venture between Sasol and Qatar and came online in 2007. ORYX GTL can process up to 32,000 barrels per day, producing ultra-low sulphur diesel fuel. A second joint venture project is under development in Uzbekistan. Feasibility studies are underway for the construction of a GTL plant in the U.S. or Canada. Sasol is also a 10% partner in the Nigerian Escravos GTL plant. This development is majority owned by the Nigerian government with technical assistance from Chevron (NYSE:CVX). Escravos has been plagued by massive cost overruns and delays. Currently fuel production in Nigeria is scheduled to start in 2013.
Sasol lists Synfuels as the source of 48% of the company's operating profit for the first half of the company's 2012 fiscal year. The bulk of the company's energy sales is in South Africa where Sasol also owns retail operations. The Sasol results show that synthetic fuel production does work profitably at least in a more closed energy system like South Africa.
Sasol as an Investment
Besides producing synthetic diesel fuel, Sasol mines for coal, drills for natural gas and crude oil and is a chemical producer. The company closed the first half of its fiscal 2012 on December 31, 2011, reporting very good numbers. Operating income - measured in S.A. rands - was up 70% and earnings per share were 84% higher than a year earlier. South Africa operations account for about three-quarters of operating earnings and international operations for the balance. Sasol pays dividends at about 40% of net income per share with an interim dividend paid in April and a final dividend paid in late October. The 2011 dividends paid equal a 4% dividend yield at the current share price. The 2012 interim dividend paid in April was 55% higher than the 2011 interim distribution, pointing to a very nice payout in the fall.
Sasol has purchased production rights in a joint venture with Talisman Energy (NYSE:TLM) to exploit a large Canadian natural gas play . The company is considering the development of a GTL plant in Canada or the U.S. to take advantage of the abundant and cheap shale gas produced in North America. If the company elects to establish GTL operations in North America, the company would catch the imagination of the U.S. investment community.
Sasol is an attractive investment opportunity based on its profitable South African operations and attractive dividend policy. The shares can also be viewed as an option on the possibility of natural gas to diesel fuel operations in North America. One possible negative is dollar strength against the rand resulting in a lower relative price for the Sasol ADR shares.
Disclosure: I have no positions in any stocks mentioned, and no plans to initiate any positions within the next 72 hours.