If it looks like a duck, walks like a duck, and quacks like a duck, well my friends, it's a duck. I think the same can be said about a recession. Even though our friends down at the National Bureau of Economic Research aren't saying it yet, I'll go ahead and go on record... I think we're already in a recession. (Insert gasp here.)
Before you start cursing at me or stick your head in the oven, let me also say that this isn't inherently a reason to sell stocks. Well, it might be a reason so sell some stocks, but I think it could be a reason to buy other stocks. More on that in a second.
So what data do I use to indicate a recession is walking among us? I actually use a combination of four criteria - none of which is GDP. My best 'tells' are inflation, the Fed Funds rate, unemployment, and capacity utilization. While their current status doesn't absolutely, positively say the 'R' word, the odds certainly say the economy is struggling to stay afloat.
The chart below really tells the tale. Previous recessions - as defined by the National Bureau of Economic Research - are highlighted in red.
I've over-laid the inflation rate, the Fed Funds rate, and the unemployment rate all on the same middle plot so we could really see how all three relate to one another...particularly when we're in what the NBER defines as a recession.
The bottom plot tracks capacity utilization data, which can't effectively be placed on the same plot with inflation and the other data.
The reason I believe we're already in a recession now is simply that the four key pieces of data I worry about are mostly doing the same things they did before, during, and after the prior recessionary periods.
Specifically, inflation is now on the way up. Capacity utilization is starting to point lower too. The Fed Funds rate? Also headed lower. That often surprises a lot of investors, as the move is supposed to stimulate the economy, and send stocks along for the ride. My only comment is rhetorical question...do you think the Fed is pulling out all the stops because the economy is healthy? The Fed is desperate here, and the more desperate they are, the sharper the decline in interest rates. And finally, inflation is headed higher. If the fed keeps cutting rates, inflation could swell even more.
If you look back to the prior recessions, you pretty much see the same thing. Yes, you'll see individual instances for the four criteria where they're falling or rising like they are now, but not as part of a recession. However, you rarely see ALL FOUR simultaneously doing what they're doing now without a recession.
S&P 500 (Monthly), with key economic indicators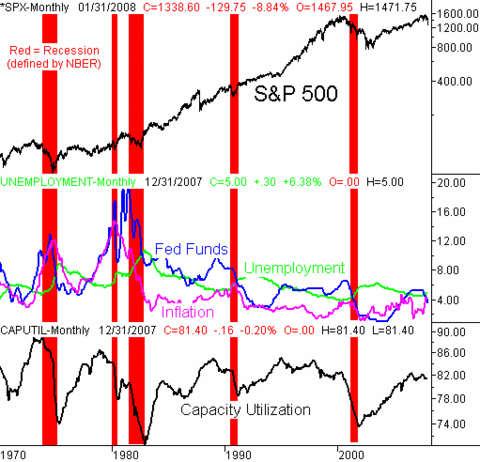 So why is nobody coming out and saying this? Maybe there are political ramifications. Maybe the powers that be don't want to start a fire-sale. Maybe they just don't want to believe it either. I really don't know. And frankly, I really can't worry about it - I just have to do what I think is the right thing for my portfolio.
And what is the right thing in a recession? The standards still apply - tobacco, staples, energy, healthcare, defense, and other arenas that don't suffer when consumers aren't in the best of moods. Nothing fancy about any of those themes.
With all that being said, I did want to point out two key ideas that are just as important as my recession pep-talk. (1) Stocks tend to start a recovery well before the recession is technically over. (2) Recessions are usually short-lived...relatively speaking.
In other words, don't freak out. If you're holding vulnerable stocks, yeah, it might be wise to pare them. If you're holding quality names, you might end up being more unscathed than you think (particularly if you lean towards the sectors I mentioned a moment ago).
Nevertheless, I feel a recession is here, and I think it's too late to nip it in the bud. That's not a bad thing necessarily, but I do think it changes how the game is played.