A protected covered call or collar search performed using PowerOptions tools, seeking to find the highest returning position for profitable companies with a maximum potential loss of 8% and a stock price in an uptrend, produced specialty retail boutique company Francesca's (NASDAQ:FRAN), as shown below:
Click to enlarge image.

Lagging behind Francesca's were apparel and accessories retailer Michael Kors (NYSE:KORS), discussed in this article, video rental company Netflix (NASDAQ:NFLX), electronic payment company VeriFone Holdings (NYSE:PAY), and online professional networking company LinkedIn (LNKD).
A protected covered call may be entered by selling a call option against a purchased or existing stock and using some of the proceeds from selling the call option to purchase a protective put option. The put option can be thought of as "stock insurance," similar to automobile or home owners insurance. The Francesca's protected covered call has a potential return of 4.1% (65% annualized), with a maximum potential loss of 7.5%. So even if the stock drops all the way to zero, the maximum potential loss is 7.5%.
The highest returning protected covered call positions as shown above were found by selecting to search and sort by the highest returning positions. Profitable companies were found by searching for companies with a price-to-earnings ratio (P/E) greater than zero. Stock price for companies in an uptrend were found by selecting to search for companies with a 100-day moving average greater than the 200-day moving average. The 8% maximum loss parameter was selected, as a loss of 8% or less can often be recovered fairly quickly using option income generating investment methods.
Francesca's markets its products in limited quantities in boutiques. The company continually updates its product offerings based on the latest fashions and trends. In the company's Q4 2011 conference call held on March 13, 2012, the company reported yearly revenue of $204 million, representing a growth rate of 51%. On a quarterly basis, the company reported a growth rate of 54.6% with a 14.7% comparable growth rate. The company plans to open 75 new boutiques each year and currently has 283 establishments. The company has opened 21 new boutiques this year and plans for the mix of new openings to be 51 in mall settings, 23 in non-mall settings, and one in an outlet setting located in the Houston area.
The company's e-commerce business is performing well, with a quarterly growth rate of 64% and a yearly growth rate of 49%. The company has implemented a new merchandising system and has indicated that its boutiques performed well in all geographies. The company's outlook for 2012 is revenue of $268 million to $274 million, which represents a growth rate in the low-30% area. Francesca's competitors include Ann Taylor (NYSE:ANN) and Urban Outfitters (NASDAQ:URBN).
Francesca's stock price has been very erratic over the last 10 months, as shown below: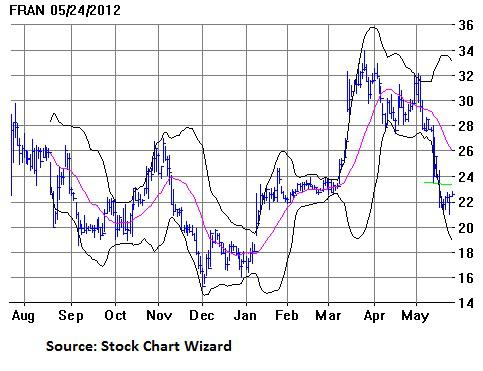 The company's recent stock price fluctuation probably has more to do with sympathy to the overall market than the company's performance. Luckily Francesca's does not have any exposure to Europe, as several companies that do, such as Fossil (NASDAQ:FOSL) -- discussed here -- have been taken to the woodshed lately. However, with the company's upcoming earnings release scheduled for June 7, 2012, an investor in Francesca's can take some of the anxiety out of owning the company's stock by entering a protected covered call as shown in the table above. Francesca's probably popped up on the highest returning protected covered call radar shown in the table above due to its upcoming earnings release, as companies with an upcoming earnings release often experience elevated implied volatilities.
For entering the protected covered call, the specific call option to sell is the 2012 June 22.5 at $2.00 and the put option to purchase is the 2012 June 20 at $1.10. A profit/loss graph for one contract of the protected covered call is shown below: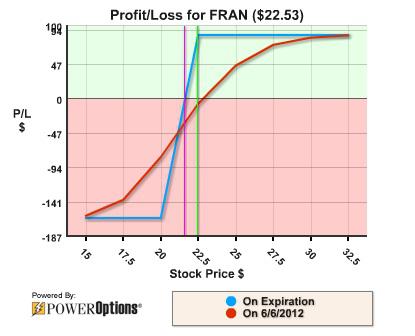 For a stock price below the $20 strike price of the put option, the value of the protected covered call remains unchanged (at expiration). If the price of the stock increases to around $25, the protected covered call can most likely be rolled in order to realize additional potential return.
Disclosure: I have no positions in any stocks mentioned, and no plans to initiate any positions within the next 72 hours.