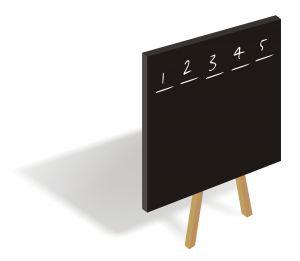 Apple's (NASDAQ:AAPL) double-dip drop had many investors worried. Now, with its 10% price rebound, there is some relief and even hope. This is the perfect time to do something, and here is the time-tested five-step plan to figuring out what that "something" is.
First, revisit the ruling reason you bought Apple
There is a primary reason behind every stock purchase. Keep that reason paramount, and don't change it because of Apple's price movements. This step requires being "honest." If you bought Apple because it looked like a sure bet to rise, then that is the reason. "Easy money" can compel many a trade. The key is not to defend your decision by changing the ruling reason - for example, by now focusing on Apple's earnings, dividends or cash holdings.
Second, objectively view today's situation
Apple's shift from steady up to wavering down is more than a simple trend change. Three corollary shifts are also occurring:
Investor uncertainty is returning. The 75%-plus move (from $360 to $640) took the stock from investor uncertainty (Jobs' death and a disappointing earnings report) to investor certainty (Apple's superiority and continuing price rise). Certainty (AKA over-optimism) is an untenable investment condition. The shift to normal uncertainty is causing the stock price to adjust.
Fundamental uncertainty is building. First (following the first dip) came the list of Apple's natural uncertainties, bringing out the issues ignored during the run-up's final stages. Now analysts are examining newer potential negatives (e.g., PC competitors' coming Ultrabooks and wireless companies' desire to reduce iPhone subsidies). While Apple may come out ahead of the pack, the building uncertainty means the stock price is adjusting.
Stock price volatility (uncertainty) is increasing. Because the steady rise had few resting points, investors are having trouble identifying natural support levels. As a result volatility has picked up, augmented by increased trader activity, adding an additional level of uncertainty.
The three rising uncertainties have a naturally depressing effect on AAPL, so the chance that the stock soon will resume its steady rise is unlikely. Rather, the stock probably needs to go through a further adjustment period and, perhaps, even fall further.
Note: Some investors now believe manipulation is behind Apple's drop. This reaction occurs by dismissing or ignoring the issues above.
Third, decide where you want to be
With the ruling reason in hand and a clear understanding of Apple's changed conditions, you can determine how AAPL fits with your investment program. This step has two parts. Part 1 is deciding whether Apple belongs in your portfolio - i.e., do you still believe your ruling reason is sound? If the answer is "yes," then part 2 is deciding how much to own.
Run-ups like Apple's often leave investors with large positions. Appreciation and added buying push the amount up. Positions can grow even larger in the initial stages of a drop, as lower prices entice investors to buy more. Part 2, then, is setting a position size that is appropriate for Apple as one holding in your portfolio.
Note: Do not let a loss or tax considerations make the decision for you. The key to investing success is to make the right decision (for yourself) first. Then, you can fine-tune your strategy (the next step) by including additional considerations.
Fourth, develop a strategy for getting there
The way to get from where you are to where you want to be is to take control and not let price action dictate your response. Without a strategy, the result is often emotion-driven actions or inertia. Both can be detrimental to financial and mental health.
Depending on your situation, the strategy can be one-step or multi-step. As an example, let's say you bought an over-sized position in Apple expecting it to shoot up, and now you decide you want out. The notion of saying, "sell it all!" can be daunting. Moreover, should the stock rise after the sale, regret over missed gains can be long lasting. Ditto for hanging on and watching losses mount. The solution? Observe the Wall Street advice of selling down to the "sleep level" - i.e., selling enough to reduce anxiety, but retaining enough to prevent regret.
Note: Two upcoming calendar events to add to strategic thinking
Memorial Day and week. Traders will be anxious to clear their books by Friday's close, before the extended weekend. Additionally, the following four-day week is a popular vacation time, meaning the market could have lessened activity. Apple's price, therefore, could hold its current level, particularly with the following event approaching ...

Apple's Worldwide Developer Conference on Monday, June 11. The conference will provide the first, real product development information since AAPL hit its peak. Positive developments could spur excitement and buying. However, investors will be wary that any price rise could be an enticement to sell, similar to what happened after the last earnings report.
Fifth, place an order
This is the "do something!" step. The four steps above have prepared you for action, so don't hesitate. With the stock up 10% from its recent low, now is an ideal time to make an initial sale, if selling is your strategy. The chart below shows Apple at an important point. The price could break above its current support/resistance level, giving investors confidence that it could rise to the next, higher level. Or it could reverse direction and drop, sliding back to the previous support with investors worried about it breaking below to new lows.
(Click to enlarge)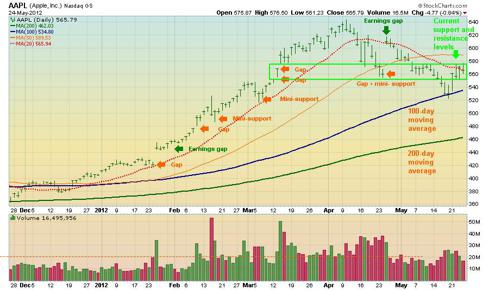 (Stock chart courtesy of StockCharts.com)
Another approach is to place a limit sell order, if your strategy is to sell at a higher price. Just be sure your order's GTC means "good-till-cancelled" and not "good-till-close." The latter is a common investor mistake, where the order is cancelled because the price rises to near the sell price (or drops to near the buy price), generating enthusiasm (or concern).
The bottom line
Apple's rise gives those worried about their Apple holding a time to take action. Five steps can ensure the action is wisely done:
First, revisit the ruling reason you bought Apple
Second, objectively view today's situation
Third, decide where you want to be
Fourth, develop a strategy for getting there
Fifth, place an order
This five-step process can get you where you want to be with confidence, knowing that you made good investment decisions without emotional mistakes and lingering regret.
One final point: Realize you didn't make a mistake
All investors, including professionals, can get caught up in a stock frenzy that suddenly reverses course. (That's why the best investors still diversify their portfolios.) Investing is an imperfect activity, so don't kick yourself.
Disclosure: I have no positions in any stocks mentioned, and no plans to initiate any positions within the next 72 hours.
Additional disclosure: Positions held: Long U.S. stocks.