We posted Part 2 of our "Building A DIY Dividend Portfolio" series this morning, which highlighted our top-ranked dividend stocks in the Utilities sector (see summary table below).

As we highlighted in Part 2, we believe that patiently waiting for a low-risk entry point for a given stock will drastically improve your long-term investment results. Just because a stock has a high Parsimony composite rating, it doesn't necessarily mean that you should run out and purchase it that day. We scan the charts of our top-rated stocks daily looking for strong levels of support and resistance, which ultimately helps us determine a target "Buy Zone" for each stock.
Tactical Strategy for the DIY Dividend Portfolio
As a follow up to Part 2 (Part 2b, if you will), below are our target "Buy Zones" for each of these top-rated Utility stocks. We believe that the recent pullback in the broader equity market has created a "flight to safety" into the Utility sector. That said, we feel that the Utility sector as a whole is somewhat overbought right now. A patient investor will certainly be rewarded with a better entry price.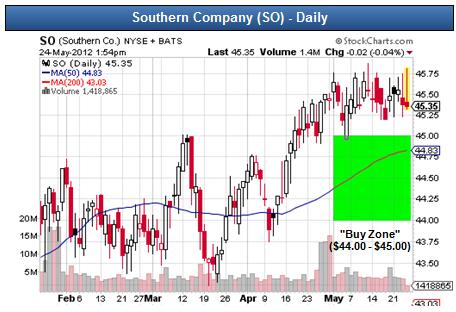 Southern Company (NYSE:SO) is one of our two Utility holdings right now. The stock has been very good to us over the past few years, but it has been somewhat range-bound in 2012 (bouncing between $44.00 and $46.00). SO has oscillated around the 50-day moving average for the past few months now and we would certainly wait until the stock dips below this level again before initiating a position.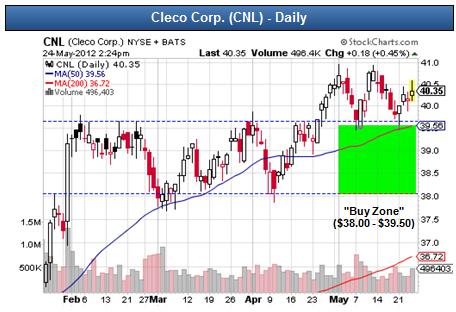 Cleco Corp. (NYSE:CNL) has been one of the best-performing stocks on this list over the past 12 months, with a total return of 22%. Unfortunately, the dividend yield has declined to 3.1% as the price has appreciated. Given the run-up in price, it would definitely be prudent to wait for a better entry on CNL. The stock consolidated in a range ($38.00-$39.50) from February through April. We would be a buyer of the stock when it dips back into this range.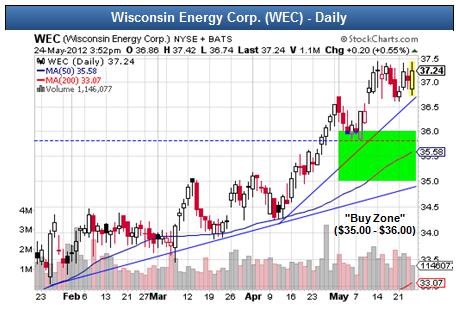 Wisconsin Energy Corp.'s (NYSE:WEC) dividend yield (3.3%) has also been a victim of its own success. WEC shareholders have enjoyed a 23% total return over the past 12 months. We are targeting the 50-day moving average ($35.58) for an entry point as the stock has gotten very strong support at this level for the past nine months on any dip.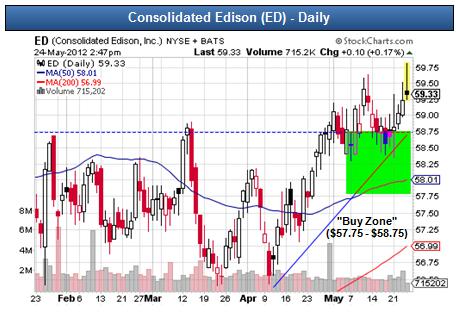 Consolidated Edison (NYSE:ED) is our other Utility holding. It had a great run from its low in August 2011 to its peak in December 2011. That said, the stock has been range-bound ever since. We do think the stock will pull back to its 50-day moving average in the coming months (which coincides with the lower end of its recent range), and we believe that this will be a great entry point for the stock.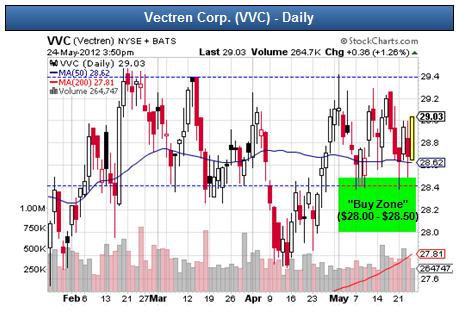 Vectren Corp. (NYSE:VVC) is another Utility stock that has been range-bound since the beginning of the year. The stock may not touch the recent low from April on a pullback, but we do think that VVC will dip into the $28.00-$28.50 range soon. VVC has the highest dividend yield (4.9%) of the five stocks on our list above, and we believe that it would be a good additions to your DIY Dividend Portfolio.
Summary
Patience. Patience. Patience.
Investors should consider all of these great stocks for their DIY Dividend Portfolio, but please be patient with your entry points. We truly believe that all of these stocks will hit their respective "Buy Zones" sometime in the next few months.
Building a DIY Dividend Portfolio is a marathon, not a sprint. Don't put pressure on yourself to have a fully diversified portfolio overnight. The various sectors will offer good buying opportunities at different times; you just need to recognize them when they are there.
Please make sure to "follow" us as we will be continuing our DIY Dividend Portfolio series over the coming weeks. We will also update readers if there are any new stocks entering their "Buy Zones."