TowerStream (NASDAQ:TWER) provides broadband wireless communications to businesses in eight major metropolitan areas, with plans to expand to 20 cities over the next year or two. Using WiMAX technology, the company can "wire" a city with just a few antennas located on strategically chosen rooftops. New York City required only four antennas, including one on the Empire State Building.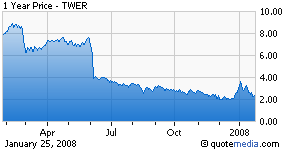 With network installation costs just a fraction of a telephone or cable TV company's wired network, TowerStream undercuts their competitors' prices for a T-1 line by 50% or better. The small antennas that the company locates at the customers' premises are installed by a DISH or DirecTV installer under contract. TowerStream normally has a customer up and working in two or three days, compared with three to six weeks for a T-1 line from the telephone company.
T-1 is a 1.5 megabit per second service. The telephone company legacy infrastructure was designed to support 45 megabits as the next step up, which is a prohibitively expensive service for most companies. TowerStream uses the flexibility of WiMAX to provide intermediate speeds, with their 8 to 10 megabit package the current hot seller.
After a city is "wired" the main expense is signing up new customers. TowerStream uses telesales to get to their customers, and recently completed a 180-seat telemarketing center. They are in the midst of expanding their 15-person sales force to 160 people. This 10X expansion in salespeople will be followed by a 10X expansion in revenues, with about a 90-day lag for training.
The company came public through a reverse merger early in 2007, and then made the jump to a NASDAQ listing after raising $40 million in a secondary offering. The stock dropped with many other emerging growth stocks through the end of 2007, and insiders began buying in November. I am the only analyst besides two of the underwriters that follows the stock. I expect them to more than double revenues in 2008 to something over $15 million, and be cash flow breakeven by the end of the year. TWER is my #1 stock pick for 2008.
Disclosure: Author has a long position in TWER