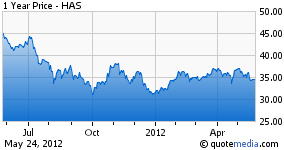 If you have read my previous articles, you know that I usually invest in dividend growth stocks. Recently, a number of prominent dividend-related contributors and commenters have mentioned an interest in investing in Hasbro (NASDAQ:HAS) as it reached a yield of 4%. I decided to begin my own research on the company. What follows is the data I found and my thoughts on the company's future.
Business Summary
"Hasbro, Inc., together with its subsidiaries, engages in the provision of children's and family leisure time products and services worldwide." Its most famous brands are "TRANSFORMERS, PLAYSKOOL, NERF, LITTLEST PET SHOP, MY LITTLE PONY, G.I. JOE, TONKA, MILTON BRADLEY, PARKER BROTHERS, CRANIUM, and WIZARDS OF THE COAST" (Taken from Yahoo Finance page). It also has a licensing deal with the Walt Disney Co. (DIS) to produce products like the Avengers action figures, etc.
Its main, publicly-traded, competitor is Mattel (MAT); then secondarily, JAKKS Pacific, Inc. (JAKK) and LeapFrog Enterprises Inc. (LF).
Hasbro by the Numbers
As an investor who is interested in dividends, I look at these metrics to begin my analysis.
Dividend: $1.44
Yield: 4.1%
5 yr. DGR: 17.2%
Payout Ratio: 44%
Debt Coverage Ratio: 6.1
This is just a quick peek at a few data points, but upon deeper analysis, the company looks relatively healthy with plenty of room to increase its dividend in the near term. Additionally, the recent success of the Avengers movie is expected to translate into revenue for Hasbro. What has me worried is the future of the company five to ten years out. Why? 3-D printing.
What is 3-D Printing?
There are three main types of 3-D printers. Click here for an in-depth explanation of how they work. For the rest of us, check out this brief and entertaining introduction to one type of 3-D printing:
To summarize the clip, let me mention a couple key points:
We now have access to technology that scans and "prints" objects in 3-D.
These objects can be printed in a number of colors and with moving parts.
Various additives can be used to strengthen the objects.
Right now, you can purchase a fully-assembled printer for as little as $1,300. However, you can make one yourself for about $300.
So, how will this affect Hasbro? Well, currently there is nothing to worry about, but the way technology is advancing, 3-D printers should be ubiquitous in five to ten years.
What I am worried about is that fewer and fewer people will buy Hasbro's action figures, TONKA trucks, etc.
Can't Get the Genie Back in the Bottle
Does this sound unrealistic or far-fetched? It has already begun.
The following is a video of a student at a community college who created a STAR WARS TIE Fighter. There are 2 important additional points to note: Hasbro owns the rights to sell STAR WARS toys, etc. I don't believe that this is an exact/scanned replica because it is not as detailed as the real one would be.
Soon, owners of Microsoft's (MSFT) XBOX Kinect will be able to use it to scan objects and create 3-D models. This will make it very easy to create the schematic (instructions) that the printer needs.
Also, the Pirate Bay (an illegal file-sharing website that has successfully fought against being shut down) recently created a section for sharing the 3-D schematics. There are already a number of possible cases of patent infringement. The Huffington Post notes one case where someone has shared a file that is probably a copy of a "Warhammer 40,000 Space Marine Dreadnought."
In my eyes, this is just the first evidence of what will be gaining speed throughout the next couple of years.
The Silver Lining
I think as intelligent individuals, we need to be able to see both sides of a story. I don't want to leave you with the impression that this technology is evil, or that Hasbro is doomed to fail, etc. As with other disruptive technologies, 3-D printing brings an opportunity to adapt and innovate.
Forbes recently had an interesting story about a father who used a 3-D printer to create transitional pieces so that his son could combine his LEGO and K'NEX creations. This is just one example of the positive, barrier-breaking things that can be done with this technology. LEGO and K'NEX are owned by separate, private companies, but I believe that if they are wise, they can come up with a mutually beneficial and profitable solution.
Decisions, Decisions
The technology is advancing; the means of sharing is established, easy to use, and persistent. Unless Congress passes some form of SOPA (the Stop Online Piracy Act), an illegal file sharing service will always be around; this type of service has been impossible to eradicate since Napster was created in 1999.
What can Hasbro do to solve the problem? I think their best bet is to not waste money by lobbying Congress, but to partner with someone like Apple, Inc. (AAPL) or Amazon.com, Inc. (AMZN) to sell the schematics of their products as DRM (Digital Rights Management) downloads. I believe that how Hasbro and other toy makers respond to this challenge will ultimately determine the future profitability of their companies.
Sources: Data used from close of Market on 4/22/12, acquired from Finviz, Morningstar and Seeking Alpha.
Disclosure: I have no positions in any stocks mentioned, and no plans to initiate any positions within the next 72 hours.