On Thursday, Costco (NASDAQ:COST) reported strong third-quarter earnings results, which beat Wall Street expectations. The company's results are as follows:
Net income increased 19% to $386 million, or $0.88 per share.
Total revenue increased 8% to $21.85 billion, including a 9% increase in membership fees.
The warehouse retailer's same-store sales increased a solid 5%.
These results point to the company doing a good job of navigating the difficult economic climate and continuing to drive incremental sales through offering customers strong deals within the store. The problem arises at the fact that COST valuation is slightly higher in nearly all metrics than its retail counterparts Target (NYSE:TGT) and Wal-Mart (NYSE:WMT). Though COST earnings are strong and the company is growing at a relatively fast pace, TGT and WMT are also performing well into 2012 and WMT is beginning to achieve stronger pricing perceptions from the consumer in the market.
COST's valuation is something to keep an eye on as it could signal a coming correction if its valuation gets out of hand relative to its comparables. Although the chart below shows it underperforming TGT and WMT, that does not mean a bounce in the stock price is eminent.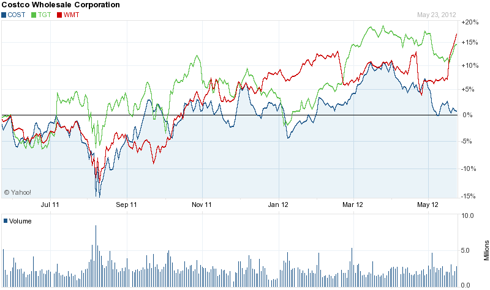 (Source: Yahoo! Finance)
Valuation:
Forward Price/Earnings:
COST: 19.38
TGT:11.78
WMT: 12.19
PEG Ratio:
COST: 1.70
TGT: 1.18
WMT: 1.58
Price/Cash Flow:
COST: 15.1
TGT: 7.4
WMT: 8.8
Dividend:
COST: 1.30%
TGT: 2.10%
WMT: 2.50%
Conclusion: The aforementioned barometers of valuation indicate that COST is trading slightly above both WMT and TGT. Though these are not gross disparities, they do call into question whether or not COST could be heading for an even further correction. The growth projections for the company are falling more in line with WMT and TGT than they did in the past and this is a result of both the difficult economic climate along with heightened competition (from and outside the compatibles mentioned above).
(All financial metrics referenced above are obtained from Yahoo Finance, CNBC Analytics, S&P Capital IQ and Thomas Reuters.)
Disclosure: I have no positions in any stocks mentioned, and no plans to initiate any positions within the next 72 hours.