It's time to follow up on those New Year's resolutions. Every year my local gym is packed during the first 3 to 5 weeks of operation. I call it the "resolution wave". By the time February and March roll around, the gym is back to normal operating levels, half the crowd disappearing. How can you blame them though? There's this great Chicago restaurant chain, called Portillos, just five minutes from my gym that serves up some nice Italian Beef, Chicago style hot dogs, BBQ Ribs, etc. This isn't something I can easily give up. However there is something I can gorge on without adding the pounds, and that's NutriSystem's stock (NASDAQ:NTRI). A week ago they turned up on the screen I discussed in my last post. I decided to dig further and see if they had some promise for my ten grand portfolio.
What is NutriSystem?
First off, I am not a dietitian or an expert in healthy eating. NutriSystem provides a meal based program geared towards busy individuals who don't have the time to actively select healthy meals, or don't feel like thinking about what they should and shouldn't eat. Based on a monthly subscription fee of $293.72 for women or $319.95 for men (at the time of this writing) you get 28 days of meals automatically delivered to you. This includes breakfast, lunch, snack, dinner, and dessert. That comes out to about $11.42 per day for a full day of food. The company wants you to follow up with exercise, and water consumption in order to achieve those weight loss goals, in addition to providing you counselors to help with the program.
Why NutriSystem stock?
What really caught my eye when I dug into their financials was the massive revenue and profit growth they have experienced in the past 2 to 3 years. Their profit margins have grown from a low 2.68% in 2004 to 14.98% in 2006. For the first 3 quarters of 2007, they are running at 14.63%.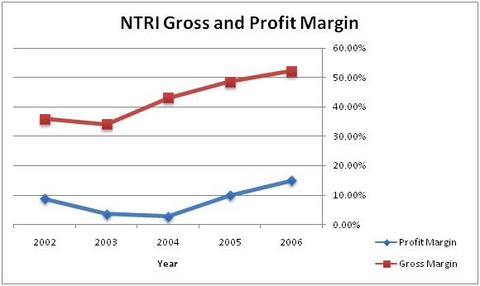 Quite simply, they have gown revenues faster than their costs to grow the business. You can clearly see this during course over the last few years.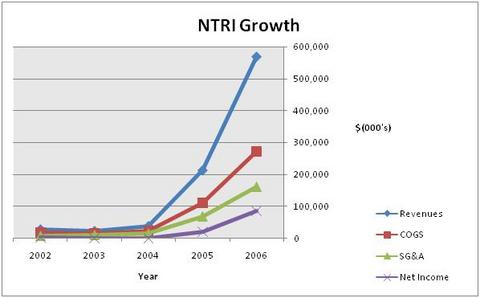 Even with this type of impressive growth, they are still only trading at 7.5x trailing twelve months earnings. They are able to generate impressive returns on their assets at 62.8%. NutriSystem competes in a very competitive landscape with South Beach Diets, Weight Watchers (NYSE:WTW), Seattle Sutton, Slim Fast, and all the other fad diet programs that come and go. Their biggest competition at the moment comes from GlaxoSmithKline's (NYSE:GSK) new diet pill drug called "Alli". It has softened the company's outlook for the 4Q of 2007. Even with the competition, they have still been able to grow their business. So what is their secret sauce?
I don't believe NutriSystem is really a food or product based business. Sure they focus on creating healthy meal programs that people may actually want to eat, but I think their core strength is that they are really a social based business or will become one in the future. Weight loss, image perception, how your legs and abs look, and taking control of your health is really a personal and social matter. The support of family and friends can help people stick to their healthy eating programs. I think NutriSystem's opportunities exist in trying to be an extension of that support network. The frontline folks at NutriSystem who work the phones and cover the online community play an especially important role. Specific focus on customer service has been the CEO's mantra (Michael Hagan), which has paved the way for a much improved profit margins over the past 3 years.
Their weight loss counselors are the ones who forge the relationships with the customers and provide the social support for customers. At the same time they are the company's sales force to suggest, offer, and sell new food and service programs the company has baking in product development. Since I consider this to be the foundation for the company's future success, I decided to head over to the company's career section to see what type of people they were looking for to help grow the business further. One of the listings was none other than the "Weight Loss Counselor".
The opening snippet reads:
This position receives and initiates weight loss counseling calls and emails to and from the weight loss clients. Listens to and probes for progress indicators. Motivates and counsels clients to continue with the program, answers food and weight loss questions. Documents correspondences as required. We are currently looking for only 3:30pm to 12:00am shifts, including 1 weekend day.
If you read the rest of the job description you'll come across important criteria they use such as the ability to listen and motivate customers to stick with their program. Keep in mind that some of these counselors deal with some very emotional customers; we're talking about weight loss, image, and health after all. They are currently looking for the night shift, and weekends, the times when customers come home from work and have nothing else better to do than watch TV. It is an important time slot to fill, and if they can fill these positions with motivated and qualified personnel, it will help retain and increase their customer base. Some may attribute the majority of their past success on new meal programs or a better marketing strategy, but it may often be overlooked that a sizeable portion of their revenue increase has come from reactivation revenue. These are revenues generated from customers who were once on NutriSystem's meal plan, but have since left. Sticking to a controlled diet and exercise program was never easy, but the company's front line has managed to reactivate a number of these customers.
Focus on the Social Community
If you listen in on the 3rd quarter conference call the their Chief Marketing Officer, Thomas Connerty, made some brief mention about the company leveraging their online community to find out what their customers are talking about2. This allows the company to shape new products based on a treasure trove of information, as well as help educate their weight loss counselors on what customers need. If they continue to put investments into their online community and provide tools for their customers to communicate with each other, this social base will help folks stick to their goals, as well as increase sales of NutriSystem products and services. The only complaint I have is that their online community area is buried deep inside the main NutriSystem web site. They need to bring more awareness to this to increase customer registration and community involvement.
Alli: The path of least resistance
The surprise new competitor which has come forth is the new diet pill called "Alli" from Glaxo Smith Kline[1]. The new diet pill has had 2 million customers sign up since it was introduced. The company knew about the new drug, but the CEO even mentioned they were a bit surprised at the number of new diet starts on this drug[2]. This shouldn't come as a surprise as most folks battling weight loss want the results fast. They will take the path of least resistance. The new drug isn't for everyone. I dug a little bit further and found a brief write up from the Mayo Clinic about using Alli. Taking this drug will result in approximately 3lbs loss after a low calorie diet and exercise. The drug is not recommended for folks who use blood thinners, have thyroid disease or diabetes. What the drug does is block fat break down[3]. So the fat has to go somewhere. Please bear with me. If you read the Mayo Clinic's write up further, you will see a break down of the following side effects:
Gas with an oily anal discharge
Loose stools or diarrhea
More frequent bowel movements
Hard-to-control bowel movements
I can't judge what other people will do with this drug, but I would surmise that some of those 2 million Alli customers will not appreciate these side effects, and that they will eventually realize that they still need to eat a low calorie diet and exercise. It is not a magic pill. You still need to work to lose those pounds and maintain a healthy lifestyle. NutriSystem doesn't have a magic pill, but if they continue to move on their vision of building a community of customers, provide easy and good access to their weight loss counseling support, they will be able to drive their profits further. NutriSystem will probably face 2 to 3 quarters of competition from Alli, but I believe some of those customers will turn. The company is expecting flat revenue growth in Q4 of 2007 compared to the same period last year due to the new drug. Given NutriSystem's track record and investments into their social aspects of their business (increased recruitment of weight loss counselors and continued development of their online community) will put them in a good position when some of the customers turn from Alli.
What is the business worth?
As always calculating forward looking growth rates is never black and white, the following assumptions were used in determining NutriSystem's value:
The company has been in operation for the past 35 years with a strong brand presence. I foresee this company continuing operations for the next 10 years and beyond. Cash flow available to the firm was estimated for each of these 10 years going forward, starting in 2007.
Based on the 3rd quarter conference call, the company estimates 4th quarter 2007 revenues to come in flat with the same period a year ago. This estimates to about $701million in revenues for 2007. Although this amounts to 107% continuous annual growth rate (OTCPK:CAGR) since 2004 when the company jump started its business, the following growth rates were used for the upcoming years:
2007 to 2011 at 20% CAGR
2012 to 2016 at 5% CAGR (due to new entrants and existing competition)
2017 and beyond at 5% CAGR
The company has done an excellent job at reducing their cost of good sold (COGS) as well as their selling, general, and administrative expenses (SG&A) over the past 5 years. I believe the company will be able to hold these costs relative to their revenues constant.
The company has no debt, and has been using their operating cash flow to reinvest back into the business. I have estimated the cost of equity to be at 16.29% (what the shareholders required rate of return is for investing in their business). This rate is used to determine the present value of all the cash generated in the future.
This results in a positive cash flow growth several years going forward: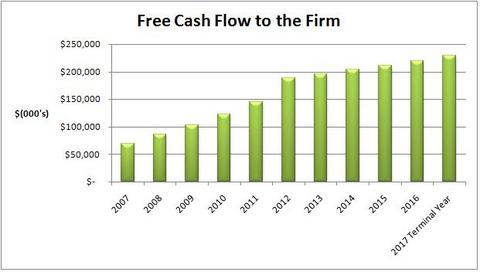 The estimated value of the business today is $1.16 billion when you discount all future cash flows back to today. This roughly equates to $32.40 a share and represents my best case scenario.
Let us consider the worst case scenario if new entrants enter the market and the current subprime mess results in a full scale recession. Those $300/month meal plans maybe the first things to go for the every day NutriSystem customer. Let's assume the company's revenues shrink 5% for 2008 and 2009, but then turns back to a moderate 5% growth rate year over year from 2010 going forward. This equates to roughly $19.79 a share. At the time of this writing the market has almost priced in this worst case scenario at $23.45/share.
Given the company's focus and investment on building a social support business for weight loss and wellness, I think they are poised for good growth going forward. They are nicely valued at the moment and I currently hold them in my ten grand portfolio. It's getting late. Time to get some good old Chicago style hot dogs.
A detailed valuation analysis can be found here.
References:
1. "NutriSystem Warns, Blames Glaxo's New Diet Pill", SmartMoney. October.4.2007.
2. 3rd Quarter 2007 NutriSystem Conference Call, October.24.2007.
3. "Alli weight-loss pill: Does it work?", Mayo Clinic., June.11.2007.
Disclosure: Author owns NTRI