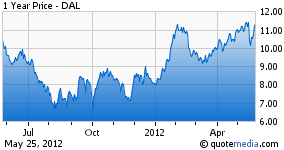 How dramatically the world can change in just two weeks -- at least that's what Richard Anderson, the chief executive of Delta Airlines (NYSE:DAL), must be thinking. Actually, he must be getting just a little nervous these days.
A little over two weeks ago, I published an article in The Sovereign Investor -- "Delta Airlines Takes Its First Steps into the Refinery Business" -- in which I noted that the airline's purchase of a Philips 66 (NYSE:PSX) oil refinery in Trainer, Pa. was announced as crude futures for June delivery broke through the $106 a barrel mark.
I also noted that Delta's move was defensive and that it was making a "bet on higher prices for refined crude, in this case jet fuel."
Well, two weeks later, crude oil is sitting below $96, a near -10% drop, and the timing of that refinery deal -- which at the time was regarded by many as a stroke of genius -- looks ominous:
Now, of course, Delta's risk on the deal is in refining spreads, as well as the nominal price of crude oil.
Gasoline, heating oil and diesel fuel refinery margins are a bit stronger since the Delta news. And that means that jet fuel margins are up, too.
But lower oil prices will lower the ultimate cost of jet fuel and that will benefit Delta, and all the airlines for that matter - unless, of course, Delta starts losing money refining oil into jet fuel, which seems to be their destiny.
Today I am more convinced of this than ever …
Delta's CEO Proves He Knows Nothing About the Oil Business
Over the weekend, I flew from Phoenix to New York on Delta. I usually scan through the giveaway magazines on these flights. As I flipped through Delta's inflight magazine, SKY, I came across an article written by Anderson himself, titled, Sky-High Fuel Prices - Regulations Limiting Speculation Would Help Reign in Oil Prices.
What an odd subject for an inflight magazine, I thought. And the more of it I read, I couldn't believe my eyes.
Anderson writes: "At Delta, we are reducing our fuel consumption by at least two percent per year for the next decade. We've been investing in airplanes and aircraft modifications to improve the fuel efficiency of our fleet."
Well, that makes good business sense, I thought. He goes on: "No matter what we do as energy consumers and producers in the United States, there is little direct effect on what we pay for barrels of crude oil."
Well, that's right, Dick, because population and wealth are growing around the world, particularly in Asia.
But then he went off the deep end.
He writes: "The increase in the oil futures market is largely due to speculation, which has undermined the historical relationship between supply and demand on one hand, and oil prices on the other."
Is he kidding? What about demographics? What about the threat of a nuclear Iran? What about the dependence and ever-increasing thirst for foreign oil? I wonder if Anderson would be ranting if planes flew on natural gas. Speculators have been selling that market for two years now.
The truth is that speculation in crude oil, or any commodity for that matter, is a zero sum game. Buyers buy to sell and sellers sell to buy. These market participants take risks. There are many times when they buy and the price goes down. And what happens then? The speculators lose money. In a perfect world, consumers like Delta would buy fuel directly from fuel producers.
Unfortunately, we don't live in a perfect world. In the world of commodity price risk, there are times when producers want to sell and consumers do not want to buy. And there are times when consumers want to buy and producers do not want to sell.
If it were not for the speculators, crude oil (and other commodity) markets would be even more volatile than they already often are today.
And these "large commodity traders, commodity funds and passive investors" that Anderson rants about have all added tremendous liquidity to the market.
What Would Dick Do Without the Speculators?
So Dick, here is a question: What are you going to do when the oil market becomes less liquid and more volatile because the producers don't want to sell at the price at which you want to buy? Who do you think is greasing the wheels of the crude oil market and adding liquidity, if not these so-called "evil" speculators?
I guess, Dick, you'd rather put your faith in OPEC. All speculators want to do is trade, take risk and try to earn profits. Some OPEC members, such as Iran and Venezuela, have much more nefarious goals in mind. OPEC wants you to pay as much as it can squeeze out of you for every gallon of jet fuel that Delta uses, Dick.
To top it off, Anderson ended with a political plea for action. "… we have yet to see action by Congress or the administration that would bring the oil market back into balance, such as random, frequent and unpredictable releases from the strategic oil reserves."
The U.S. government holds around 696 million barrels of crude oil in its strategic petroleum reserves (SPR) today. The entire capacity for the SPR is 727 million barrels. Anderson suggests selling out of the SPR to lower prices. If the U.S. government sells from the SPR, won't that oil have to be replaced? Won't that cause the U.S. government to be a buyer of oil after they are a seller? That sounds like a zero sum game to me.
Stick to Flying Planes, Dick …
The scary thing is this chief executive who knows absolutely nothing about the oil business is now in the oil-refining business.
It has never been clearer that Delta will not succeed in their new venture. Unless they get very lucky, its new refinery will be a money pit.
Delta stock has moved up since announcing its refinery deal and lower oil prices will keep the stock moving higher, at least for the short term.
So Delta is still a hold at around $11.40 for the time being. The stock is cheap, and is trading at 7.42 times earnings. Once this puppy gets up to $13-$14, don't forget to grab those 20% profits and take them to the bank.
Don't wait for them to screw up because based on the thoughts and opinions of the CEO it is only a matter of time!
Disclosure: I have no positions in any stocks mentioned, and no plans to initiate any positions within the next 72 hours.