By Joey Vazquez, Oxen Group Contributor
We continue our search for the most technically attractive charts in the market. The market continues to look weak and trade in a rangy pattern. Therefore, today I strive to find charts that would remain strong even in a weak market and a chart that looks to continue to fall apart in a weak environment. Should you buy or sell the chart?
PVH Corp (NYSE:PVH):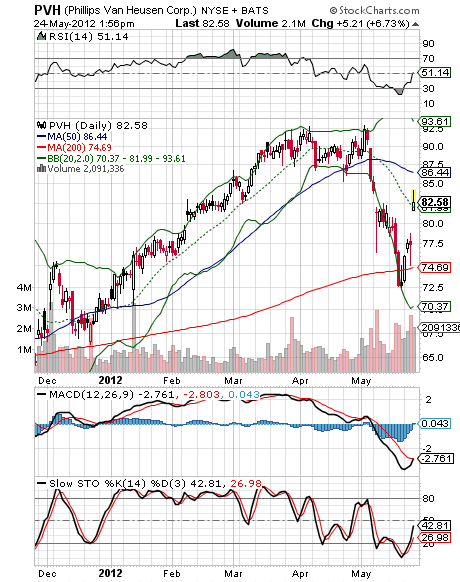 Phillips-Van Heusen posted great earnings yesterday after its first quarter profit topped Wall Street expectations and the company raised its outlook for the year, which really helped the stock get back on track. PVH had bounced off its bottom Bollinger band a couple of trading sessions ago, signaling a bottom. Yesterday, PVH retook its 20-day MA, which will now be a very important resistance line. The MACD was to crossover its signal line yesterday, confirming the new bullish trend.
Trade Idea: I would look to go long PVH.
Zumiez (NASDAQ:ZUMZ):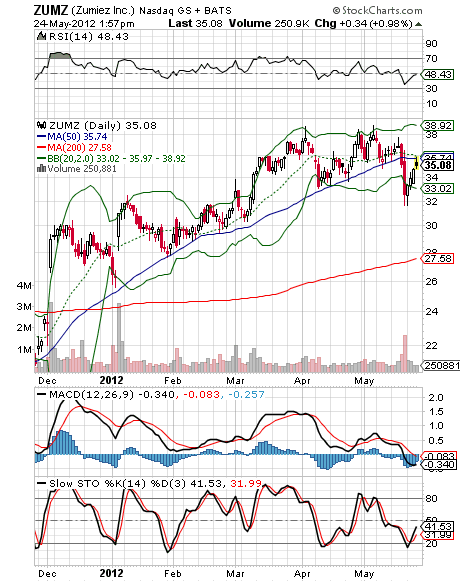 Zumiez continued its great run today. Stochastics have crossed and are now north bound confirming that is the bounce of its bottom BB a couple of days ago. The MACD is anticipating a crossover fairly soon as well. If it could break through its 50-MA at $35.74 in the next couple of days, I would be very bullish.
Trading Idea: Wait for break of 50 day MA then go long ZUMZ.
WPX Energy (NYSE:WPX):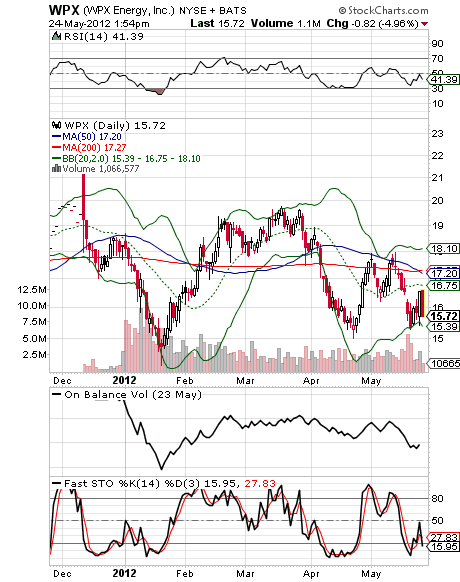 Natural gas is not the industry to be in right now and unfortunately that's one of WPX's main business lines. WPX's 50-day MA crossed its 200 day MA forming a very bearish indicator. Stochastics have also crossed down and we are starting to see more selling come in as the RSI has started decreasing. The OBV indicator is confirming the downtrend as the positive momentum is leaving the stock.
Trade Idea: I would look to go short WPX.
Dunkin' Brands Group (NASDAQ:DNKN):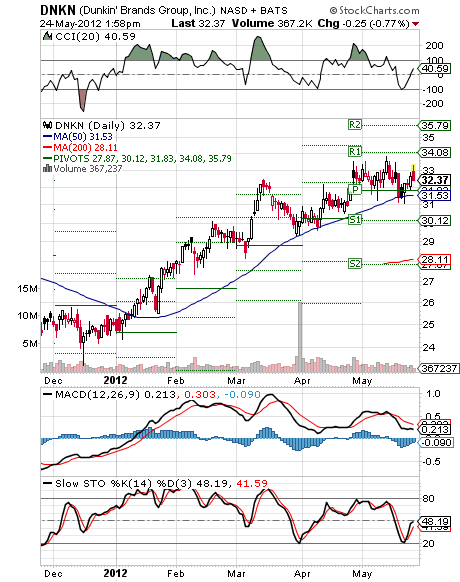 Dunkin has fared very well this entire month of May showing how strong a company it is. DNKN has bounced of its pivot point at $31.83 and 50-day MA at $31.54 making those great support lines. While the stochastics have crossed, the MACD is anticipating a crossover that would give us a very strong bullish indicator. The RSI indicator also shows that the buying is still increasing.
Trade Idea: I would look to go long DNKN.
Disclosure: I have no positions in any stocks mentioned, and no plans to initiate any positions within the next 72 hours.