On January 7th, 2008, Genzyme (Nasdaq: GENZ) and Isis Pharmaceuticals (Nasdaq: ISIS) announced a partnership for the Isis cholesterol drug Mipomersen.
According to the deal, Genzyme will pay Isis $325 million upfront, with the potential for $825 million more in milestone payments as the drug progresses through stage 3 trials. In addition, Isis will receive another $750 million in milestone payments if the drug does well. This brings the grand total to a potential $1.9 billion for Isis. With a market capitalization of only $1.3 billion, Isis has some serious potential to earn intelligent investors lots of money.
The day the deal was announced, Isis stock surged more than 50% in after-hours trading, topping out at nearly $22 per share, up from $14.58 at market close. Since then, the stock has given up nearly all of its gains and is currently trading at $15.19; a mere 4.2% higher than before the deal was announced. Needless to say, I am shocked that the stock is not above $20 as we speak, and believe that it will be in the not-too-distant future.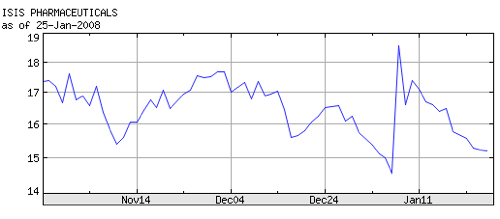 I am not alone in thinking the stock is currently undervalued. Stanley Crooke, the CEO of Isis, said recently that he is "extremely disappointed" but doesn't expect the current price will stay down for long.
While I agree with Mr. Crooke wholeheartedly, I also believe that he could do more to boost the stock. In fact, in looking at the past months' insider buys at Isis, it appears as though no-one is buying the stock. Why is that? If this deal was so good, Mr. Crooke, prove you believe so by buying shares at market prices.
I know that for me, as an investor who is very enthusiastic about this deal, I cannot justify buying too much Isis stock until I see Mr. Crooke put some money where his mouth is. I hope to see this happen soon, so I can buy more without losing sleep.
In the interest of full disclosure, the author of this article owns shares of Isis Pharmaceuticals, and is soon to own more.